POSTED BY Jagoinvestor ON October 13, 2015
Do you want to know how you can take a high health insurance coverage at a cheaper premium, without compromising on the benefits and features? Today I am going to share how you can do that using top-up health insurance policies.
Gone are the day's when Rs 2-3 lacs of health cover was considered a good cover, its not even average cover these days. With rising health care cost, a health cover below 5 lacs is just not sufficient for most of the people. I am confident on that, because in last 6 months, we have helped more than 1000+ people to take their health insurance and majority of them ended up with a coverage in range of 5-20 lacs.
I know, a lot of investors understand the importance of high health insurance cover, but they are unable to afford a high premium. So what is the alternative?
Use Super Topup Policies to increase your health cover at lower premiums
The solution is Super topup policies.
You can use Super Top-up health insurance policies to upgrade your health cover by paying a lower premium. Super Topup plans are the health insurance plans which pays only when a certain threshold is crossed.
For example, consider a super top-up plan for Rs 20 lacs with deductible of Rs 5 lacs.
In this case, the policy will pay only when the initial Rs 5 lacs is paid off and they will pay the additional amount above Rs 5 lacs. So if the claim amount is Rs 12 lacs. The policy will only pay Rs 7 lacs (over and above 5 lacs deductible. If you are new to this concept, we have already explained the topic of super top up in detail here, please read it first.
So how can you use super top up to take a higher cover?
Instead of taking a full cover of X+Y amount, you can take a base cover for Rs X and take a Super topup plan for Y amount with X as deductible. This way you will be covered upto X amount by the base policy and for any claim above Rs X, the super top-up policy will get triggered and come to your rescue.
The main benefit here is that the Super Top-up policies come very cheap and overall your premium will be small.
Example of 3 member family (2 adults below 35 yrs + 1 kid)
Suppose you want to take a high cover like 20 lacs for your family (3 member family). Here you have two choices
Choice 1 : You can take a stand-alone policy of Rs 20 lacs here. If we take an example of Optima Restore Family Floater, the yearly premium would be Rs 23,527.
Choice 2 : As 2nd choice, suppose you the same take the same Optima Restore Family Floater for Rs 5 lacs, which will cost you Rs 12,513 and on top of it, you take a 20 lacs super topup from L&T Medisure Super Top Up with 5 lacs deductible, for which the premium would be Rs 4,389. So the total premium in this choice will be 16,902.
That's a saving of 28% in premium.
However, note that both the choices will differ with each other, because from features point of view there are a lot of differences in both the choices.
So for those who already have a 5 lacs cover already and wanting to increase their cover to 15 lacs total, below I have listed down some companies top up cover plans and the extra premiums they will have to pay.
Below is an example of how you can increase your health cover from 5 lacs to 15 lacs (or take 15 lacs cover).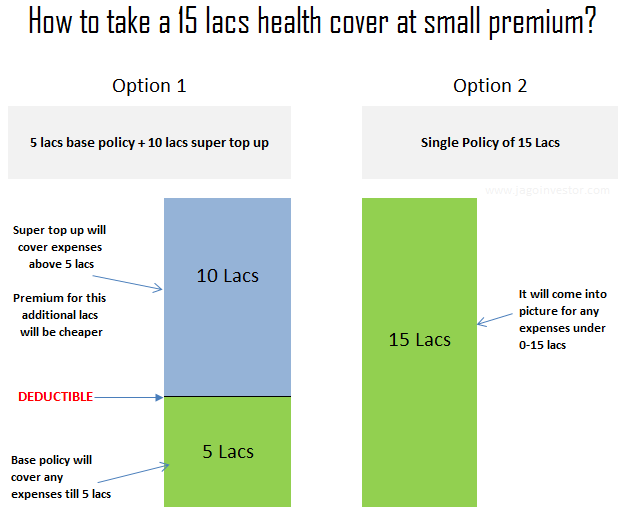 Do you have a small health cover right now?
So, ask this question to yourself? Do you have a small health cover of 2 lacs, 3 lacs or max 5 lacs and you want to upgrade it to a big number like 15 lacs or 20 lacs?
For the sake of explanation, let me take an example of 5 lacs existing cover and lets see how you can increase it to 15 lacs for a small premium increase. So all you need to do is take a super top-up cover of 15 lacs with 5 lacs deductible. Below are some plans with the premium amount for a single individual of age 35 yrs.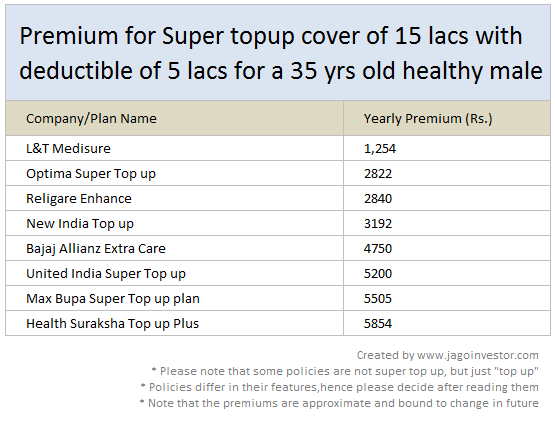 Comparison of Super Top-up Plans in Market?
Below I am sharing the comparison of various super top up plans in the market and how they differ from each other on various parameters.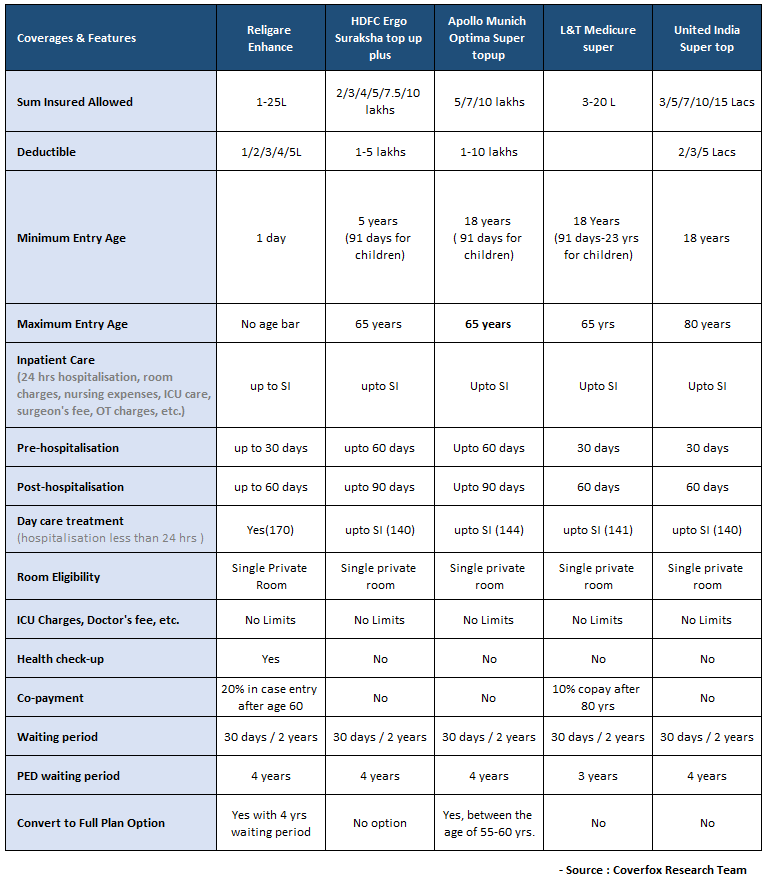 Why Super top up premium is less?
I am sure many investors will have this question in mind that "Why is the premium for a super top up plan so less?". The answer is that the probability of a super top up getting triggerred is statistically very less and hence the risk for the insurer is not that high.
Think about it this way. If you have a large cover of 15 lacs right now, what  would be the hospital bill on an average? Most of the times, it would be in range of 50,000 to 1 lacs if you get hospitalized for a minor case and few lacs if there is some accident or some major issue.
Only in a very very fatal case or if you are highly unlucky, your bills will run over in the range of 10-15 lacs and thats going to happen once or twice in your lifetime. So the chances for a company paying for a claim above a certain threshold is very less. That's the reason the premium for a top up plan is less. Higher the deductible, lower the premium.
Is it advisable to buy the base plan and super top-up from the same company ?
The answer is YES. If your base plan and the super top up plans are from the same company, it would surely help because you have to deal with the same company for both the claims. The documentation process is more simple and the communication is smooth. The company will not find any issues because it has all the records with them.
However note that even if you have it from different companies, it's ok. You ultimately have to look at the features and what combination works best for you and if the total premium is affordable to you or not.
What are Convertible Top-up plans ?
Lately, a new kind of top up called as convertible topup plans are coming up in market.
"Some companies offer Super Topup plans with an additional feature that allows the plan to be converted into a base plan. This is done by buying out the Deductible in the plan.

For instance, if you have your company health insurance for Rs. 3 Lakhs you could buy a Topup of Rs. 15 Lakhs with a deductible of Rs. 3 Lakhs. In case you leave this employer, and/or are without cover, you can apply for buying out the deductible at the time of renewal by paying additional premium. There are certain conditions/triggers based on which this feature gets activated into the plan.

This is an excellent feature for people who feel that they would be working with employers who will provide health insurance cover all their working life, without any break.

For instance,

In case of Religare Enhance – The convertible feature gets activated after 4 continuous renewals. The plan has a waiting period of 1 year for Pre-existing diseases

In case of Apollo Optima Super – The option is available for customers who have bought the policy before crossing the age of 50 years. The option can be opted between the age of 55 and 60 years at the time of renewal by paying additional premium, if the policy has been renewed continuously without break. "
Who all should buy a super top up plan ?
Those who are having a small cover by themselves or a group cover through their employer and want to increase their cover (ideally you should have a base policy for a minimum amount)
Those who are right now having a small cover and want to upgrade it
Those who can take care of small medical bills themselves (like up to 2-3 lacs) and only want help in case of bills beyond that number by paying a small premium
Other Important Points related to Super top-up plan
A super top up policy can be taken stand alone – A super top up policy can be taken without a base policy. There is no compulsion that you should hold a base policy.
Premiums will rise as per age slab – You should be aware that just like a normal health insurance plan, a super top up plan premium will also rise as per age slab in coming years, so even if the premiums look very small right now, it's bound to increase later
No Claim Benefit not present – Generally super top up plans do not offer No Claim Bonus (NCB) . This is the primary difference between taking a base cover of a high amount and combining a small cover with top up cover, because then you loose on the benefits of a No Claim Bonus over the years.
Not always a great option – Just because the premium is less, it does not mean that combining a small base cover with a super top up is always the best plan. Depending on situation, you need to find out if its a good option in your case or not. It might happen that you might loose out on some benefit and feature on the top up plans
I hope this article helped you to understand how you can increase your health cover at a small premium. Please ask your questions if any below in comments section