POSTED BY Jagoinvestor ON September 12, 2015
Do you want to invest in a mutual fund which has near zero-risk, offers returns in range of 6-9% with high liquidity and at the same time, they are tax efficient? Welcome to the world of "Arbitrage Mutual Funds".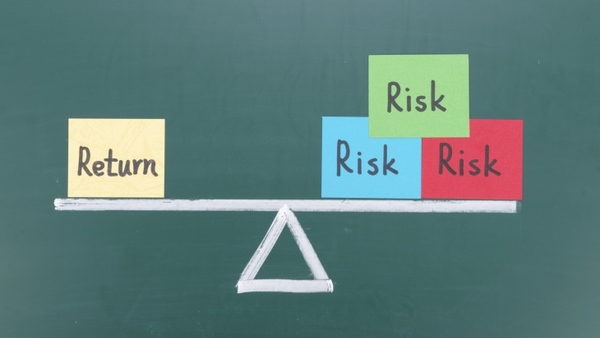 Arbitrage mutual funds are a category of mutual funds which are comparable to liquid funds or a pure debt fund whose returns are in range of 6-9% per annum, but from taxation perspective they are treated like equity mutual funds. These arbitrage funds have suddenly become very famous with investors after this tax budget, because the taxation on debt funds changed and became unattractive compared to past.
How does an Arbitrage mutual fund work ?
You should first understand the word "arbitrage". In short arbitrage means – "simultaneous purchase and sale of an asset in order to profit from a difference in the price".
Let me give you an example
Imagine that a person wants to buy a second hand phone and is ready to pay Rs 2,000 for it. You go to OLX and see that the same phone is selling at Rs 1,200 there. You then buy the phone at 1200 and sell it at 2000 and make the profit of Rs 800 . This is one example of arbitrage
Another example is gold. Gold prices are different in various cities. So there is a possibility that gold can be cheaper in bangalore compared to chennai and a gold dealer buys it from Bangalore and sells it in Chennai. This is another example of arbitrage
In the examples above, the problem is that the buy and selling happens at two different times, and hence there is small risk.
But what will happen if you are able to buy and sell at the same time? In that case, there is no risk, because instantly you are locking the profits (the difference price)
This is exactly what happens in Arbitrage mutual funds
In case of arbitrage mutual funds, the funds explore the arbitrage opportunities where the same stock is quoting at two different prices at BSE and NSE at the same time and they buy and sell in different markets and make the profits.
The other thing which an arbitrage fund does is use cash and derivative markets. For example, a stock might be available at Rs 100 on stock market, but it might be selling at Rs 104 in future's market (if you dont understand derivative markets, thats ok , dont worry) and they make the difference as profits.
Lets not go to much into detail of how they work, as of now just understand that arbitrage funds use the arbitrage technique to earn the profits from the gaps in markets and its almost risk free.
Arbitrage funds returns are tax free after a year
So lets come to the biggest plus point of an arbitrage fund.
The biggest advantage of arbitrage funds is that they are treated as equity mutual funds, when it comes to taxation. Hence any return you earn after holding it for 12 months is tax free, and incase you hold it for less than 12 montsh and make any profits, the taxation is 15% (short term capital gains tax).
So, return wise arbitrage funds can be compared to a liquid fund and the returns potential are in range of 6-9% depending on the time frame and the yield of the instruments they have invested into.
Now think about this scenario
If you want to park a big sum of money for some months or approx one year, but you dont want to take a lot of risk on the capital and at the same time want a highly tax optimized solution, what are your options?
FD is not that great option, because if you are in 30% tax bracket, you will be paying tax at the rate of 30% and if you break your FD in between before maturity, you will also pay penalty. In that case, these arbitrage funds can be a very good alternative, because they can give decent returns, high liquidity and lower tax (no tax if held for more than a yr)
Below you can see some of arbitrage mutual funds and their performance over the last 1 yr (as on sep, 2015)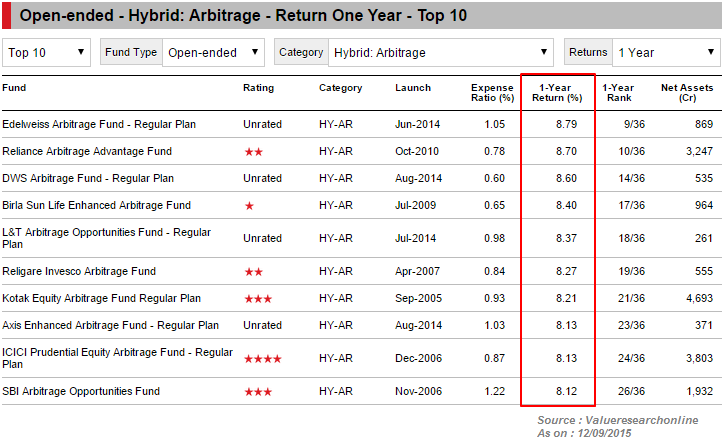 You will see that the returns from these funds have been in the range on 8%, which is quite good and comparable to Fixed deposits and liquid funds.
Are there any risk in Arbitrage Funds?
Yes, But more then risk, I would say these are some points which every investor should be aware about before they invest in arbitrage funds.
You should understand that arbitrage opportunities must exist if arbitrage funds have to perform better, means if the markets are uncertain, then good opportunities will exist for arbitrage funds and they will give decent profits, but if markets are not volatile enough, it might happen that the returns from arbitrage funds are unattractive.
If you look at past 3 yrs returns, you will find that the returns have been very good, but if you go a bit in history you will see that they have not give the same kind of return always. See the chart below for Kotak Equity Arbitrage fund, a very good fund in that category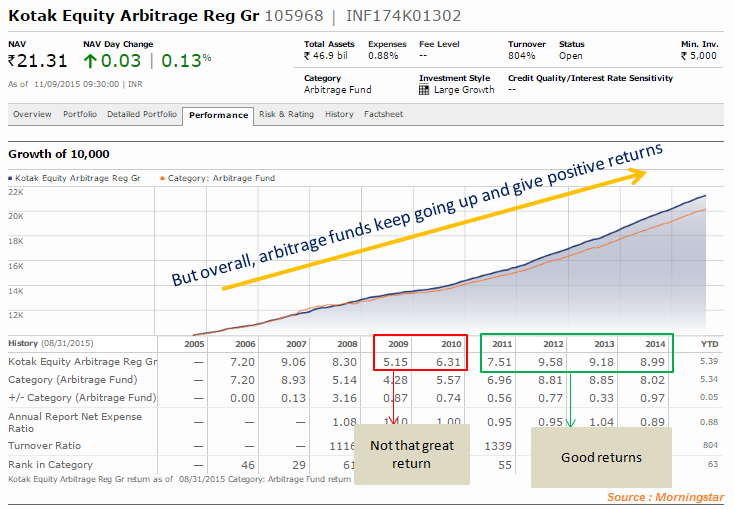 You will see that in the year 2009 and 2010, the fund has not performed well like it did in earliar years or after 2011. So be very clear that you cant expect them to return in the range of 8-9% always. There will be times when they will return 4% or 5%, but that happens rarely.
How liquid are Arbitrage funds ?
Lets talk about liquidity factor now.
You will often hear that arbitrage funds can be compared to liquid funds as they are highly liquid and risk free. So some extent this is very true, but if you go deeper, there are few differences.
Arbitrage funds redemption can take 3-4 days : An arbitrage fund redemption can take 3-4 days compared to just 1 day in case of liquid fund, so if your requirement is that the money should come back to you the next day if you want to redeem, then arbitrage funds are not the right choice.
Arbitrage funds have exit load for 90 days – Most of the arbitrage funds have a small exit load anywhere from 0.25% to 0.5% if you take out the money before 90 days. If compared to liquid funds, there does not exist any exit load and you can take out the money even in a week without any loads. For example, incase of ICICI Prudential Equity arbitrage fund, its exit load is 0.25% if redemption before 30 days
The above two points conclude, that one should ideally choose arbitrage funds if one is looking to park funds anywhere from 3 months to 2 yrs. Also someone who is falling under a lower tax slab, will not benefit too much from investing in arbitrage fund because anyways their tax slab is less.
Comparing Arbitrage fund with Fixed deposit and Liquid fund
Finally, let me give a rough comparision of arbitrage fund with bank FD and liquid funds, which will make you more clear. The comparision chart below shows various criteria and how these products compare.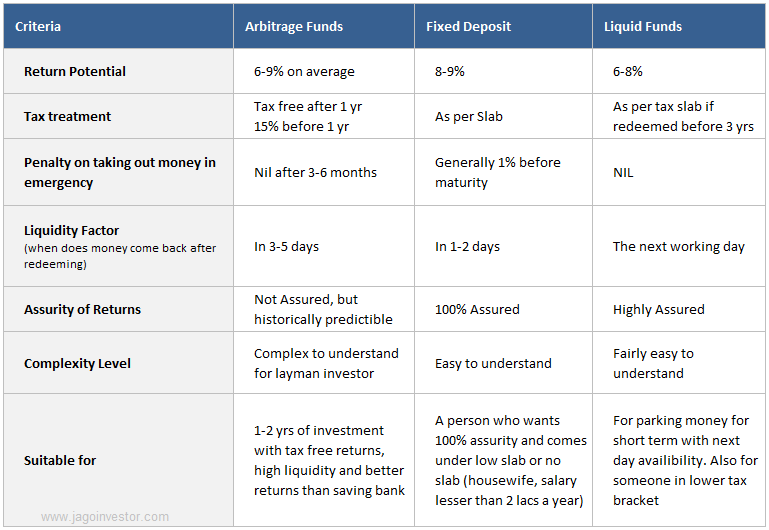 So shall you invest in arbitrage funds?
I think based on the above information, you can now take the call if you want to invest in arbitrage funds or not. Let me know what you are going to do and what comes to your mind about this category of mutual funds.