POSTED BY Jagoinvestor ON July 20, 2015
We see most of the investors having a complex and bad financial life mainly because they have done a lot of mistakes when they started their financial life, which I think should be minimized by learning from other investors mistakes.
So we are listing down 4 common mistakes which most of the new investors make when they start their financial life.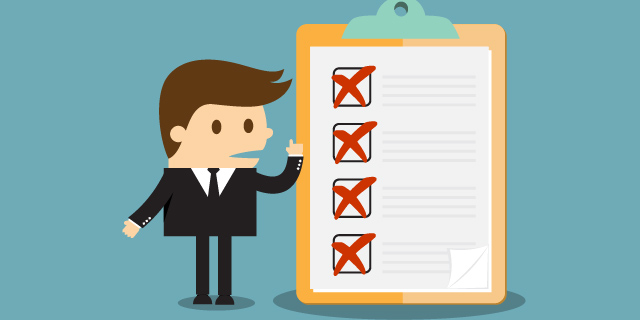 Mistake #1 – Buying products only for "saving tax"
I have experienced the power of "tax-saving" season in an investor's financial life. When I was into my first job, the cafeteria and the reception area was filled with my employee's sitting with some agent or advisor with various kind of forms all over the table.
The tax season was on and all the people were busy "arranging for the investment proof" and not investing their money. Especially the new employee's who had no idea about anything and they followed the herd to save tax.
Below is the google trend showing you, how most the people starting thinking about the "tax saving" only in the month of Jan/Feb/Mar when they got emails from their employers. The search trend clearly shows that.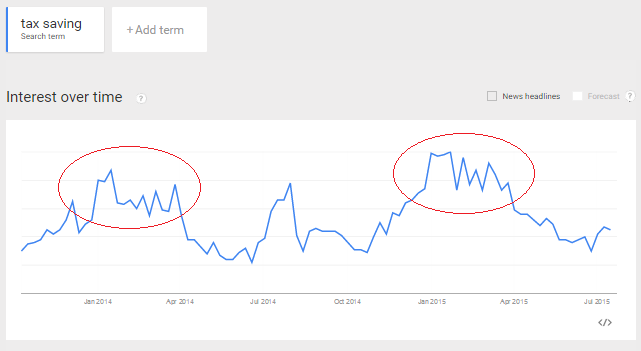 Only after many years, people realize that they have not done great justice to their money and invested mainly for instant gratification of saving tax. If you are a new investor, I suggest do not get carried away and only think about saving tax.
I know tax saving is important and one has to do it, but do it meaningfully.
Explore what all options you have and which one them will align well with your long-term goals and then invest in those products.
Mistake #2 – Waiting for the "right time" to invest
When we work with our clients, we observe that one of the biggest regrets, they have is that they didn't start their investments early in life and lost the valuable time. A person in India spends close to 20 yrs in school/college and most of the students have seen a lot of struggle around money, because of which all their early life, they suppress their desires. They never freely spend money on anything and keep waiting for that D-day when they will have no restrictions around money. The first salary is nothing less than a big jackpot.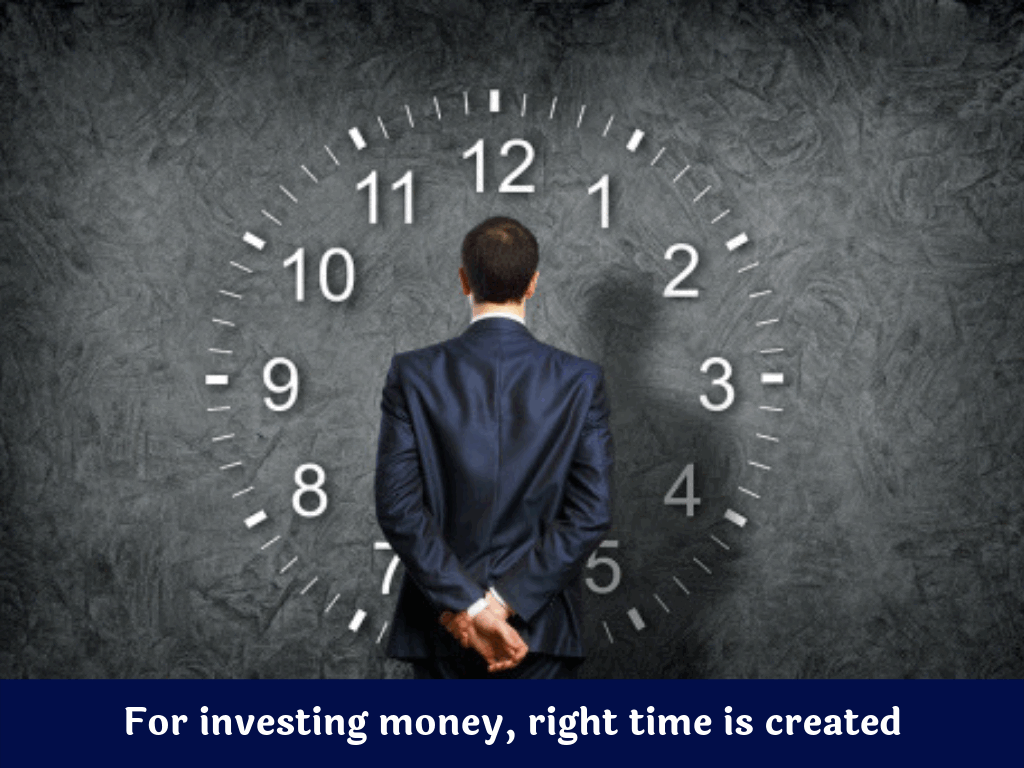 The first few months when they see a lot of money in their account, is the time of celebration and fulfilling all their wishes they had from years. There is nothing wrong about splurging, spending and enjoying it all. But some people extend it over many years and over-do it. When it comes to investing their money, they say that they dont save enough after their expenses and once their salary increase, they will invest then.
In short, they keep waiting for the "right time" and it never arrives. Because the nature of money is such that, the more you earn, the more you will spend and your lifestyle will keep changing its shape to fit in your salary.
1 out of 3 investors wait for 5 yrs before making first investments
I ran a survey on this topic, which was taken by 208 investors and as much as 37% of investors said that they made their first investments after 5 yrs of their career. Think about this , around 1/3rd investors wait for 5 yrs before they make their first investment. Thats quite high. If you see the same survey results below, almost 8% investors didn't invest anything for first 10 yrs of their earning life.

This makes them loose valuable time, and for many years they do not accumulate any wealth and get into the mode of living on paycheck to paycheck. Even if they had started a recurring deposit of Rs 2,000 per month, even that would be a great thing, because they are atleast getting into that habit of saving some money regularly and later its just about increasing it.
So if you have just joined your first job, I would suggest start a recurring deposit RIGHT NOW, not for a big amount, but just Rs 500 atleast.
Mistake #3 – Getting high on debt, early in life
Debt is not a problem in itself, if you handle it carefully and responsibly. I do not come from a class of people, who suggest that one should not take loans or avoid debt 100%, because thats not possible for a majority of people and its not practical in today's times.
However, rore and more people are embracing the EMI culture and we are turning into an EMI nation. Everything is available on EMI ranging from gym memberships to Mobile Phones, from vacations to jeans to even flight tickets. Because of EMI, one can afford anything and everything.
So most and more people are buying not so important things TODAY, for which they have to pay in FUTURE.
Are you getting my point?
This is a perfect recipe to get into the never ending debt cycle. There are many investors for whom EMI payments is going on for years and years. For many years, they have never consumed 100% of their monthly salary themselves.
Below is a bit old study by Indicus Analytics on how leveraged are urban Indians, and you will be surprised to know that around 61% of residents in Bangalore have some or the other kind of debt. For Mumbai its 50% . Below is a snapshot of their finding's.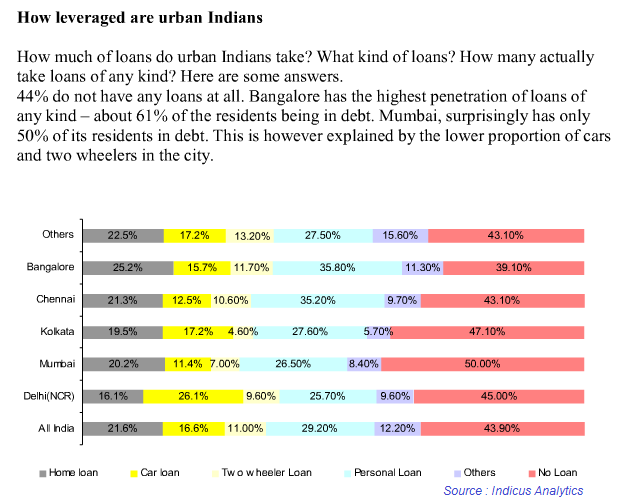 So if you are young, try to see that you control your desires beyond a point else you will get into huge trouble later in life. Use the credit card and personal loans only and only if you really need it and you have no other options of borrowing and even then pay back the money as soon as possible.
Mistake #4 – Over relying on relatives, friends and parents for your financial decisions
Parents, friends and relatives can bring in a lot of experience and life lessons for us. But a lot of youngsters instead of learning about money, prefer to hand over their overall financial life to their parents. Parents have seen more life then their kids, but then times have changed a lot compared to last 1-2 decades and the many rules don't apply today.
Also their way of thinking about risk, opportunities, returns etc might differ from you. Hence its not always a good idea to over-rely on parents advice. Mr Anand shares his view about this point in one of my old article
The times have changed so we have to change with the times. In most of the families, it is the ego of the parents which is finally ending with the suffering for the children. Parents feel that the children are incapable of handling money or they may get spoilt if the money is in their name. Also in some families it has become a question of pride saying – My children are so obedient that they are handling over their income to us.

The so called elderly, experienced people do not want to learn the new things and change and their beliefs are passed on to their children also. If we look around many Government employees, we can easily make out this. They are afraid to tell the children about the investments.
Relatives and friends role in your financial life
Also a lot of investors are influenced by their relatives and friends advice. A lot of them turn out to be life insurance agents who want to take advantage of the relation to meet their business targets. Out of 100 people I have come across, 95 people surely have an LIC policy sold by their relative, relative friend, friends relative, parents friend, or someone close.
As per our survey, 1 out of every 4 investors financial life is messed up because of their relatives and friends who sold them some financial product or advice on something and they could not deny them.

We recently found that one of our client who recently joined job is paying close to 40% of his yearly salary in 6 life insurance policies. When we enquired more, we found that it were taken by his father for him 3 yrs back, and now as he has started earning, his father has passed the premium paying responsibility to him. The policies were sold by his father's sister son' who was behind his yearly targets
I would suggest learning things in the start of your career and not over relying on advice of your friends/ relatives and even parents. You could do many things like read personal finance books, attend workshops on money (we have next workshop in Bangalore on 2nd Aug, 2015) or just surf internet and ready various things.
How should an investor start his financial life at the start of his/her career ?
When a person joins a job, its a special moment in his life and a very crucial point. Taking good care at this point will be helpful for his whole life and many years worth of mistakes will not happen which happens with millions of people. Hence below is a very crisp checklist of what a new investor can start with.
See how much term plan you need and take it
See that you buy a good health insurance policy
See that you have started a recurring deposit or SIP in mutual funds for a minimum amount you are sure will not stop for next 5 yrs
Keep 2 months worth of expenses on the side in a saving account which you generally do not touch
Make sure you are meaningfully saving your taxes
Hire a good CA or Financial advisor if you feel you need handholding
Wish you best of luck for your financial life. Would like to hear your views on this topic