POSTED BY manish ON March 22, 2015
Today I will show you, how you can pay your income tax online using challan number 280 on the income tax website. Most of the people rely on their CA and other service providers to paying income tax. Salaried class mostly don't need to pay additional income tax most of the times at the end of the year because anyway their employers pay it on their behalf.
However, one might come across a situation where they have to pay their income tax themselves in following situations like ..
If TDS deducted is less than the actual tax liability?
If you have got a notice for balance tax to be paid
If one has any other income apart from salary
What is Challan 280?
Challan 280 is the form which is required to be filled when you want to pay your income taxes. This can be done offline at bank designated to collected income tax, or you can also pay it online. We will see both of them
How to pay income tax offline at bank?
One can physically go to the bank and submit the filled challan 280 form along with the money. You can download the challan 280 from Income Tax website.
How to pay income tax online?
Another way to pay the taxes is by filling up challan 280 online and making the payment through your net banking facility. I have included the steps one needs to take below. Also, you can see the video below to learn the steps.
Step 1 : Choose option "Challan 280" from income tax website
The first step is to visit this link and click on the option "Challan 280".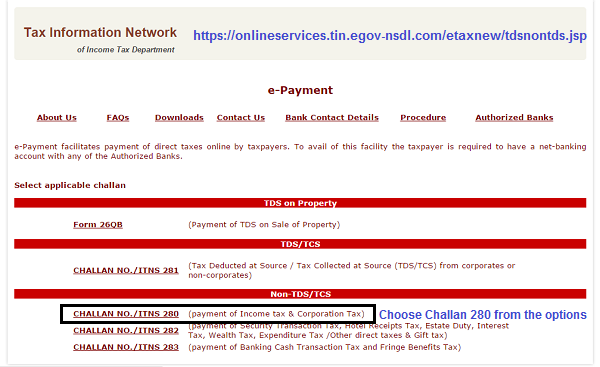 Step 2 : Fill details on the Challan 280 form
Once you click on the challan 280 link, you will be directed to the page which will ask you various details.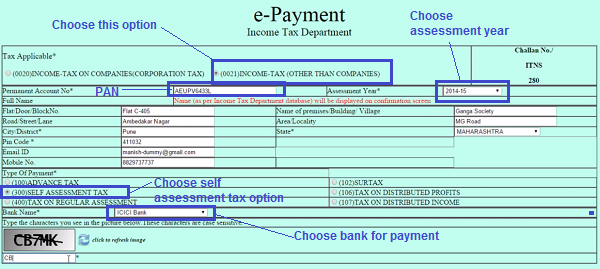 Choose (0021)INCOME-TAX (OTHER THAN COMPANIES), which is to be chosen by individuals
Choose assessment year, which is next year for which you are paying income tax. So if you are paying income tax for year 2013-2014, the assessment year will be 2014-2015
Enter your PAN Number, address, Email, Phone etc
For Type of Payment, you can choose "(300)SELF ASSESSMENT TAX" if you are paying the final income tax for the year, or "(100)ADVANCE TAX" if you are paying the advance tax.
Choose the bank name from where you are going to make the payment and finally click on "Proceed" button which will take you to next page for confirmation of all the details entered by you
Step 3 : Verify Details and proceed for payment
On the next page, you will be asked to verify all the details you had filled. It's important to check that the name mentioned on this page is for the same person for whom the income tax is to be paid. It should match with the PAN card holder name, also match the assessment year, email and phone number and other details.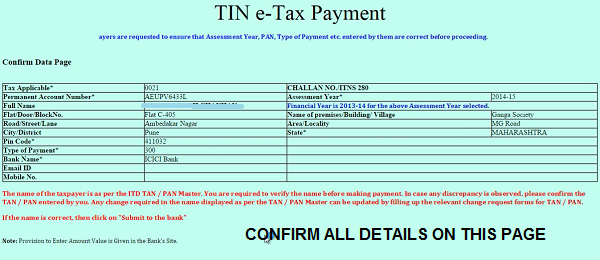 Step 4 : Enter your login details for the bank
On the next page, you need to enter your bank username and password, so that you can make the payment finally.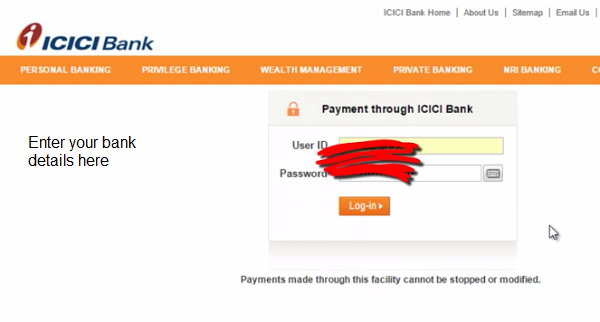 Step 5 : Fill the Income tax payable and make payment
The next step is to enter the income tax amount and other details as applicable and then finally hit the payment button.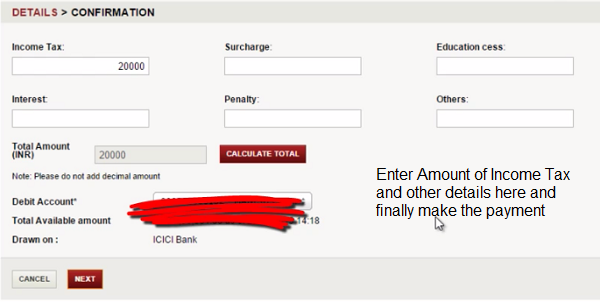 Step 6 : Download the PDF receipt and also get it in your email
Once you make the payment, it will give you an option to download the challan receipt in PDF format. You can save it on your computer. Also, you will get the email containing the challan copy anyways.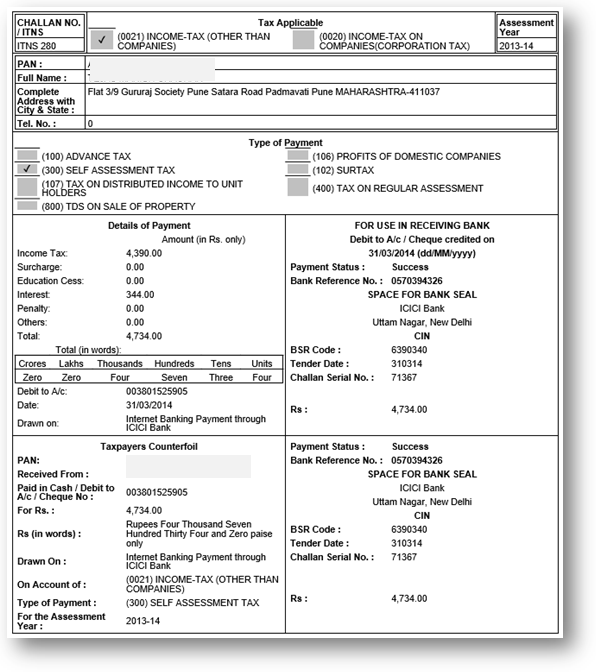 I hope you got a good idea of how to pay income tax online. In case you have any questions, please ask in the comments section below.