POSTED BY Jagoinvestor ON May 26, 2014
Today you are going to learn how you can add an "extra" 3rd lock in your bank locker and make it really more secure compared to what it is now at this moment. This information is really hidden one and almost no one is aware about this really interesting and useful thing.
I would like to thank Jay Sheth, a reader of this blog to share this information with me in one of his comments. Let's acknowledge him fully for his openness for sharing this amazing information with all of us and appreciate him to take out time to send me all the pictures and information which you are going to read below. The author of this article is Jay Sheth, so from now on the article language will be as if he is sharing his experience.
Why there is 3rd Key Hole in the bank locker ?
One day when I was operating my Bank locker I realized that there is a third hole in the bank locker apart from the two key holes where I and the bank person put our respective keys to open the locker. This made me wonder as to why it has a third key hole when it's not being used?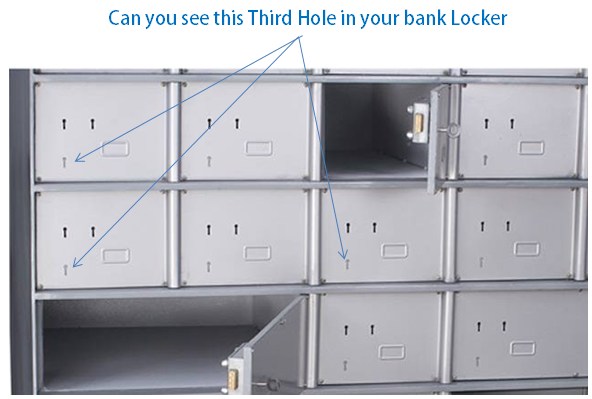 With these thoughts, I further researched on this. There is hardly any information on the internet. I met several authorities, contacted Godrej (who are manufacturing locker cabinets) and found something very useful. There is something called as "Renter's Personal Lock" which is available directly from Godrej, and we could fit it ourselves easily with just a screw driver.
So if you open your bank locker, and see the exact back side of this 3rd keyhole, you will see that there is a specific fixed place along with already drilled screw holes , where this "Renters Personal lock" from Godrej can be installed. Let me show you how the back side looks like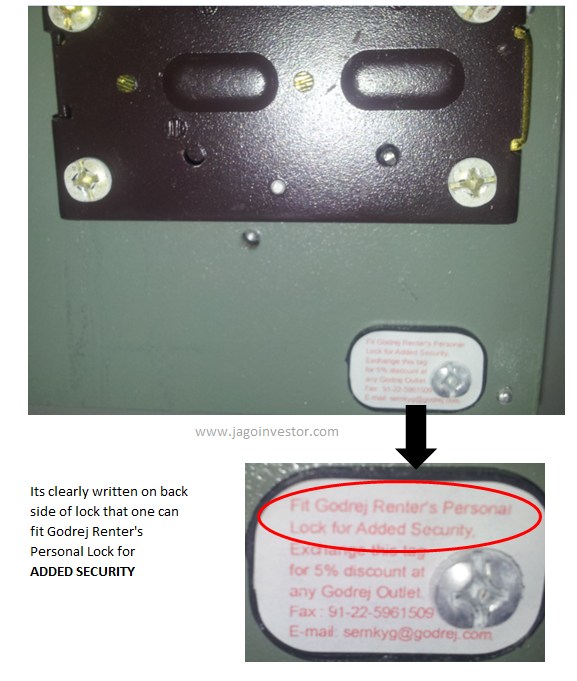 How to Install this lock in Bank Locker ?
There two ways you can install this extra lock in your bank locker.
Method #1 – Install it yourself – This method is recommended, to install the lock yourself. It is very straight forward. When you buy this Lock from Godrej, It comes into a sealed pack, with the lock, one single key, and 2 screws. All you need is a screw driver at your end to install this. Visit your bank locker, once the bank person opens the locker for you, and leaves from there, you can then close the door first (so that no one disturbs you). And then you can put the lock in the bank of the locker and install it with screws there.
Here are the easy steps to put up the lock yourself:
Insert the key in the "extra" (bottom left) keyhole.
From the back side of the door, place the new lock in such a way that the key inserted above gets in its keyhole. This will give you the correct positioning quickly.
Tighten the two given screws with a screw driver (top left and bottom right side respectively).
Let me show you a sample picture of how it has to be installed, it will give you a fair idea.
–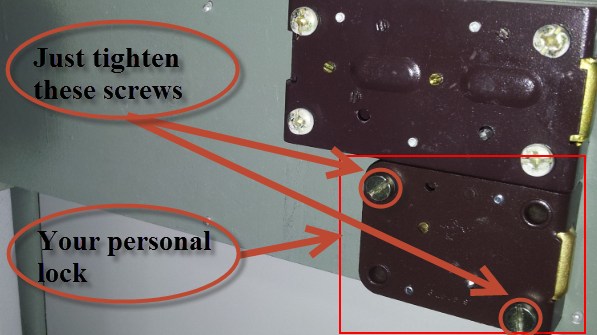 Here is an important point if you are installing it on your own. Just get your locker opened and wait for the officer to walk out. Then install it at your pace and leisure. Next time when you want to open it, you will have to put both keys (the key cannot be taken out while the lock is open, which is for our safety only. But the officers will know). But that's perfectly fine, as it is absolutely legal and allowed – just that many officers do not know the rules, so to avoid arguments with them just put it up silently for the first time. Read this incident where one guy struggled to get back his locker content back after it was closed by bank.
Method #2 – Installation by Godrej – Contact the Godrej Dealer in your city and they will send a person who will take around Rs. 250-300 as installation charges and will do it for you. This is a simple way, but cost a bit to you. There could be the following issues in this approach:
a)  You might not be able to find the right person in your city, as this whole thing is not well known and even some Godrej guys are not aware about it. Manish called a guy in Pune who said that you can get this done in Pune. You might want to search a bit in your own city.
b) For confidentiality reasons, you might not want them to know the bank, location and locker number of the locker in which you intend to put this lock. Naturally, all of this is compromised if they install it for you.
c) You might have a hard time convincing the bank officials that this is indeed a person from Godrej, as many banks are pretty strict about only allowing the actual renters to enter the locker room.
Once you are done installing the extra lock, from there on, your locker will open only when all the 3 keys are applied, where those 3 keys are
Your Main Locker Key
Bank Locker Key
Your EXTRA Godrej Locker Key
Here is how it looks from the front when you have installed the extra lock.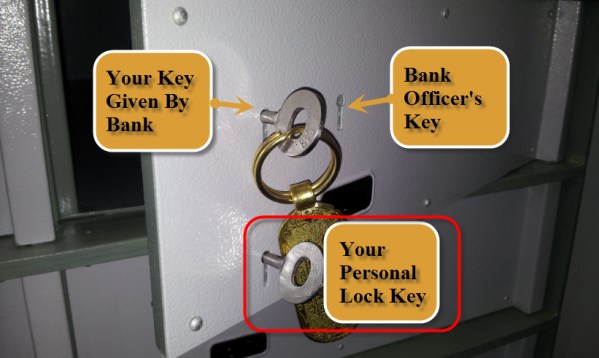 Should I really add this "extra lock" to my locker ?
Bank lockers are very safe compared to your home locks. But then it is only comparatively safe. You must have read about a lot of incidents where there were robberies in bank and lockers were looted, you might also have read about stories of how someone's locker belongings were missing when they checked it after many years. There is always this thought which crosses one's mind that what if there is some security loophole, or if someone misuses your bank locker main key, what if it's lost and goes into a wrong hand? In that case, if you are too concerned about your bank locker and want to add a 3rd layer of security (which is just one time work and costs a bit) , then you can install this 3rd lock.
There have been incidents where bank lockers have been compromised and looted . So now its your choice, if you want to add this extra lock in your bank lockers or not.
How to Buy the Personal Renter's Lock ?
Now let's come to the main topic of from where you can buy this extra lock called "Renters Personal Lock". You will get this only and only from Godrej company. You can contact a Godrej dealer in your city and ask him about this lock. It costs approximately Rs. 800-1000. If you are interested in getting it installed by the Godrej person, then you should ask about this from the same dealer itself.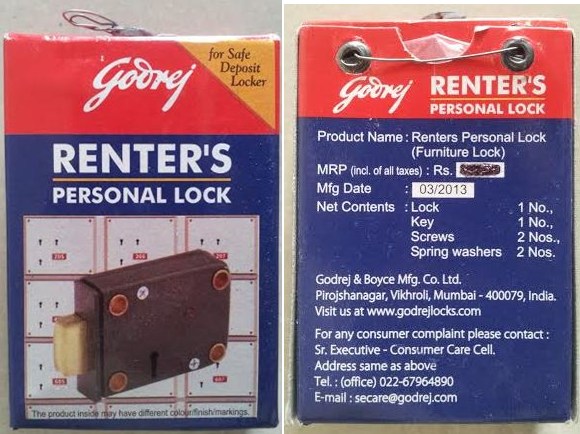 You can buy the lock and get it via Courier
You might face some issue finding it, but don't worry. Keep trying to find it from many vendors, try to search Godrej dealers from justdial or internet and will surely be successful.
If you are in Pune – then you can buy it from this place mentioned below.
Godrej & Boyce Manufacturing Co Ltd

4, Shop 517,Dyananda Society,

Dyananda Society Sadashiv Peth,

Pune, Maharashtra ( West ) – 411030

Phone – 020-24471453

Price mentioned by them over phone to us – Rs 880
If you are outside Pune, you can still buy it and get it delivered via courier
Manish called them and confirmed that they will be able to deliver the lock via courier to all over India, however the courier charges will apply apart from the lock price of Rs 880.

Just call 020-24471453 and the contact person is Mr. Gafur Shaikh . Hope you get it 🙂
(Please understand that we are just connecting you to them, and nothing else. If you face any issues with them, it will be between you and them, dont blame us for that)
Let us know if you are going to install this extra lock in your locker or not. Also tell us what you feel about this information.
Finally thanks Jay for sharing this useful information with all of us.