POSTED BY Jagoinvestor ON January 27, 2014
A lot of investors hold a locker facility in their bank, where they keep their valuables, jewelry and important documents. You must also be having at least 1 locker and must be rest assured that your locker will be safe and will not be touched, or looked upon by anyone else. However things can go wrong!
You might be operating your bank locker once in a while or many times in a year and in that case, everything will go well. However many people do not operate their bank lockers frequently and at times their lockers are closed for years and years. And they also forget to pay the fees for lockers, because you never realise that the time has elapsed and its time to renew the bank locker. Thats a big risk !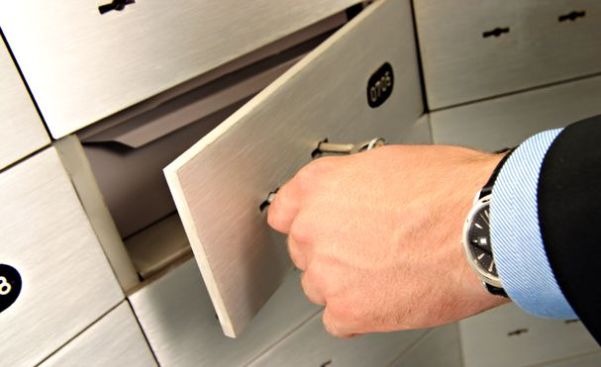 I will share with you some rules on how a bank can close down the inoperative bank locker when fees is not paid and even if the rent is paid to them and and we will also see a real life experience of one of the readers where his bank locker was closed down and handed over to someone else just because it was inactive for many years and then he struggled a lot to claim back his locker contents. (Read more on bank lockers safety, FD requirement, and more in this article)
Can Bank close your Bank Locker due to inactivity, even if rent is paid ?
Seems like the answer is YES.
Bank Lockes are divided into various risk categories by banks after they complete your KYC. Banks can assign you lockers which are either into "low risk" , "medium risk" or "high risk" category depending on what job/business you do, what is your age, what is your past relationship with bank, where do you live! and several other factors.
You then have to pay 3 yrs locker rental + breaking charges as security deposit at the time of getting the locker (No, FD for a big amount is not mandatory).
Now if you are into higher risk category, as per the RBI guidelines, if a bank locker is not operated for more than 1 yr, the bank can close your bank locker and take it custody back and give it to some other customer. Read the important part of the circular below 
(ii) Where the lockers have remained unoperated for more than three years for medium risk category or one year for a higher risk category, banks should immediately contact the locker-hirer and advise him to either operate the locker or surrender it. This exercise should be carried out even if the locker hirer is paying the rent regularly. Further, banks should ask the locker hirer to give in writing, the reasons why he / she did not operate the locker.

In case the locker-hirer has some genuine reasons as in the case of NRIs or persons who are out of town due to a transferable job etc., banks may allow the locker hirer to continue with the locker. In case the locker-hirer does not respond nor operate the locker, banks should consider opening the lockers after giving due notice to him. In this context, banks should incorporate a clause in the locker agreement that in case the locker remains unoperated for more than one year, the bank would have the right to cancel the allotment of the locker and open the locker, even if the rent is paid regularly.
How will it work if you do not operate your bank locker for a long time?
Step 1: If your bank locker is inactive for a very long time, and if bank wants to close it down, then first, bank will try to contact you and ask for the reason why you have not operated your bank locker for such a long time. Which tells you that you should make sure your phone number, email id and contact address is updated in bank records. If you have been moving from one house to another, you might miss the bank communication if your address is not updated.
Step 2 : You can either start operating the locker, or just miss out on communication part and then bank will close your locker and keep its valuables/belongings with them properly sealed in a bundle (dont worry, nothing will happen to it). Bank will also try to contact you again that your locker has been closed and the belongings are with them.
Step 3 : Once you realise in future that your bank locker has been seized ! , at that time, you can contact the bank, if needed file a RTI to bank asking for all the reasons and details and then take bank your valuables.
How Eshwar Claimed bank his Inoperative Bank Locker contents back from Bank
One of our reader Eshwar Molugu was shocked to find out that his bank locker was closed down and had been assigned to some other customer because of non-payment of fees and inactivity. This all happened because Eshwar visited after many years to operate his bank locker. This is when the whole problem started, he was not getting all the information properly and once he came to know that his locker belongings are there with bank, He really had a tough time to claim bank his locker contents. Here is his real story shared in his own words
My father have a locker in Canara Bank and it had been maintained from more than 10 years. We had paid the locker fee till 2009 and have all the bills related to it. After that we didn't touch the locker till now Dec 30 2013. We didnt paid the locker fee from 2010.  But surprisingly when we went to bank today(6th Jan 2014)to enquire about the locker , Bank people said that the locker was given to some other person from 2010 onwards. And we didn't get any notice asking us to pay the fee of locker.

My question is

How can they give our locker to others without prior information to us ?
If at all they want to give to others they should have asked/send some notice to pay the fee right ?
Ok… assume they have given the locker to others but what about the things inside it. Will they take all the properties inside it? Is that correct?
When I read this on comments section, I replied Eshwar telling him that incase he has not got any communication from bank on closure of his bank locker, then its service deficiency part from bank and to get any kind of information and to speed up the process, he should clearly tell the bank that he will reach to banking ombudsman and even file a RTI to find out all the information if there is no cooperation from bank side, Eswar then went bank and did all those things and then things started moving ..
Here is what Eshwar updated some days later.
When i had raised my voice with respective words like Banking Ombudsman and RTI, the boll got rolling. They took almost a week after i spoke with them and got me with information

1) The locker is safely archived in a bundle.
2) We paid the locker breaking charges and annual fee with respect to banking rules to retrieve the items back.

Now, As i had read about the RBI Instructions regarding the breaking of lock, Here are the points i found

1) After due notice to Locker hirer clearly confirming in the notice that , they are going to break open the locker in case of no response from the locker hirer with in specified time as mentioned in notice.

2) Generally the Lockers will be break opened on presentation of two witness officers of the bank and the valuables in the lockers will be packed in a sealed cover and stapled and will be stored separably .

3) Once after arrival of locker hirer/owner of valuables its duty of the bank to hand over the valuables to owner after under going all due diligence.

So with respective to the above guidelines proposed by RBI, I questioned Bank Manager, Genearl Manager and AGM, asking them to produce me the list of items they noted down while breaking the locker. And they came with an answers like "May be the item list would be inside the packaged bundle."

So my question is

1) "If the item list is inside the packaged bundle then i don't have any problem, But if the bundle have no item list inside it how should i handle the situation ?"

2) I was thinking the item list is mandatory when the locker is broken. Does my thinking makes sense or does the bank doesn't write one(item list) as such.

Currently, they are ready to give the package bundle anytime but i am waiting for your reply on the item list
Can you please respond and suggest me ASAP as i am waiting for your reply to relieve my locker.

And some days Later !

We got our bundle with all the items in it and also there was a list explaining about every item. We were completely satisfied after getting the bundle and didn't fight further for not sending notice.

If i wouldn't have posted my problem in jagoinvestor website I wouldn't have known about Ombudsmen party at all. Thanks once again
What you can learn from this episode is that you should keep on operating your locker from time to time, Even if there is nothing to add/remove from your bank locker, you can casually just visit the bank locker and open and close it, just to check if everything is fine.
What learnings are you going to take from the above real life case ?