POSTED BY Jagoinvestor ON January 2, 2014
Hi All readers, Wishing you and your family a very Happy and Prosperous New Year! We take this opportunity to thank you for being an integral part of our community. Year 2013 was a great year for us and we will continue to serve investors community in the similar fashion. We take this opportunity to share some of the highlights of the year 2013 and also wanted to share what you can expect from us in the New Year.
Year 2013 Flashback
Book "How to be your own Financial Planner in 10 steps" Launched and it has simplified financial planning profession to a great extent. With the help of this book you can actually be your own financial planner – Written by Manish Chauhan (Buy)
Book "11 Principles to achieve financial freedom launched", this book is a gem. It is written in story format, it talks about financial coaching and principles of financial freedom  – written by Nandish Desai (Buy)
We Redesigned our Q&A forum page (it has more than 6000+ members and 7000+ questions – ask your questions now. It is like a one BIG magic box which contains all kinds of personal finance questions and solutions.
We also had an opportunity to work with a few investors one-on-one. We work with limited number of investors in a month and In this year we have completed close to 250+ financial planning clients. We now have clients in more than 30+ countries. (look at our services page)
In this year we launched our most innovative project till date called 100moneyactions.com, which has helped more than 300+ investors and the number is growing every month. This program is magical, if you complete all the 100 actions it will surely help you to take your financial life to the next level. (check out)
We Published close to 600+ articles till date. It is always fun sharing personal finance knowledge with committed investor's community. We are happy to make a difference in so many people's financial lives. (here is the list)
We started something very interesting on facebook. Yes, we have designed a magical 6 week program that takes place on facebook closed group. And in 2013 from 2 boot camps 80+ investors graduated from our Investors Bootcamp. We really want every reader of jagoinvestor to go through boot camp participation where you get a chance to learn from other investors.
We could only do one workshop in 2013. 55+ members attended our Mumbai Workshop for Investors. In our workshops we generate high level of commitment in investors and it helps people to design their financial life.
Helped Asset Management Company, DSP Blackrock with Plan F show on personal finance from start to end (watch all 10 episodes). In this show all the case studies were from jagoinvestor community and we also got an opportunity to learn a lot of things.
A  book called "How to Grow Your Business as a Financial Advisor" by Nandish Desai launched for financial advisor. This is India's book on practice building for financial advisors. Many of you may not be knowing that we have a blog called jagoadvisor.com where we share our business experiences with advisors community – (Buy the book)
Conducted several Online and Offline training programs for Financial Advisors & Planners in Mumbai. The workshop for financial advisors was high on value and we got great feedback from those who participated.
Our Major Projects and Offerings in 2014
A irresistible "Oh My God" Offer for all Investors on 7th Jan – Check your mail box on 7th of Jan at 10 am. We have designed a very special offer for all our readers who have been with us from a long time. This offer is a difference making offer as it will provide you with some powerful tools by which you can start your 2014 with a BANG. Most people have fitness on their new year resolution list but this year we want our readers to place personal finance on top most priority. See that you do not miss this opportunity as it will only be available once in a year. I think this will be the best way to start your 2014 journey as an investor.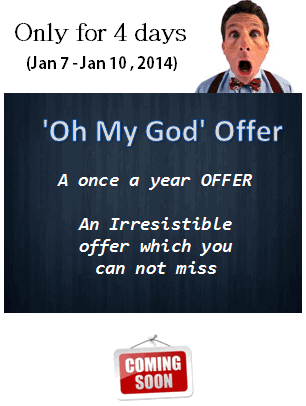 Investors Workshops in Different Cities – Every once in a while we get mails from different people asking for our investor workshop. We plan to tour 4-5 cities in India and want to conduct our flagship workshop for investors. We might also conduct some workshops outside of India as Indian investors are spread all across. We will need your encouragement and support to spread a word about these events – more details will come soon this year. If you are interested for this workshop , please register here
Something special for women investors – In the year 2013 we created one video course and some audio for women investors and it is our dream to do something special for women investors. This may be in form of some workshop or some online program but we will see that it truly helps women investors. We will need a lot of support from each one of you to make our dream a reality. Let's get together and help more and more women in managing their money effectively.
A new website Advisor Hub – This is a project we have been working from last 1 year and it is now in its final stage of completion. This website will encourage quality advice and will help both advisor and investors community. All we can say right now is it will be a game changer in the world of personal finance.
Jagoinvestor PRO to be launched – In the year 2014 we plan to bring some new features and awesome things on Jagoinvestor which will help you more and more in your financial life. We are working on a whole new kind of model that will help investors to take their financial life to the next level.
Business Workshop in different metros – We plan to train more and more financial advisors in India through our training programs and we would love our workshop conversation to reach more and more people. In the year 2014 we are also going to conduct leadership workshop for one Religious organization. Imagine I and Nandish leading 2 day program for 60+ Swamiji's. This is one assignment that we are truly excited about.
Our 2014 is going to be all about service. We will stick to our commitment of serving investors and advisors community. We will continue to innovate, we will continue to make personal finance fun for people and every action that we will take will make a positive difference in society. Thank you once again for being our strength for all your love and constant encouragement. Don't forget to benefit from OMG offer on 7th of Jan.