POSTED BY Jagoinvestor ON July 25, 2013
This article is a must read for every investor and financial advisor. The best part of this article is that it is about YOU (the investor) and it is about them (financial advisors). I and Nandish always discuss how financial advisors cant live without investors and vice-versa, but still their world are very different from each other. Both Investors and Advisors think very differently. It is extremely important for both to understand each other's world and that is what today's article is all about.
Right now I think advisors and investors both share love and hate relationship and the world of investment is structured in such a way, that they are inseparable. Even if they want, they can't avoid having interaction or association with each other. Their thought process are at times very different, they view the game of investment from completely different place. Just imagine How magical the world can become if these two entities engage powerfully?. What can happen if they come on the same page and start to respect each other's world. Such oneness can spread prosperity all over.
Before I write further, I want to make one thing clear that the world right now is full of good and bad financial advisors and investors both.
Step into Each Other World
Unless both Investor and Advisor step into each other world, its really not possible for help and co-exist with each other in a happy way from long term basis. This article is like ticket for both advisor's and investors to step into each other's world, it is an opportunity to embrace each other's world and to accept their mistakes or the damage that they have done to each other's world.
From last few months, We have closely observing and interacting with both advisor's and investors community and have come-up with some differentiation. Some of the observations, you might agree and some of you might not. No need to react to them, but just see if you agree to them or not.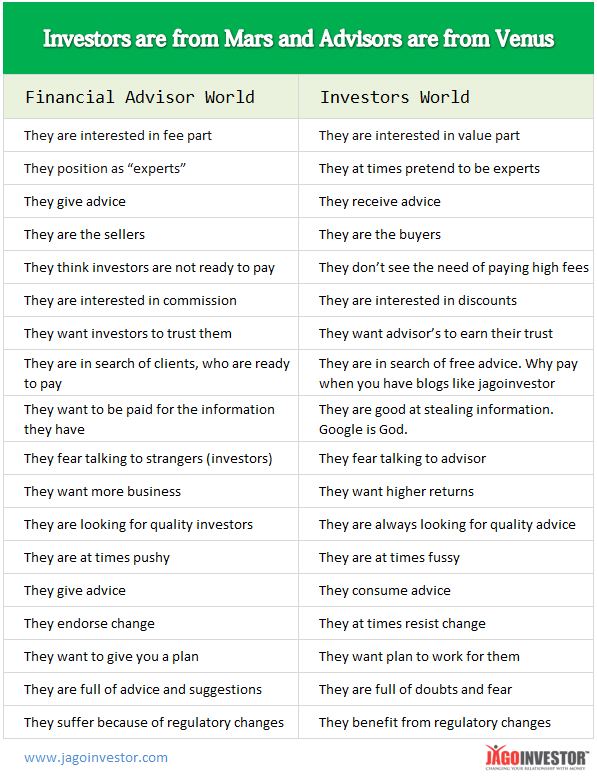 The intention of this article is to help you get in touch with each other's world. Let us know what you think about this ?