POSTED BY Jagoinvestor ON June 6, 2013
Naresh recently visited a new residential project in Pune which was ready for possession. The property cost was in his budget and he was about to finalize the deal. The total cost of property was around Rs 40 lacs. Stamp duty and Registration cost was to be paid separately which would take total cost to around 43 lacs. This was a bit heavy on Naresh pocket, so out of his regular habit, he inquired if there is any trick by which he can save some money on the deal ?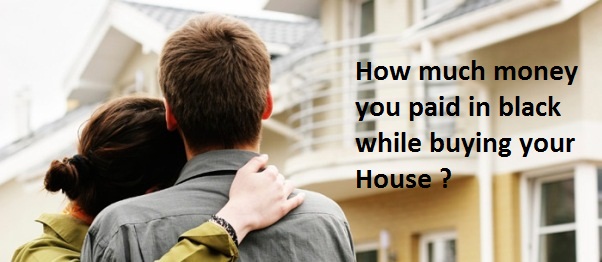 The builder was quick to give him a great saving advice – "Sir , You have to pay 6% stamp duty and 1% registration cost on the agreement price. Which comes to 7% of 40 lacs, thats 2.8 lacs additional, thats the reason the total cost comes around 43 lacs . Now if you want to save money, what you can do is pay some part of the deal in cash to us (means pay in black) and we will reduce the agreement cost by that much, that way – we will also save our tax on the black money part and you will save 7% on that cash amount. Like if you pay us Rs 10 lacs in Cash, then we will make the agreement for Rs 30 lacs only and you will have to pay stamp duty and registration cost on only 30 lacs which will be 2.1 lacs, and it will save you Rs 70,000 without doing anything extra ! . Cool na ! ."
The offer was tempting and Naresh fell for it, how cool is saving Rs 70,000 , all you need to do is pay some part in cash and lower the agreement amount in records. But do you understand, what is your loss in long term because of this kind of deal ? Let me break some hearts today, who have already done this mistake while buying their properties.
Stamp duty and Registration Costs
First understand that stamp duty and registration costs vary from one state to other state. For example – In Maharashtra, its 6% + 1% = 7% in total , so whatever is your total agreement cost , you will have to bear additional 7% on that amount as stamp duty + registration costs. Given the huge amount involved and the financial crunch every buyer faces at the last moment of the deal and hunger of builders to save every bit of tax, makes sure that buyers fall for this trick of paying huge amount in CASH (black money) and register the property at lower price just for few thousands (actually sizable if you look at it). This looks like win-win situation to buyers and they are pretty happy about it, however truly speaking, this is a loosing deal for the buyers in a very long run (if you are going to sell the property later) and only benefits the builders and let me now explain you why is it so ?
At the time of selling – The cost of house matters
I hope you are very clear that when you sell your property in future , you pay the tax on the profits made. And the profit is decided by your COST of the house and the sell price. So lower the cost of your house, the higher the profits on paper for you in future. You might be aware of the fact that indexation is applied in case of real estate transactions and 20% tax is paid on the profit.
Now lets take this same example we are discussing and see how much you save at the time of purchase and how much you loose at the time of selling , which can be in distant future. See the working below and try to understand the whole situation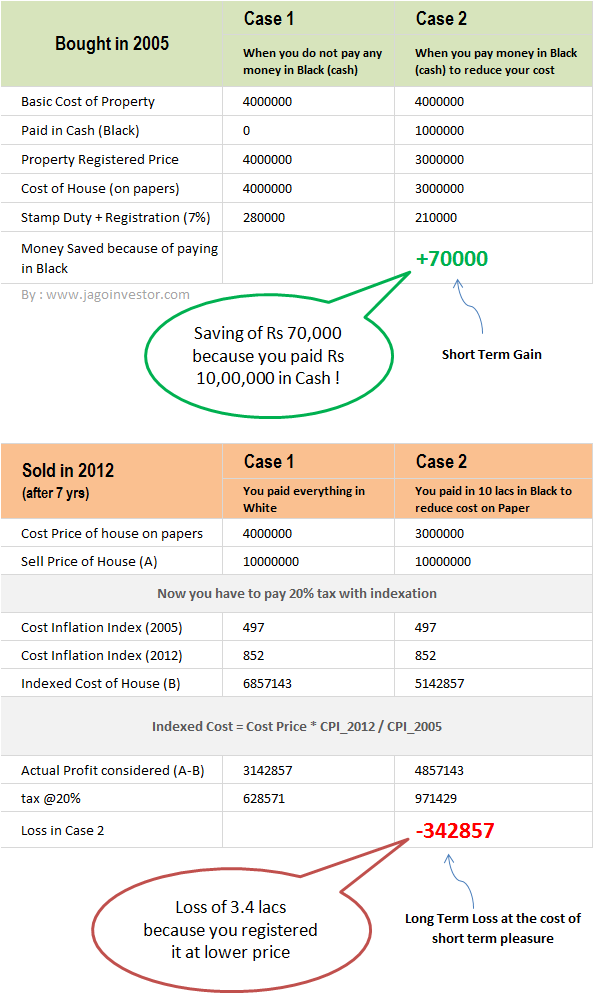 In the example above you can clearly see that by paying Rs 10 lacs in cash, a person is able to save Rs 70,000 instantly. However they are not able to look beyond the obvious and visualize the kind of loss they will incur in future when they decide to sell the property. The same person will pay 3.4 lacs of additional tax in future because he/she paid Rs 10 lacs in cash years back.
Now there are few points which can be debated here like there can be changes in laws in future, or one can save the tax by investing in another real estate properties (which again depends on future laws) , but the point here is to educate you on the long term implications    of this. Now if you fully understand the message of this post, you can take your decisions with full responsibility.
Whats your take on this ?