POSTED BY Jagoinvestor ON April 29, 2013
Are you scared of using your credit card online on some website because you feel there might be  fraud or a security threat? If that's the case, then welcome to the world of Virtual credit cards, which I will explain in today's article and also how it can be useful for you.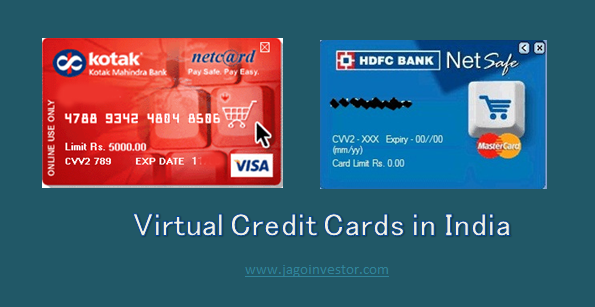 A virtual credit card (VCC) is an add-on credit card issued on your primary credit card; only it's virtual and does not have any plastic existence. You can instantly create it, using your net-banking facility by providing your credit card or debit card details. All relevant details like the card number, the 'VALID FROM' date, the expiry date and the CVV number are visible online to you and this virtual credit card enables you to transact online with a credit limit of your choice. Also the virtual card does not have any fee associated with it and comes for FREE!
The key details of your VCC like the card number, expiry date etc. are used when you transact online, but your primary card details are never shared with the merchant online, so you never have to be worried about losing your card or having to carry it 'safely' in your wallet. There are tons of banks which offer these instant virtual cards these days. Some of them are
ICICI VCC
HDFC NetSafe
Kotak netc@rd
SBI-Virtual Card
Axis Bank e-wallet card
Validity of the virtual card ?
The virtual credit card is valid only for a single use and automatically expires within 24 hours if the virtual credit card is not used, which means that the chances of credit card fraud or misuse are significantly lower than a real credit card. Also understand the if you hold a VISA card, then the virtual card which you will get will be VISA one and if it's Master Card, then it's going to obviously be a Master card.
Is virtual Credit Card only for Online Use ?
Yes, as a virtual credit card is not a physical card, it can be used only for online transactions, for which all you need is credit card number, CVV number and Expiry number. Once used the card expires and can't be used again. If you want to execute another transaction, you will have to generate another virtual card. The maximum limit of your virtual credit card can be as high as your actual limit on the real credit card. When you make the payment on some website using your virtual card, it will appear on your physical credit card statement itself.
Most of the banks issue a card which is valid internationally and you can use them on the websites outside India, however some banks like SBI bank still issue virtual credit cards which are not valid outside India. You will have to check with your bank if it is valid internationally or not.
Can you create Virtual Credit Cards using a Debit Card?
The answer is Yes for most banks. Even if you just have a debit card and not a real credit card (Check out the best credit card in India as per our survey), you can still use your debit card to create a virtual card. There are many people who want to transact online at times, but do not hold a credit card. Now they can create a VCC and use that to transact online. However I just checked my ICICI account and when I want to create a virtual credit card, it asks for my credit card number, so it seems like ICICI bank doesn't allow VCC creation via a debit card. Anybody created one using debit card in ICICI bank? Let us know!
Real Life Situations when you can use Virtual Credit Card ?
When you are transacting on a website, where you do not feel very confident about security, but still you have to transact anyways due to some reason. Check out this fraud
When any friend of yours ask you for your credit card, where you want to "NO" , but still can't say NO. You can now create a virtual credit card and give the details to him.
When you do not have a real credit card, but only have a net-banking facility, you can still create virtual credit cards and use them.
You can also use these virtual cards where you just want to try out the service , but by default the website starts charging the card on renewal basis. If you use virtual card, it will anyways get cancelled after one use and there will be no renewal charges later – Here is a real experience.
Do you feel virtual credit cards to be of any use in your life? Are you already using virtual credit card or planning to use them? Please share it with others!