POSTED BY Jagoinvestor ON May 28, 2012
Do you know that 89% of tax payers in India have income of less than 5 lacs per year? Yes that's true! Such is the case of most of the low earning people form the tax-paying population. However can you guess what is their share in total tax paid? It's just 10%.
why doesn't govt make income tax limit as 5 lacs ?
Yes, 10% of total income tax comes from 89% of taxpaying population. Now that brought a very interesting question in my mind, that why doesn't govt make 5 lacs income as Tax free?  Only those who have more than 5 lacs income will be paying tax. Imagine what will be the situation!!
In one shot, 89% of the tax-payers will be free from the headache of paying tax each year and the govt will still get 90% of the taxes. What they can do is increase the taxation rate a little bit, so that they still get 100% of the taxation recovered from the rest 11% tax payers (having income of more than 5 lacs). If you look at deep down into the statistics, do you know that 1% of tax payers earn more than 20 lacs income and they account of 63% of tax payment. Imagine this – 63% tax coming from just 1% tax payers.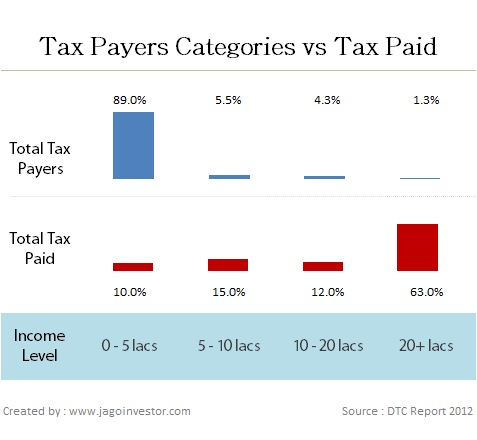 But it will not happen
Let's come back to reality now. It was great to imagine that govt should raise the income tax limit to 5 lacs. But do you know that collecting tax from this segment is the easiest. Because these 89% tax payers are mostly salaried employees and the overall tax collected comes in the form of TDS. Companies hiring them have the responsibility of cutting the tax each month and paying it to govt. Hence Govt has almost no work to do to collect the tax from this section of 89%.
This brings us to a very important conclusion now, How should govt restructure the taxation rates and limits such that they increase their tax collection, but it impacts a small percentage of population? What about doubling the taxation rates for those having income of more than 20 lacs? What about making a marginal increase in taxation rates for those having income of more than 10 lacs?
I know I might be overlooking some important points here, but what do you think about it ? Dont you think govt should raise the income tax limit to 5 lacs or something like that ?