POSTED BY Jagoinvestor ON May 17, 2012
With 45 people in a room at Shilton Royale hotel in Bangalore, the session started. Nandish started the conversation and then it just took off like it was a day made for a great interaction and huge learning for everyone. The session was highly useful for most of the participants and the biggest thing which they could see is "Offline" interactions are so different and some real sharings happen offline when we meet and sit together. The best thing which everyone liked was that there was no regular talk on products because we all know those things already. However it was more of a session where one learns the tricks of a successful financial life and what mistakes most of the people are doing in their financial life.
We shared with the group what we have learned by working with hundred of people and what our experiences are. Overall it was a great day. Here are few pictures from the session at Bangalore.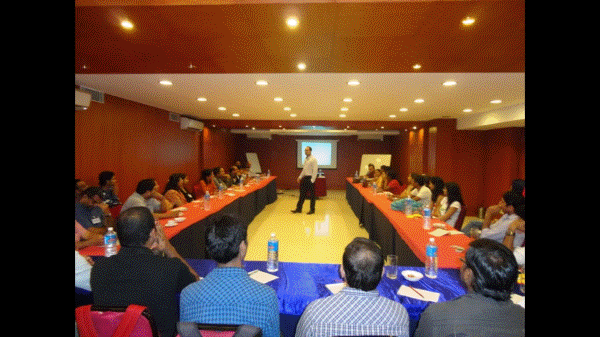 Participants Comments about the workshop learning
"It is a pleasure to listen to both manish and nandish. The simplicity of which the comcepts are explained is very appealing.The biggest take-away would be – keep it simple silly" – Priya Srinivasan 
"Workshop was simple and transforming. I learnt to unlearn some old thinking. Looking forward to mroe sessions and workshop in advanced planning/actions" – Jnanesh Padiyar
"I twas a good learning. Passive income, shock therapy are key learnings . Appreciate that you did not try to sell any financial product not even your own book" – Jayaprakash Rao
"Your team has given me a new vision, to see what I really want in life, have the knowledge to get it in place and to take the actions required to achieve it. Thank You!" – Deepak Singhal
"It was a very good workshop. Really helped me understand my financial life much better.It has taken my financial life to the next level. I also feel there can be more case studies and may be more plays…Thank You !! " – Pavani
"Its a really good workshop. I came here to just hear about financial life but it was not just finance but it is whole life" each and every aspect". I am going back with some commitment for not just manage the money of what I earn but I need to develop myself, health and improve my intellectual property" – Shyammani Prasad
Video Testimonials
Register for Mumbai and Hydrabad
We are going to conduct 2 more workshops in July in Mumbai (Early July) and one in Hydrabad (Mostly end of July). If you are interested in attending those workshops. Please put your names for the workshop.
Those who were present in workshop and are reading this article, please let others know how it was overall and your comments .