POSTED BY Jagoinvestor ON February 2, 2012
Do you want to a FREE book –  Jagoinvestor book (The name of the book is changed now and its now called "16 Personal Finance Principles Every Investor Should Know") without spending even a penny from your pocket ? Believe me thats possible now. Yes, moneysights.com is making it happen. Moneysights is giving away the JagoInvestor Book worth Rs 499 for FREE, to each one of you who is going to open & activate an Online Mutual Fund Investment account with them. It's a limited period offer. However, there is NO LIMIT on how many of you can get it! , if 100 people sign up , 100 will get it ! , if 1000 people sign up , all 1000 will get it and if 10,000 people sign up , all 10,000 will get it ! . No limits !
THIS OFFER IS CLOSED NOW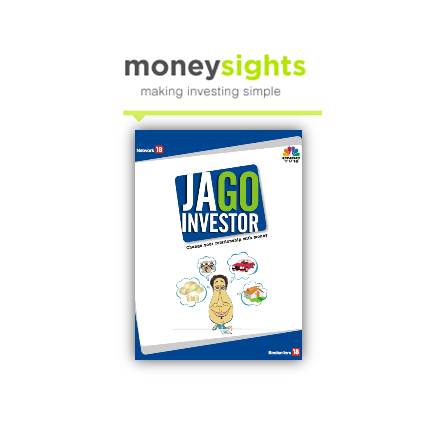 But what does activation means?
Activation means sending the signed application form with mandatory supporting documents . Thats it. It's that easy. All you need to do is get to a stage where you are ready for making transactions and you will get the book delivered to your doorstep once your account gets activated within 10 days of activation.
Are there any terms & conditions?
No. Everyone gets the book. However, you need to be careful that the signed application form along with the valid supporting documents should reach moneysight's Bangalore office within 7 days from the date of form filling. Your application should be complete so as to get your account activated. Thats it. The only condition apart from this is that there is no condition 🙂
2 reasons why should you do it now?
You are getting the book for free
PLUS, its the tax-season. You may be planning & postponing your Tax-saving Mutual Fund investments. Now you don't need to find another excuse to postpone your tax-saving investments.
There are 3 critical things that all participants should be doing while filling the form
Make sure that the name is full. It has to be complete name. For e.g. – Manish Chauhan's name can't be Manish (unless PAN card of individual has the name as Manish only)
Bank account name filed should contain the name as per bank records only
The correspondence & permanent addresses should also be accurate. The best way is to write the address as per the proof.
8 steps for winning assured Jagoinvestor Book for FREE ?
| | |
| --- | --- |
| Step 1 | Register with moneysights (click here) . If you are already registered, just login by clicking here |
| Step 2 | Fill-up the account opening form online. Enter the promo code JAGOINVESTOR in the promo-code field (The offer is closed now) |
| Step 3 | Submit the form |
| Step 4 | Moneysights verifies the online application instantly & sends you the pre-filled application form |
| Step 5 | Take a print out, fill-in requisite info & sign your application form carefully |
| Step 6 | Enclose your application form & supporting documents in an envelope to send to moneysights office |
| Step 7 | moneysights will verify the physical application form & supporting documents. If everything is in order,your account would be automatically activated |
| Step 8 | You get the book delivered to your doorstep within 10 days |
Let your friends know about this Offer
We want to spread this message to each and every person , so please share this news with your friends and anyone you know and they can also get a free book by opening an account with moneysights.com
I had done a review of moneysights.com some months back and now they offer online investments in mutual funds also. So you can open an account with them and start buying & selling mutual funds online with a click of a button. There are no account opening or transaction charges to be paid, so its 100% FREE. There are no limits on how many people can win the book, no random selections or no tricks. Just make sure your application is complete and documents are in order so that the account opening formalities are over. If your documents aren't in order, then your account won't be activated & you won't get the book.
Are you going to open moneysights account and activate it soon ? Put your comments incase you are going to !