POSTED BY Jagoinvestor ON October 18, 2011
There is a new retirement plan in India designed through a mutual fund that is launched by Tata mutual funds called the 'Tata retirement saving plan'. The company is trying to market it using a word 30-30 challenge which says that there are 30 yrs of our work life and then 30 yrs of retirement life and you need to plan for the next 30 yrs in the first 30 yrs. The plan is currently at NFO stage and will be open till 21st Oct 2011.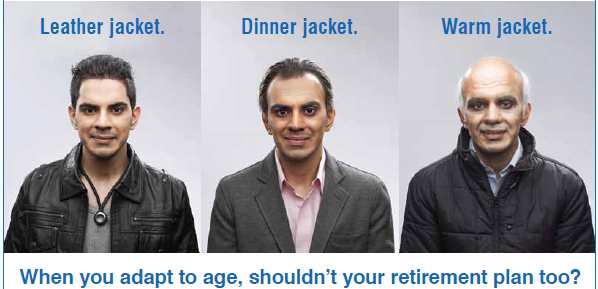 There have been some readers who enquired about this plan in our forum. Let me review the plan in this crisp article. Basically this plan has 3 different kinds of funds inbuilt which are called as 1) Progressive Plan, 2) Moderate Plan and 3) Conservative plan which all have different risk profiles (risky, balanced and safe). As per the asset allocation rules the investor's money will be moved from one fund to another fund as per his age. So all investors who are below 45 yrs age will be in progressive fund (highest risk), then once they reach 45 yrs, their money will be moved to moderate plan and once they reach 60 yrs, they will be moved to the safest option called conservative plan. Once investor reaches 60 yrs of age, he will be getting pension from this plan in form of SWP (systematic withdrawal plan) which is nothing but a known way of withdrawing out of mutual funds systematically. There will be option of getting 1% of corpus monthly or 3% of corpus quarterly. Let's see this auto switch and auto withdrawal options in a little detail.
Auto-Switch
There is an auto-switch facility in this plan, which means at each milestone you will be automatically be switched to the next fund without any exit load. So when a person reaches age of 45, he will be switched from Progressive plan to Moderate plan automatically and when he reaches age 60, he will be auto-switched from moderate plan to conservative plan. Note that one has to choose for auto-switch option at the time of buying the plan.
Switch between the funds manually
One can also switch between the funds manually whenever they want, but in that case if the switch is before 5 yrs from the date of enrolment, there will be exit loads applicable, but if 5 yrs has passed, then 3 exit load free switches will be allowed.
Auto systematic withdrawal plan (Pension)
A feature called Auto systematic withdrawal plan is there in this plan, which will start redeeming your funds and start giving you your money in the form of pension. There are two options in this. In the first option you can get 1% of your total corpus each month and in second option you can get 3% of your corpus each quarter, as decided by you. You will also have an option of not taking any pension amount through SWP route if you wish. So one can just leave his money in the fund and let it grow.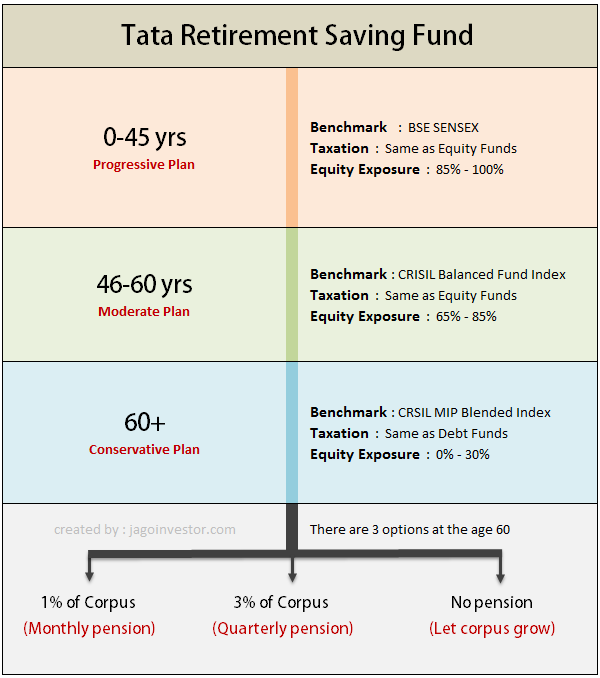 High Exit Loads
As this is a long-term investments tool, the early withdrawals are discouraged and the exit loads are high. There is no exit load if you withdraw your money after 5 yrs of investment, but if you withdraw your money before 5 yrs there are high exit loads. The exit load comes down by 1% each year till 5th year. So in first year, the exit load is 5%, in second year its 4%, in 3rd year its 3% and so on… At last after 5 yrs, there is no exit load.
Some other points
Minimum Investments for Lumpsum = Rs 5,000
Minimum Investments for SIP = Rs 500
There is only growth options under this fund , no dividend options
As per the plan mandate, fund manager can also take upto 10% positions in derivative products ,which can be quite risky.
Good points
These kind of plans are much better than regular pension plans as there is a good enough equity component which is good for long term.
The good thing about this plan as a retirement plan is that you get a known amount (in percentage terms) from your money, unlike the NPS
Not so good points
As this is a NFO , one can not be sure of its performance, features are ok, but the real thing would be the performance of the fund.
The exit loads are high in starting years, which makes exit not so attractive incase the fund performance is bad and one wants to get out of it.
The fund has features which will come into effect after many – many years. For a 25 yrs old, we are talking about 20-30 yrs from now when the auto switching will start happening. It's quite early to comment on how it will turn out then, because there is not much history at the moment about the performance of mutual funds with such long durations.
For Jagoinvestor readers who are quite pro in themselves, the personal suggestion would be to make their own diversified portfolio and have a full control on what they can do with it. This fund look good from features point of view, but it's mainly for non-DIY kind of investors.