POSTED BY Jagoinvestor ON March 20, 2011
How will your retirement look like? Have you thought about anything on retirement planning ?
This is something, which you should spend some time on. Our parents and grand-parents might not have given much importance to their retirement, they might have just took it as it came to them, but can we also afford to do the same with our retirement? Would you like your retirement to take shape just like your parents?
Lets discuss it and take some food for thought from this article today. This is the 3rd and last article in the series called "Financial Planning and Social changes in India" . You can read other two parts here and here .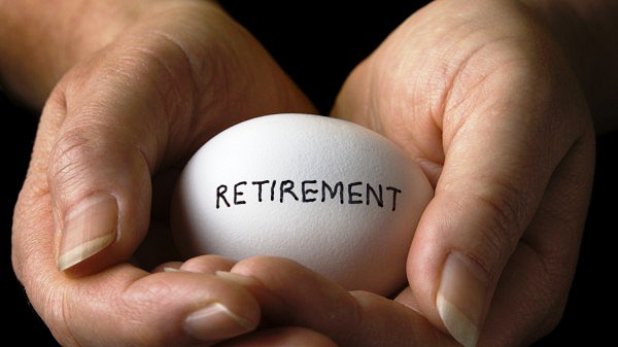 In our country, where a very small number (less than 10% of the workforce which is in the organised sector) has access to some social security like provident funds, but the rest – almost 90% of the workforce – has no social security, Retirement Planning is a major issue .
If you take care of your retirement planning, your future will probably be much better and in control than without doing anything. It has become extremely important to plan for one's retirement and at least take a step towards it. I will list down some pointers which shows why retirement in future India will be much bigger and serious issue.
Look at all the points in totality and you will realize that planning for own's retirement is not just an option but a necessity these days.
1. Increase in life expectancy in India
One of the major problem while doing retirement planning is to assume how long the retirement will last. This has a direct relation with life expectancy. As a country develops, its healthcare and overall life style level improves and life expectancy increases. You can see the life expectancy in India is moving up and up with each passing decade .
It was 49 yrs in year 1970 , increased to 64 yrs today in 2011 and is set to increase upto 73-76 yrs in 2040-50 (projections) .
Now this life expectancy of 76 yrs does not mean that everyone will die at age 76 , it's an average . If you personally have a better life style , better health and better medicare access compared to a average Indian, chances are you will have a much more life expectancy which will cross 85-90 yrs .
Leave future, even today you can see more and more people living upto an age of 80-85 . So, you can safely assume that you will have to accumulate enough money which can last atleast 30-35 yrs after your retirement, else make sure you die with your money itself 🙂 .
Overall the conclusion is "Longer life in future will mean more money required in retirement compared to  today. Simple !"
2. Increase in Dependency Ratio
Dependency ratio means the ratio of Old age population vs Young population. To calculate it, just take total population above Age 60 and divide it with population between 15 yrs – 60 yrs and you will get Dependency Ratio.
You will be surprised to know that right now in 2011 , the dependency ratio is around 5% in India, but in year 2050 this ratio will rise to 15% , which shows you that more and more people are going to be in the old age group compared to young population . See the chart below .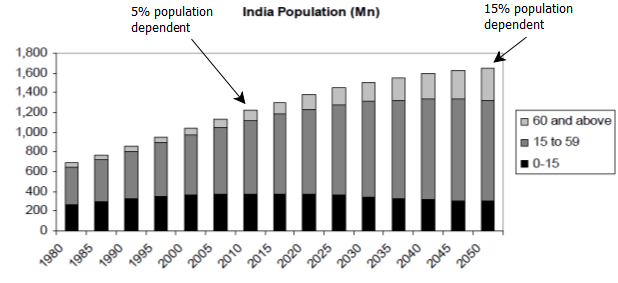 Source : here and here
This is not a small issue. More and more people will be shifting to this "retired" category in coming decades with more load on the working population.
At this current moment, we are one of the youngest country today with as high as 50% population below 25 yrs of age , but will this continue forever? With more population control measures at government and public level, these numbers are going to be different in future.
Hence the conclusion is "More and more people will come into retired category as percentage of population in coming future".
3. Decline of joint family structure
If it was 1970 , you could have safely assumed that you will be probably spending your retirement with your grown up kids , playing with your grand children, but is it happening anymore in these changing times?
More and more people are moving in different parts of country in search of education, jobs and settling there compared to old times. Parents on the other hand dont choose to move most of the times as they feel connected to the same place where they have spend all their life and more than that , they have their social groups at those native places.
Very rarely I have seen that parents leave those places where they have spent 30-50 yrs of their life .
Bigger opportunities in life and a complex life style has resulted in smaller family size and its going down each decade. As per research reports of National Family Health Survey , Ministry of Health and Family Welfare (MOHFW), Government of India , average household size in the year 1992 was 5.7, which means each family had 5.7 members, this came down to 5.4 in 1998 and as per last reports of 2007 , average family size is  4.8.
Now imagine this, each family having  approx 4.8 members , that's today ! . Will it shrink further to 4.0 in coming decades , what do you think ? I think if it does not go down , it will definitely not go up ! . Thats my personal opinion .
This clearly shows that families size are shrinking on average. More and more parents these days are living in their home town where they raised their kids , but kids have moved to other places and settled elsewhere. By no means I am saying that not living together has resulted in less love or less harmony , NO !
All I want to say is people are living separately and "expecting" to live separately now a days.  This will only rise , and not come down by the time you retire.
So the conclusion is "There are higher chances that you will be living separately and not with your kids , by choice or by society structure , unless you are living in smaller towns and villages."
Change in perception about Retirement Planning
Now leave all the factors we talked above. Lets look at how people today feel about their retirement in coming years. I ran a poll on this topic which was taken by as high as 412 unique participants and you will be amazed to hear that as high as 83% said that they would like to be self-dependent and want to save all the money they would require in their retirement.
Around 10% said that this is the first time they are having any thoughts about their retirement after seeing the poll and just 7% people expect to be fully or partially dependent on their children for their retirement. Which shows us that as high as 93% readers on this blog who participated in the poll want to be self dependent and plan their retirement themselves.
Look at the poll results below .
Best Investment for your Retirement ?
So whats the best Investment you can do today which will make sure you live happily in retirement? If you thought that it's some financial product or a strategy to make some extra bucks, you are wrong ! I am talking about your Health here.
Note that reaching destination is important, but after reaching the destination if you don't feel joy and happiness and are not able to enjoy the fruits later, all the hard work you will put for reaching for destination will go waste.
You will be living for 25-30 yrs minimum in your retirement, Now if you have all the money , but no proper health at the end, you will not be able to eat what you want, you will not be able to roam around places , you will not be able to enjoy each moment of your life , what's the use of all your hard-earned money in that case ?
I would say all your efforts will be waste. This is one serious point I want you to take home today. Think about it.
People who are neglecting their health and financial life today are living in illusion that future has a lot for them. Start working on your health today, do a daily SIP investment in your health through exercising in gym or working out in park or at least jogging. lumpsum investments in health does not work , It can only work in your financial life.
I want you to download this e-book called Food and Thought right now.
What do you think about retirement after 30-40 yrs ? I want to hear your action plan for your retirement in comments section. Do you think the points made for Retirement Planning by me makes sense ?
Write us your opinion in the comment section.