POSTED BY Jagoinvestor ON February 27, 2011
So, what's your biggest financial goal in life? Your Child's education?  Their marriages? Planning your own retirement? What is the strategy you'll follow to reach these goals? What if I tell you that in the coming times, your way of looking at these goals needs to change?
You can't look at goals the same way as your parents did! The lives & times of our parents, ourselves and our children will have lots of differences; difference arising because of the way our society and economy changes from year to year, decade to decade.
Let's question the beliefs we have about some financial goals in our lives, how we should change our way of looking at them and planning for them. I believe this is really important; important enough to cover this over a series of articles. This is the first of a 3 part series and we will cover Child Education in this series.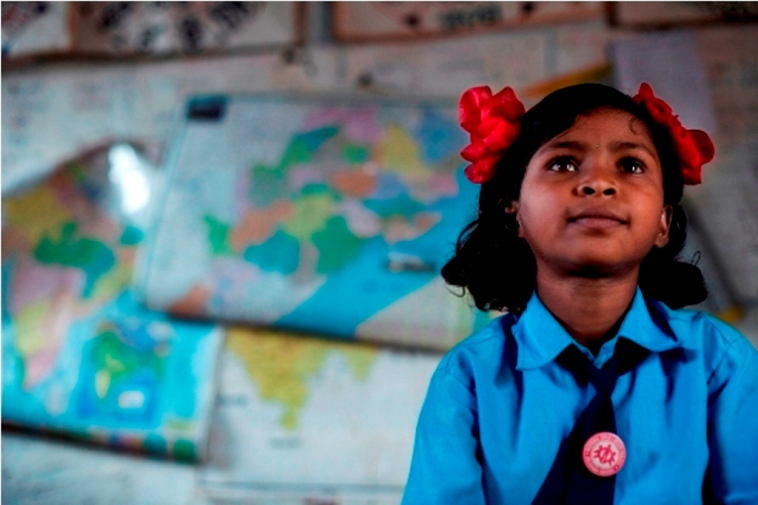 Let me start from basics. Here's how typical financial planning works in India. A financial planner captures your situation, helps you define your goals and then he plans for how those financial goals should be achieved. Take any financial plan and topmost goals are
Retirement Planning
Child Marriage
For years, traditional financial planning has been going on like this, & no one questions the way we plan for these goals and how much importance we give to these goals in our life. Note that these goals take up a good amount of your monthly investments and you end up with less money each month!
How will you feel if after 2-3 decades you realize that you shouldn't have worked so hard on these goals?
How is Child's Education Planning done in India?
Right now, almost every average India plans for their child's education in an unstructured way. They just put some random amount in some generic financial product, without understanding how much would they require at the end, when the goal actually arrives.
The amount of investment done is guided by the potential of a person or some whole number like 5,000 per month or 10,0000 per month.
Normally Financial Planners will take a better and more structured approach to plan for your child's education. They would first take the amount required for funding education in today's world (this is often given by you).
They then, take the target date of the goal (for example, 25 years), assume an "education Inflation" to figure roughly how much education could cost in the future, plug-in other important factors like "regular inflation", "Your earning potential", "Increase in your investments each year", "you risk appetite" and some more factors to figure out the amount of money you need to invest monthly or yearly to reach that goal.
There can be many variations to plan, but this is how most of the financial planners plan for the child's education goal.
Watch this video to know the best investment for newborn child's education:
What's the problem in child education planning?
The problem is that we have taken into consideration changes like inflation, costs, etc., but not considered other factors like how these goals will look like in the future. Whose responsibilities will be it seen as? Who will be responsible for taking care of funding the education costs?
Will it be the parents, the child, or both – the parents and the child?
Planning for child education is not just dependent on the numbers, rather it's a combination of a number of factors; social, personal beliefs, religious, your way of approaching & looking at life…
In the image given below, you will see the steps of a child's education planning: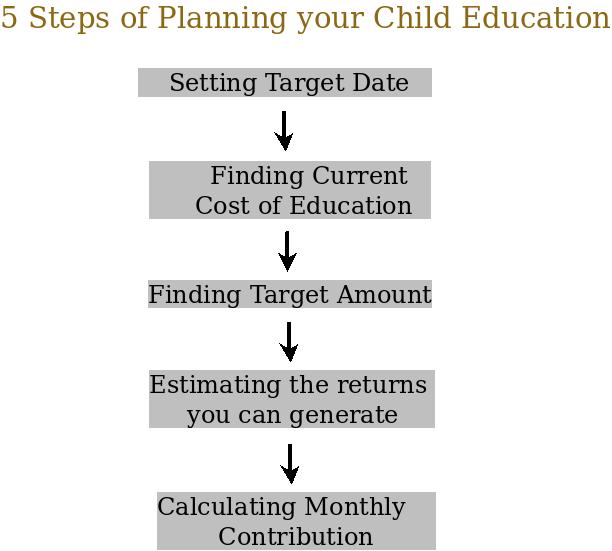 If you are a person who has seen enough hardships in life and have taken care of yourself right from the beginning, you may believe that your duty as a parent is to provide minimum support to your child, up to a certain basic level and they should become independent, sooner or later and that their life is their headache, not yours.
As far as our society goes, earlier providing a great education to children was seen as a passport to a good retirement, because you do your duty of providing support to your child, and in turn, he completes his responsibility of taking care of you in your old age.
But friends, the times are a-changing! Gone are those days and people and relations are going farther and farther. Even in Health Insurance, family means immediate family (spouse and children), not parents.
We are entering (or have already entered) an era where parents will provide for their child all the necessities up to the age of 18, then consider him or her, "self-dependent" , and then expect him/her to make their own path in life.
So the question which we are trying to answer here is, Is "Child Education" so important in today's life? Or more, will it be so important after 2-3 decades? I don't think so.
Change in social trend and our thinking

For years, it has been the parent's responsibility to save money for their child's education. His grandfather saved for his father, his father saved for him and now he saves for his children.
But will this chain of "responsibility" be the same always? Will, it always be the sole responsibility of the parent to save for his child's education and in case he fails, is he or she a bad parent?
In 70s and 80s , it would be a really, deadly shock for a child if his parents told him, "Listen, we as Indian parents know that we should help you with your education, but sorry old chap! We can't! We would rather prefer to keep the money we saved, for our retirement. You go right ahead please, & find some alternatives to fund your education. You can live in this house till you find another one."
The child would have gone straight into a coma after hearing this! You would also be shunned by friends, relatives & society at large and labeled as an unsupportive and bad parent because you didn't do your duty!
Education Loan is the new tool for self-funding
In the new India, it's not a big thing to hear that someone is doing his studies with the help of an education loan. The trend is not really new, but it has started gaining popularity only recently in the last 10 years or so. SBI was the first bank to start giving Education loans in 1995, but it was not really sought after much in those times.
Only now, do we see increased awareness and a shift in parents' mindset that "It's fine to take education loan."
Even so, taking an "Education Loan" is the last option for most people, rather than the default choice of parents and children. Parents do everything they can do to fund education and only if they fail, do they opt for a loan. It's still not seen as the best option to fund education by the majority of the population. (though this is changing)
More and more people are opting for higher education after a first job, It's not uncommon to hear people pay back an education loan EMI while they're working, so you can see the trend emerging now. It's only going to grow bigger and bigger and take a big shape.
Some Stats

There is a steadily growing market for education loans and govt is also encouraging and setting better targets. Banks had given Rs. 35,000 crore in education loans last year. The government has set a target to increase the amount in education loans to Rs122,838 crores in 2017 and Rs1,66,541 crores in 2020.
This would help increase the enrolment ratio from the present 12% to 30% by 2020. (source) .
Here is the chart which shows you the relative size of education loan disbursed by banks and you will be able to see the fast growth. Given the number of youth our country has, there is a huge demand as well as supply for loans.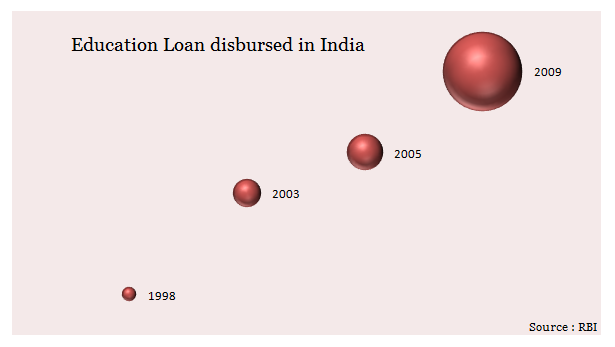 As per a survey, 81% students would like to go for education loans if they are eligible for it. Only 2-3% of Indians apply for education loans compared to 85% in the UK and 50% in the US (2005 data).
Don't stress a lot on Child Education
The motive of this article is to give you some idea about future and how child education will look like. This article is not discouraging you to save for your child education. The only point is that you can take some of your tension away from it, atleast partially. In the coming times, there can be more important goals in life, which needs more priority.
If you are an earning member of your family and feeling the pressure of creating a corpus of several lacs for your child after 20-25 yrs, I would suggest lower your tension! 🙂
While you can still save and plan for that goal to fulfil your "kartavya" as Indian parent, I say, don't worry so much. Your target amount might be correct,  but don't worry, the India of 2040 will not ask you to fund 100% of your child's education. If you even save for 50% of what you have planned, rest would be funded by education loan.
Don't become slaves to numbers! Understand and be with the changing India! Focus on some things more important in your life! We will talk about these in the last article of this series.
Please share your thoughts about this topic? How much do you agree with this way of thinking about a Child's education?
Disclaimer : All the thoughts are purely authors opinion and does not reflect the opinion
of financial planners.