POSTED BY Jagoinvestor ON February 17, 2011
SBI retail bonds or SBI bonds are the latest offers from the State Bank of India. These savings bonds issue will open from 21st Feb 2011 and closes on 28th Feb 2011.
These bonds are offering attractive interest rates to investors which are better than even fixed deposits, however, it does not suit every kind of investor. Only if you are looking at income generation, these bonds will be good for you, but if your aim is capital appreciation, you will benefit by investing in PPF instead of these bonds.
Lets look at the details of these retail bonds . .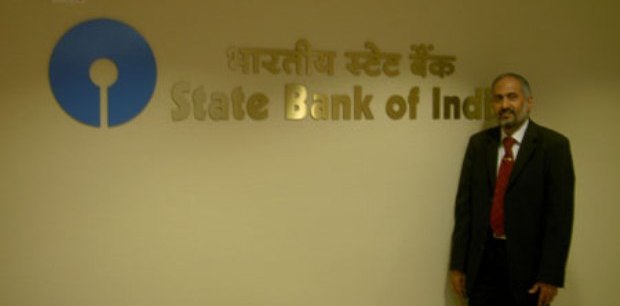 Tenure and Interest Rates on SBI bonds
These SBI bonds will come in two variations. The first one is with 15 yrs maturity period offering 9.95% interest and the other option is with 10 yrs maturity period offering a 9.75% interest rate. Note that these interest rates are applicable only if you are investing less than Rs 5 lacs (retail category).
If you invest more than Rs 5 lacs then you will come into the category of non-retail investors for whom the interest rates are 9.30 percent for a 10-year bond and 9.45 percent for 15 years bond. The interest offered by these bonds is a payable yearly, which makes them a great alternative to Bank Fixed Deposits.
Following is an illustration which will clear a bit about how it works.
Ajay invests Rs 1,00,000 in 10 yrs SBI Retail bonds. He is entitled for 9.75% interest each year. So he will get Rs 9,750 per year for next 10 yrs . Note that each year this interest amount of Rs 9,750 will be added to his income and he will pay the tax on it accordingly as per his tax slab.

He can sell off these bonds on stock exchange incase he is getting a good deal . One more thing which can happen is that SBI can force him to sell off the bonds back to them if SBI exercises their "call options" , which we have talked about below ! .
Call option
There is something called "Call Option" in these SBI Bonds. For people who are familiar with "Futures and Options" , they know that a Call option is nothing but "Right to Buy" . So as per this call option, SBI has the right to buy back these bonds from you and terminate the contract with you much earlier than the actual maturity.
If they choose to "exercise" the call option, SBI will pay the principal back to you. For 15 yrs bonds, the call option can be exercised in 10th yr and for 10 yrs bonds, the call option can be exercised in 5th yr. Note once again that it's the right of SBI, not yours.
For example: If you buy 15 yrs bond in 2011, then if SBI wants to buy back the bonds after 10 yrs which is the year 2021, they can do it. In which case, they will pay back the principle amount to you and close the contract.  But in case they dont want to do it, they will continue the bond and you can't do anything :).
How to Apply for SBI Retail Bonds
There is no way to apply for these bonds online. You will have to physically go to SBI Bank and get the form from there and fill it up  (See the list of all the designated branches of SBI in PDF and EXCEL format, thanks to Babu for providing the list).
However, these bonds will be issued in Demat form only and therefore you will need to have Demat account for buying these Savings Bonds from State bank of India. So be clear on two points
You need to have Demat account to apply for these SBI Bonds
For applying you need to go to SBI Bank Branch and fill-up the form , there is no way to apply online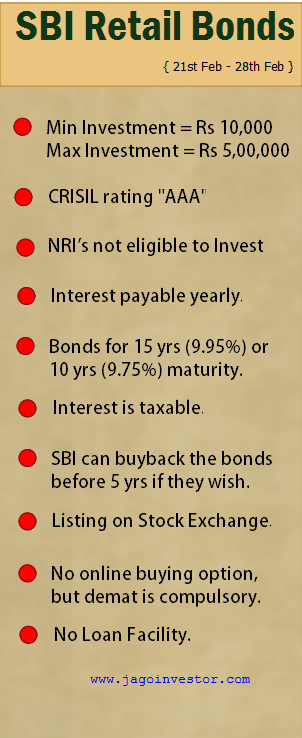 Listing on Stock Exchange
One great thing about bonds is that they are listed on a stock exchange so that you can buy and sell them in the secondary market in case you want to exit from it before maturity. SBI retail bonds will also list on the stock exchange after 1 month of the issue, after which you can buy or sell them on the stock exchange.
Last time when SBI came with a similar issue, the buyers benefited a lot because the bonds listed at 5% premium on the first day itself, so there was an instant 5% gains for those who bought these bonds. However, there is no guarantee that it will happen again.
Taxation
The interest which you get from these bonds will be taxable. The interest will be added to your salary and taxed accordingly. Also, these bonds do not give you any tax benefits on investment amount and are not covered under sec 80C. So effective return for these bonds will be much lesser for investors in 20% and 30% bracket post-tax. Watch this video on 7 tips of saving tax
Should you Invest in these bonds?
So the main question anyone will ask is "Should I invest in these bonds?". It would depend on your goal as an investor. Just by looking at 9.95% you cant say that its the best investment. Note that the interest payout if yearly. It's not compounded like your PPF or FD's. This means that the returns do not earn anything on it later, but its paid out to you.
So in case, your goal is to generate yearly income at decent rates, It would be a nice investment. However if your goal is capital appreciation and you are looking at the growth of your investments, these bonds would not be the best option. Note that even PPF would give more money to you at the end.
Below is a chart that shows the yearly amount you have got by the end of each year.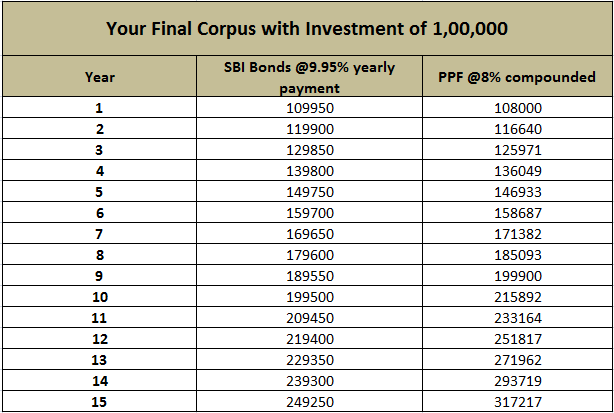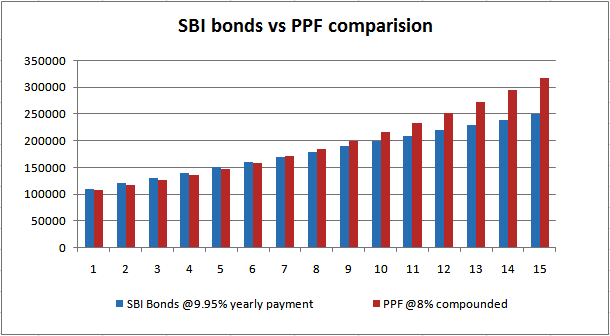 You can see that in the case of PPF you are having more money with you even though the interest you get on it is just 8% because of the compounding of money which is happening there .. However, in the case of SBI bonds, it's not the case.
Here the reinvestment of those yearly payouts is not taken into consideration. So the point here is that if you want yearly income, only then these bonds make sense.
What about interest rates in the future?
But the only suspense is what will be the interest rates in the coming years? What you don't know is how interest rates will move in the long-term and if interest rates offered by these bonds will look attractive in the future?
SBI might not be too dumb to offer these returns for such a long-term. Here is an except Deepak Shenoy …
"why is SBI doing this? They don't need to. They're really smart people. Let me reiterate that. SBI has extremely smart people. If they could have offered a lower rate, they would have. That means this is actually a low rate compared to what they expect rates to go to.

Meaning, there will be more rate hikes, and the 9.95% that looks good now, won't look so great if you can get, say, 12% outside. (Don't tell me 12% is out of reach, please. Even 10% was out of reach a couple of years ago) So that's the risk – the feeling of regret if rates go up to 12% – in fact, you will think of it as a "loss" because the market value of the bonds will be below par, in that case.

But if you have a different view on interest rates or can swallow such regret, go ahead." – Excerpts from Deepak Shenoy on his blog post.
Some Great Advice from Experienced Investor
In case you are going to buy these bonds, you need some real-life tips.  One of the readers Mr. Sundar shares some good and worthy points based on his experience of applying in these SBI bonds in 2o10. Read it below …
1. Apply in retail quota and do it on the first day. It is first to come first depending upon the day. I applied for HNI Quota and failed. Retail gets preference over HNI. Read the offer document carefully.
2. Those who apply for 15-year bonds get first preference over the 10-year bond applicant. Read the offer document carefully. So don't apply for 10 years if you want to improve your chances of allotment.
3. SBI Bonds are listed on the NSE as N1 and N2. Go to NSE Website and search for SBI equity. You will get SBI, N1, and N2. Trading per day is not that good. 15-year bonds are trading with a premium of 4% (N2)and 10 years (N1)at 2.5% as of yesterday.
4. On the whole this offering is good. But if you are looking for holding it up to maturity you will be shocked to know that the gains will be treated as interest and not as capital gains. So it will be better to sell this bond in the market in which case it will be treated as capital gains on Debt Funds.
Unfortunately, the trading is small and only small lots can be sold on a per-day basis. See the trading pattern on NSE.
Other Features
There is no Loan facility on these bonds. You will not be able to pledge these bonds for taking the loan.
The minimum investment is Rs 10,000 and the maximum is Rs 5,00,000 for the retail investors.
NRI and PIO can't apply for these bonds
CRISIL has assigned a rating of "AAA" to these bonds which comes into the "safe" category.
Comments? Have I missed anything in the article which you want to point out? Are you investing in these bonds?