POSTED BY Jagoinvestor ON October 13, 2010
Are investors in India spoiled a lot? Does it look like we have enough regulations for the investor to make sure his money is safe or do you think that laws still need to be made to make investing a happy experience?
The stock market looks robust and we haven't seen a major scam for quite sometime now; IRDA and SEBI have and are still sorting out the ULIP mess; SEBI has made Mutual Funds cheap – is there more the investor wants?
Sure they do – there is always room for improvement at the top! To assist the regulators, the investor needs to increase his awareness too. Here are my top 3 wish lists for the small investor in the personal finance space which will make investing a memorable experience for him.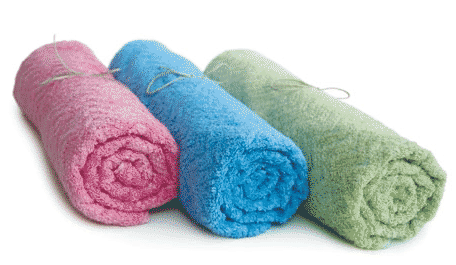 #1 Introduce Stringent Real Estate Regulations
A home is often the most prized possession for the small investor today. But often he finds himself at the receiving end of the deal. The modus operandi is the agent or builder will sweet talk you into booking an apartment after you have shown interest in the project.
Once you shell out the booking amount, you are locked in with the builder and the project you bought into. Future demands of money come in; you pay up through a home loan and the builder delays the apartment delivery, in many instances routing your money to launch other projects. A home is the biggest asset the small investor buys in his lifetime( Also see Tips to Buy house).
Paying the home loan is a huge burden to begin with.
Given this, it is but anybody's guess what a nightmare he goes through when the real estate builders delay the projects by years – the investor has to pay the rent and pre-EMI together. That is a huge drain on his finances.
The regulators ought to come out with a mechanism to stem this rot. Builders need to be rated and penalized for late or shoddy delivery. There needs to be a mechanism in place to penalize builders who cannot deliver the most prized and costly possession for the investor.
CRISIL has already come out with its Real Estate Star Ratings in August 2010 – we will have to wait to whether this helps the real estate industry in a positive way or it becomes just another rating mechanism without serving any useful purpose for the buyers. Till that happens, the investor has to suffer and fight the battle himself.
#2 Sell Insurance to protect against risks, Don't just make commissions
The old adage "Insurance is never bought, it is sold" holds true even today. Seldom does one buy insurance for protection purposes; it has been mostly sold as an investment vehicle. And whenever a product is sold, it is commissions that drive the sale, not the investor's profits.
Call it the insurance agent's smart tactics or the gullible investor's ignorance, insurance, and especially ULIPs, continues to be mis-sold. This seems to be the most talked about topic in every personal finance corridor. There are regulations to stem the dirt from spreading and there are investor awareness programs out there; the regulators fight and introduce more regulations but at the end of the day, the investor continues to still suffer.
Given the history around this, I think no amount of regulation can eradicate this illness. The only answer is investor awareness. If the investor empowers himself with what is best for him, he will buy the best insurance and probably look at money back, endowment plans and ULIPs the last!
We need to get to a state where insurance is sold only for what it's meant to be bought for – protection!
#3 Educate themselves about Equity, Don't just have a short-term view
It's a very old saying – "It's not timing the market that matters, its time in the market that matters most". Equity is meant for the long-term but most investors buy and sell equity to make profit in the short-term.
The investor's lure is milked high and dry by brokerage houses that earn on brokerage charges which investors generate for them by buying and selling securities.
All brokerage houses will bombard you with SMSes and calls about a hot stock tip, in fact, we recently had the same brokerage house giving a buy and sell signal on the same stock on the same day, one to institutional investors and the other to retail investors.
More churning and constant buying and selling never made anyone rich except the broker. Look at what the Executive Director and COO of Pramerica Asset Managers was quoted in Money Today as saying.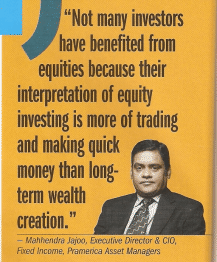 Active and passive trading:
It has been proved that the amount of money that one could generate by active trading is usually less than the amount you could generate by passive investing over a long period of time.
Despite this, most of us still lose money by trading; brokerage houses still walk away with our hard-earned money and we keep thinking "How did the guy next door get rich quickly ?!"
IPO's are issued using the book building process with the idea that the price discovery will happen by buyers but it's anything but that. Investors still lose money in IPOs. It's not just insurance that is mis-sold, its equities too !
As a nation bursting at it seems with a young population, the regulators, investors and product sellers need to make sure that investors can have the confidence in investing in products that suit their over all portfolio – its only then that we can pass on the baton of confident investing to the next generation.
This is a guest post from TheWealthWisher, a personal finance blogger and financial planner.