POSTED BY Jagoinvestor ON October 7, 2010
From the Budget, infrastructure bonds are also eligible for additional tax exemption upto Rs 20,000 over and above Rs 1 lakh under Section 80C. IFCI Ltd was the first company to issue these infrastructure bonds and they have collected a substantial amount in the last few months. Now, IDFC Ltd has introduced its infrastructure bonds and there are a lot of investors, who are considering these bonds as an option to save additional tax for this year. Rajendran and Prashant have also asked the questions related to Infrastructure bonds some days ago on Jagoinvestor Forum. In this article, I give you brief information on IDFC Infrastructure Bonds.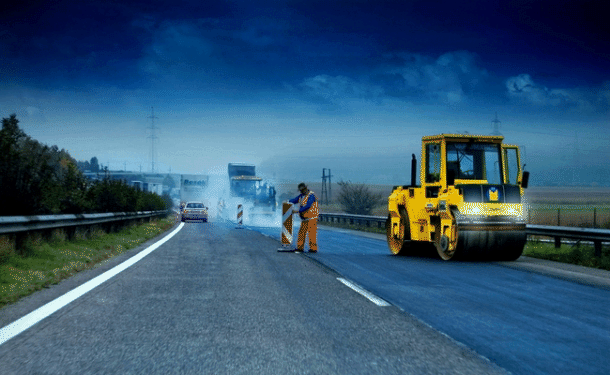 The maturity period of these bonds is 10 years and the lock-in period is five years. These bonds will be listed on the Bombay Stock Exchange and National Stock Exchange. After completion of five years, you can keep these bonds for additional five years and withdraw money at the time of maturity. In case, if you need to withdraw money before maturity, then you always have an option to sell these bonds on stock exchanges. Thus, these bonds can be traded like stocks on the stock exchanges but only after the lock in period of five years is complete. You would require a demat account and Permanent Account Number (PAN) to invest in these infrastructure bonds. The face value of each bond is Rs 5,000. The minimum application has to be for two bonds and in multiples of one bond thereafter. Hence, the minimum investment required is Rs 10,000. You can invest more than Rs 20,000 in these bonds but the tax-exemption would be only upto Rs 20,000.
Taxation on Infrastructure Bonds
You will get tax exemption benefit up to Rs20,000 when you invest in these bonds. However, the interest gained will be taxable. The interest would be added to your income and taxed at the existing slab rate. this taxation rule will be same even after Direct Taxes Code (DTC) Bill comes into effect. Both, the current Income Tax Law and DTC require you to pay tax on the interest earned.
Infrastructure Bonds in different series
Note that these bonds come in 4 different flavors and they are called as Series 1, 2, 3, 4 . Each of these series is different from each other in some way. There are two main things you should understand , which might be of concern to you.
Interest Cumulative :  Series 1 & 3 do not provide cumulative interest. They will pay interest annually. For example, if you invest Rs 10,000, then after completion of 12 months, the interest amount will be paid to you every year and the bonds maturity value would be same as your investment. However, bonds which have cumulative interest will keep accumulating interest. And this interest would be compounded every year. (see CAGR)
Buyback : Series 3 & 4 have buyback option. Buyback option means that you can sell your bond back to issuing company after five years; once the lock in period is complete. In return, you will get back your original invested amount and the interest accumulated for five years. You would notice that interest rates for series 3 & 4 is 7.5%, which is because they have an added advantage of buyback facility. If you don't want buyback option, you will get 8% interest. People not opting for buy-back options will depend on secondary markets to sell their bonds if they require money urgently before maturity (10 years). Thus, after lock-in period (five years) is complete, they will have to find a buyer in secondary markets else wait till maturity, when they will get the money back from IDFC.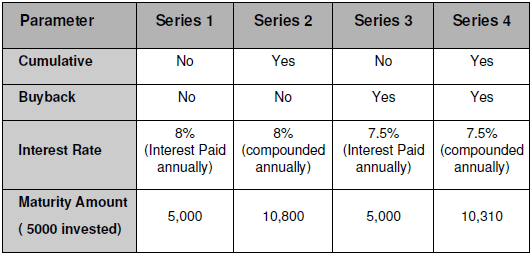 Other features of IDFC Infrastructure Bonds
NRI's cant invest in these bonds (Only available to Resident Individuals and HUF's)
The bonds don't attract any TDS
The bonds are rated LAAA by ICRA, However high rating is not something you should be very excited about. (Link)
The interest accrued on the bonds will be credited to the respective bank registered with the demat account through ECS on the due date for interest payment
Interest on the bonds shall be payable on annual or cumulative basis depending on the series selected by the bond holders
The bonds can be pledged for availing loans after the lock-in period of 5 years
Subscribe to the Bonds in physical form
If you do not have demat account and want to apply for these bonds in physical form , you can still apply for them using these steps (link) , Thanks to Srinidhi for giving this info .
Don't fill up the demat details in the application form
Compulsorily provide the following three documents with the application form:

Self-attested copy of the PAN card;
Self-attested copy of a cancelled cheque of the bank account to which the amounts pertaining to payment of refunds, interest and redemption, as applicable, should be credited.
Self-attested copy of the proof of residence. Any of the following documents shall be considered as a verifiable proof of residence:

Ration card issued by the Government of India; or
Valid driving license issued by any transport authority of the Republic of India; or
Electricity bill (not older than 3 months); or
Landline telephone bill (not older than 3 months); or
Valid passport issued by the Government of India; or
Voter's Identity Card issued by the Government of India; or
Passbook or latest bank statement issued by a bank operating in India; or
Leave and license agreement or agreement for sale or rent agreement or flat maintenance bill; or
Letter from a recognized public authority or public servant verifying the identity and residence of the Applicant.
Should you Invest ?
Though, it's mentioned that the interest rate on these bonds are 8% or 7.5%, the interest earned would reduce further to 5.5%-6% range when you count the tax paid on interest. But if you look at it from a different angle, and count your money saved due to the tax-exemption at the time of investing, in that case the return would turn out to be around 9.5%-10%, but do you think it's the right way of looking at returns?
What do you think about these bonds ? Are you investing or not and why ?