POSTED BY Jagoinvestor ON October 31, 2010
Are you confused about many things when it comes to Health Insurance in India ? Are you afraid of rules and regulation in Mediclaim policies ? Don't you have a clear idea about how will you deal with various things in Health Insurance and delaying your decision of taking a Health Policy ?
Today we will look at most frequently asked questions in Health Insurance try to answer those questions.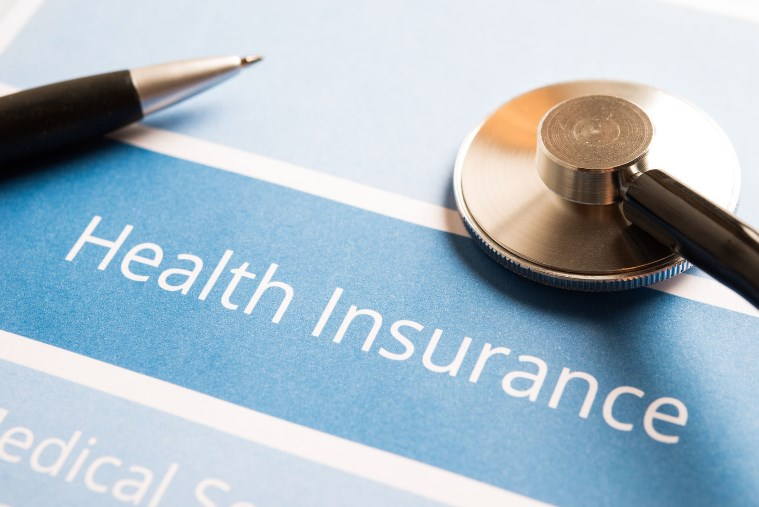 1. Can a person get claim from his own company and spouse company if they are covered under both companies ?
Yes, if both husband and wife are covered from their employer, they can claim from insurance provided to them by both the companies.
For e.g. if husband is covered for 1 lac under group insurance policy from his company (and her spouse is also covered under her husband company policy), and the same situation exists vice versa, both of them are then, actually covered for 2 lacs each; 1 lac from their company and 1 lac from their spouse's company.
Now if something happens and husband gets hospitalized and expenses are 1.8 lacs, then husband can make a claim of 1 lacs from any one of the company and remaining 80k from other company. If you have cashless facility then you just show both health cards. If you don't, you can get reimbursed by insurance company.
One important point worth noting is that during reimbursement, one should apply for the reimbursement first to his parent company and then to the one of his spouse. See some hidden health insurance policies
2. Do we have to notify the company about any illness or habit developed in between?
No, we are not required to notify the company regarding any complication or health issue. If the policyholder is hospitalized, the company will automatically come to know of it. Otherwise, no need to inform the company about any such policy.
If you notify the company, your premium for year after notification will increase, if it is under their list of illness to be checked. If you don't notify the company and when you go for a claim, they will come to know that it was developed earlier and the claim will be settled accordingly and from next year onwards they might put loading on it (All these reasons vary from company to company).
So whether you tell them or not, it's the same thing. They have doctors panels with whom they check your details before giving you the claim.
3. Does Health Insurance cover everything from accident, surgery, normal hospitalization ?
Yes, Health Insurance covers you for everything, provided you were hospitalized, be it for any reason; due to accident, illness, or disease. If someone met with an accident and he is hospitalized, then his mediclaim policy will pay for his bills, no exceptions.
Watch this video to know what are the things to look for while choosing a health insurance plan:
4. What are the advantages of sticking to one Health Insurance company for a long time ?
The plus point of sticking with one company is that if someone is suffering from any pre-existing disease at the time of commencement of policy, those complications will be covered after 4 years. Until portability is introduced in India, this is the single biggest advantage to stick with one company for long.
Another advantage is that when you have a continued policy from any insurance company, after few years you get bonus or discount in premium.
For example: Suppose you have a policy of 3 lacs and you are with the same insurer for past 4 years you can get a bonus of 50% i.e. you pay premium for 3 lac only but you get coverage of 4.5 lacs. Similarly some companies don't offer bonus but they offer discount in premium i.e. for coverage amount of 3 lacs you pay lesser premium than actual amount.
So if you don't have any serious problems with the insurance company then it is better to stick to one company.
5. Can NRI's take health insurance? Can they travel to India for treatment and claim? What about emergency situations ?

Yes NRI's can take Health insurance in India. They can definitely travel to India for treatment and can claim it. however they will have to show their residence proof, ITR and a few other documents. If they don't have those documents, then they are not eligible to get insured in India.
The cost of treatment in India is different and cheaper than countries like USA, UK and other European countries. The premium amount computed depends on Indian conditions and parameters. So if a NRI has health insurance form Indian company, that person would be paying premium as per India actuaries and obviously cost of treatment in his residing country would be higher than India.
For example:
If a person get dengue and he is very critical and requires urgent hospitalization, the cost of treatment in India would come up to 1-2 lacs (and this is on higher side.) The same treatment would cost around 10-15 thousand dollars in US so this burns a hole in insurance companies' pocket.
So for treatment the person has to come to India and they don't offer compensation for treatment there. Some Rules about NRI insurance and Investments
6. How to claim successfully in case of emergency and planned hospitalization?
The most basic fundamental for a smooth claim process is keeping all your documents up to date. If you have a past history of illness, make sure that you submit those documents too, because the TPA department will come to know whether it's a pre-existing disease or not.
While submitting your documents make sure that all the documents are proper and there is no missing document pertaining to your illness. This will just give a chance to TPAs to make excuses and you will have to run for your money.
It's worth noting that in case of planned hospitalization, if you inform your mediclaim company in advance and take prior authorization, everything will be settled by the mediclaim company or TPA, without the policyholder been required to submit any document.
7. Is it better to take accidental policy separately or mix it with term insurance as a rider?
If your accidental policy is a rider with some Term insurance (9 most asked questions about Term Insurance) then you must take care that it covers everything what accidental policy should cover. Generally when a policy is offered as a rider it does not cover each and every aspect.
For example: An accidental policy offers insurance against partial disablement, loss of limbs, hands and many other parts. But in a rider, many insurance company offers insurance against permanent disablement only and not for partial disablement and loss of body parts.
Also note that, because accidental rider is much less if taken with Term Plan as compared to the personal accidental policy taken stand alone. Under term plan, accidental death benefit could be taken for as little as Rs.1000 for a cover of upto 15 lakhs where as in a stand alone policy the same amount will be available for a premium of around Rs.2000. So it depends.
8. What are the top most things one should check in the policy documents ?
The first thing one should have a look at, is to check what the exclusions in the policy are. This is because, we get information on what is covered but no insurance company will give information on what is not covered and this creates a problem at the time of claims. So to avoid any surprises, one should have a thorough look at exclusions as well.
For example: A new circular was passed by many insurance companies few months ago in which they provided only Rs.20-24 thousand (different companies had different rates) compensation for cataract operation. Earlier there was no limit on it.
So sometimes in list of coverage for health insurance we just read the tabular format given by companies but don't go inside to see the details and this can land us in soup sometimes. Many insurance companies now provide Maternity benefits but they limit it to coverage of only Rs.20-30 thousand, we just see that maternity benefits are given but sometimes fail to notice how much coverage is given.
Also check if the policy has Loading and Co-pay .
9. If there are no loading charges, can premium still change on renewal?
This is a very big question with very easy answer..If you check the premium structure of any of the mediclaim company, either there premium is increasing every year or they have premium slab for different age groups; something like for age 30-35 premium is 4200 and from age 36-40 its 6700.
So under this second policy, when the policy holder moves from age 35 to 36, his premium suddenly jumps by Rs.2500 and this is not loading.
So yes, premium can/will increase irrespective of loading after certain age.
10. Is it a good idea to split health insurance into 2 policies? Tips?
No logic for doing this except personal preference. If you are taking another mediclaim policy just to increase your cover, why not get your cover amount enhanced in the existing policy/company.
Get another mediclaim policy only if certain other company is offering feature/features which your existing policy does not and you have surplus funds at your end to afford 2 separate mediclaim policies at a time. No other reason to, otherwise.
11 . During the course of my treatment, can I change the hospitals?
Yes it is possible to shift to another hospital for reasons of requirement, of better medical procedure. However, this will be evaluated by the TPA on the merits of the case and as per policy terms and conditions. Note that it would be prudent if you check the network hospital list and go to the best hospital in the beginning itself rather than changing midway.
12. What are the situations under which one may be denied cashless hospitalization?
If there is any doubt in the coverage of treatment of present ailment under the Policy if the information sent to TPA is insufficient to confirm coverage
When the ailment/condition is not being covered under the policy.
If the request for pre-authorization is not received by TPA in time. In such a situation, the Insured can take the treatment, pay for the treatment to the hospital and after discharge, send the claim to TPA for processing.
In case the hospital in not on the panel of the company or the disease/illness is pre-existing and not covered for 4 years.
13. Whom can I approach in case of a conflict with insurance company with regards to my claims?
The Grievance Redressal Cell of the Insurance Regulatory and Development Authority (IRDA) looks into complaints from policyholders. Complaints against Life and Non-life insurers are handled separately. This Cell plays a facilitative role by taking up complaints with the respective insurers.
Policyholders who have complaints against insurers are required to first approach the Grievance/ Customer Complaints Cell of the concerned insurer. If they do not receive a response from insurer(s) within a reasonable period of time or are dissatisfied with the response of the company, they may approach the Grievance Cell of the IRDA.
Private Insurers:
Shri K.Srinivas, Asst. Director,
Insurance Regulatory and Development Authority
Consumer Affairs Department
United India Tower, 9th floor, 3-5-817/818,
Basheerbagh, Hyderabad – 500 029.
E-mail ids: complaints@irda.gov.in

Public Sector Insurers:
Mr.R.Srinivasan, Officer on Special Duty
Insurance Regulatory and Development Authority
Consumer Affairs Department
United India Tower, 9th floor, 3-5-817/818,
Basheerbagh, Hyderabad – 500 029.
E-mail ids: complaints@irda.gov.in . As claims/policy contracts in dispute require adjudication and the IRDA does not carry out any adjudication, insured's are advised to approach the available quasi-judicial or judicial channels, i.e., the Insurance Ombudsmen, Consumer for or the Civil courts for such complaints.

The list of Insurance Ombudsmen along with their contact details are available on this website under the heading 'Ombudsmen

Here is the link
If you have a good broker from whom you have purchased the policy, then they will help you in coordinating with health insurance companies.
14. What is the difference between Critical illness insurance and normal health insurance ?

In a critical illness policy you are covered for certain mentioned critical illnesses only. Some of coverage's are Kidney disease, brain tumor, and major organ transplant and many more depending on the companies.
If you have normal health insurance you will definitely get covered for critical illness but in critical illness you won't get coverage for normal disease like malaria, typhoid.
For example: If your age is 25 and you buy normal health insurance from any XYZ company and let say its premium is Rs.3000 for cover of 3 lacs but if you buy critical illness policy for 3 lacs the premium would be less because considering your age the changes of you getting a critical illness is lesser than any normal disease.
Similarly for old age person the premium for critical illness insurance will be more than normal health insurance because chances of getting that critical disease are more at older age. One other option would be to avail critical illness rider in term plan itself.
15. What is the benefit of critical illness policy?
So as you grow older it is advisable to have another critical illness policy along with normal health insurance. So those at old age when undergo major operation or transplant, this critical illness policy can be used and for minor disease normal health insurance is used.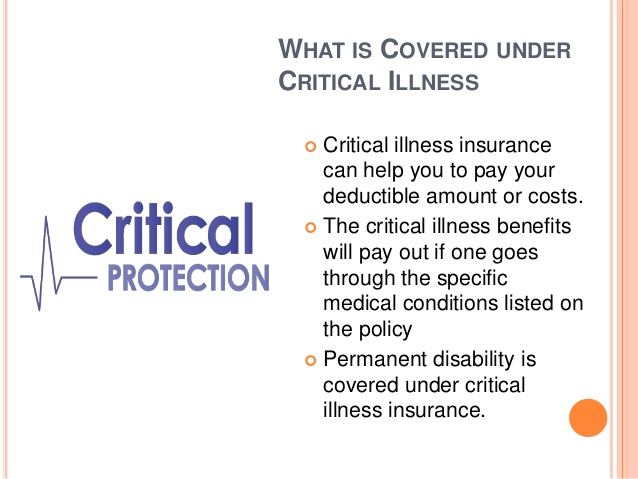 Image source: Slideshare.net
The reason for this is e.g. if you have normal health insurance of 5 lacs and you undergo tumor surgery with other complications and the expenses are around 4 lacs and after sometime you get hospitalized because of ill-health then you have nothing left in your health insurance.
16. What is Domiciliary Hospitalization?
Domiciliary Hospitalization means medical treatment for a period exceeding three days for such illness/disease/injury which in the normal course would require care and treatment at a Hospital/Nursing Home but actually taken whilst confined at home in India under any of the following circumstances, namely:
i) The condition of the patient is such that he/she cannot be removed to the Hospital/Nursing Home or
ii) The patient cannot be removed to Hospital/Nursing Home for lack of accommodation therein
For smooth claim process, just take care that all your documents are in place and to be on a safer side have a report from your family doctor, stating that this person cannot move to nursing home/hospital due to such and such reasons.
It just provides the proof and makes the process simpler. Note that every company does not offer this facility, you should check your policy document.
17. Some important exclusion under health insurance policy.
1 Pre-existing diseases i.e. Any condition, ailment or injury or related condition(s) for which insured person had signs or symptoms and/or was diagnosed and/or received medical advice/treatment within 48 months prior to his/her health policy with the company.
Pre-existing diseases will be covered after a maximum of four years since the inception of the policy
2. Any disease contracted during the first 30 days of inception of policy except in case of injury arising out of accident
3. Certain diseases such as cataract, piles, hernia, and sinusitis etc. are excluded for specified periods if contracted or manifested during the currency of the policy.
4. Injury or Diseases directly or indirectly attributable to War, Invasion, Act of Foreign Enemy, War like operations.
5. Cosmetic, aesthetic treatment unless arising out of accident.
6. Cost of spectacles, contact lenses and hearing aids
7. Dental treatment or surgery of any kind unless requiring hospitalization
8. Charges incurred at Hospital or Nursing Home primarily for diagnostic, x-ray or laboratory examinations, without any treatment.
9. Naturopathy or other forms of local medication
10. Pregnancy & childbirth related diseases
11. Intentional self-injury / injury under influence of alcohol, drugs
12. Diseases such as HIV or AIDS
13. Expenses on vitamins and tonics unless forming part of treatment for disease or injury as certified by the attending physician.
14. Convalescence, general debility, run-down condition or test cure, congenital external diseases or defects or anomalies, sterility, venereal disease.