POSTED BY Jagoinvestor ON February 28, 2010
Can you fight back ? Really ? If you were taken for granted as a customer by some Bank or any institution and you were forcibly sold some product by officials at some Organisation assuming you are a weak customer who will not raise his voice and fall in trap , What would you do ? Will you have the guts and energy for fighting back and getting what you deserve ? Here is a real life Story directly from the customer who faced lot of problems from his Bank when He wanted to shift his Home loan from One city to another . Lets see in this article in his own words and find out how Officials in these big banks take advantage of customers situation to make money for them selves . See other Force Selling Examples
How it all started
I have two home loans, one in Delhi and other one in Pune and I wanted to go for a home loan ROI switch (conversion of higher rate of interest to an existing rate of interest). My prevailing ROI was very high for both the home loans so wanted to reduce the ROI, of both, by paying the processing fees. ICICI bank has a process where-in one can go for ROI switch by paying the processing fee. First, I went to the Pune office, as I am in Pune, in March 2009 and then visited the Delhi ICICI branch in May 2009 for the loan switch.
March, 2009 : ICICI Bank, Shivaji Nagar, Pune – The  officials asked me to buy a ULIP of 40K for the conversion. They changed my loan account number and took all the documents again as if I am applying for a fresh loan. They also took 1 month to process my loan switch.
May, 2009 : ICICI Delhi – The customer care executive asked me fill an agreement on a 50 rupee stamp paper, took the switch fee and all the formalities were done in record 80 minutes. He did not ask me for any other paper and my loan ROI was switched in 2 working days.
Read the process in detail here.
The ugly truth
ICICI Pune branch has forced me to buy a ULIP and took 1 month for the switch procedure where as Delhi has taken 80 minutes. ICICI home finance Pune in collaboration with ICICI Pru is duping customers. ICICI Pru people are simply forcing their policies on ignorant home loan customers. This is how ICICI Pru executives are achieving their monthly targets.
Just imagine if I would have only one housing loan and that too in Pune, I would have been blissfully unaware of this racket. They must have done it with many home loan customers in Pune.c
The Confrontation
I sent my first complaint letter to  ICICI Pune, heard nothing for weeks. Sent many letters to all the 3 level of escalation as described on ICICI website, still no response. Finally, I complained the banking ombudsman (See How to complain to Banking Ombudsman) View the full complaint timeline Below .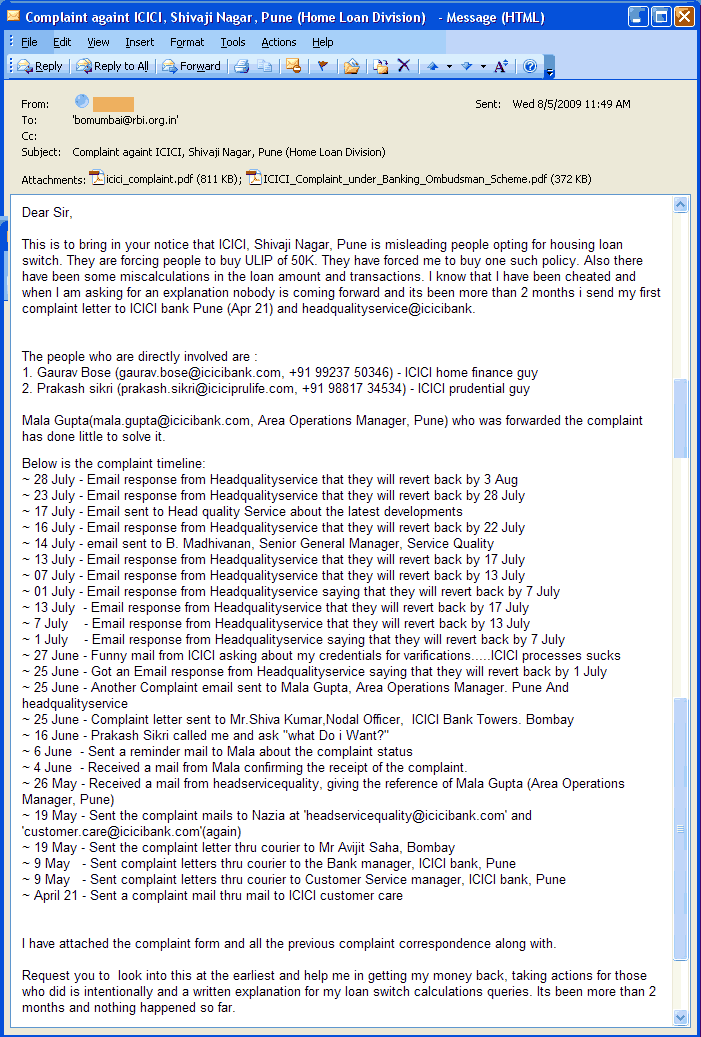 The Result
Due to the Ombudsman intervention I got my 40K ULIP premium back, but ICICI evaded the answers of my other questions and no action was taken against the two officers involved. I realized that ICICI is capable of dragging this to eternity so I created this blog and uploaded all the conversation which I had/ was having with ICICI. My blog created a lot of noise and after 9+ months few senior folks from ICICI finally decided to extend the support.  Finally my queries were answered and Interest loss was credited back in my savings account. I was happy to find the answers but also sad as it took 9+ months for ICICI to respond. I have sent a letter of appreciation to ICICI in the same regard.
The Lesson Learned
Never trust any bank official as they have hidden agendas behind their suggestions and make it a point to read all the documents carefully.
Never do something which is being pushed upon, always take your time. Remember if they are rushing you and want everything today, take your sweet time and do a research.
How to avoid such scenarios
If you have been asked to buy a ULIP for any loan related process, use any of the method below to get back your money.
Option 1 :

Resolution Duration : 9+ months
Pain, mental trauma, stress and harassment : High

Send ICICI a complaint mail with all the relevant docs photocopy (I maintained the correspondence on a blog which served dual purpose)
Send a mail to all the three level of escalations mentioned at ICICI website – this is just a formality as u need to give a proof of ur complaint before sending a mail to Banking Ombudsman. dont expect anything from ICICI as it is a sheer waste of time but you have to do it.
Now send a mail to ICICI ombudsman with all complaint letter attached. Make sure you provide the complaint in the desired format.
Send a mail to ICICI Pru Bombay, thru post and online, the ICICI Pru is very fast in resolving any dispute.
Keep sending stinker mails to ICICI, well they not budge but you will feel good and light

Summary : Online blog will help u maintain the flow of sequence and the best part is that u will learn how to blog :-). Keep on following and one day someone will respond, in my case it took them 9+ months…..

Option 2:

Resolution Duration : 15 days to 1 month max
Pain, mental trauma, stress and harassment : NIL

Go to the bank and agree to buy the ULIP in return of you loan related process.
Give them ULIP premium cheque, get a photocopy of the ULIP docs/forms and the check.
Take the visiting card of all the people who were involved in ur case (this is very important, if no visiting card atleast take their name, designation and mobile no.)
Ater u have agreed to their demand of ULIP now make sure you get ur work done ASAP. Don't give them any time get ur work done at the earlier. Be firm and be rude.
Wait for the ULIP welcome kit
Once you receive ur ULIP welcome kit, write a strong complaint letter to ICICI Pru telling them about the forced ULIP, the names of the people involved and your request of cancelling the ULIP. In all the insurance firms there is a freelook period of 15 days to 1 month during which u can refund the policy without providing any reason (but you must cite your reason in this case).
Make sure your complaint mail is very strong. ICICI don't respond to polite mails, they simply ignore them.
Your ULIP money will be refunded.

Summary : This is a very simple way of getting ur work done smartly by complying to all the stupid rules set by ICICI or any other bank for that matters. Just agree to their demands and cancel the ULIP during the free look period.
Good luck and have a safe banking .
How Much Home Loan can you afford

(please vote , Data will be used for future Article)
Comments , What do you think can be done to avoid these situations ? Are you aware of any thing like this in your real life ? Lets share our views on what are the different preventive and corrective measures which can be taken to avoid these kind of situation . Dont forget to praise the efforts made by this Guest 🙂
Note : Though utmost care has been taken while taking the information , Jagoinvestor do not take any responsibility about the information provided above.