POSTED BY Jagoinvestor ON December 18, 2009
Some months back I wanted to find out how much time a person would spend on his Personal Finance? So I did a poll which asked them this question and gave them some answer options to choose from. Around 180 people participated in the poll. Let us find out what most of the people think about spending time on their Financials.
[ad#big-banner]
Results of the Survey
So the survey asked them a simple question "How much time you would like to spend managing your Personal Finance" and gave them following 5 options
1 Hour/Week
1 Day/Month
I would rather like to hire a trusted Financial Planner
4-5 Days/Year
I have other important things in life
Any Debt funds and Stock Market experts here? Please step in our Forums and help in answering questions like "Best Investment theme for future in Indian Stock Market" and "Debt funds?"
Here is the pie chart which shows all the results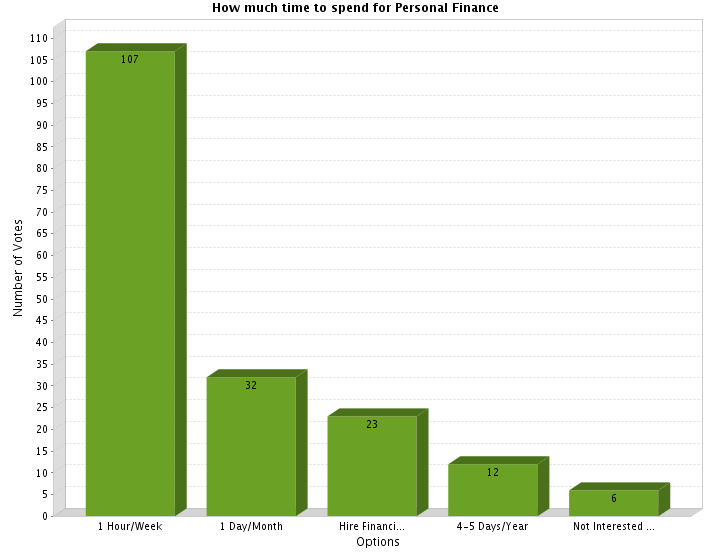 Important Learning's and Insights
Around 60% people say that they would like to spend around 1 hr/Week. Another 18% said 1 day/month, which is again some how same as 1hr/week in some sense. So I can say that people are interested in spending around 4-5 hrs per month. Personally I feel that 3-4 hrs a month is more than enough. Choose last weekend of month and sit one Sunday or Saturday evening for 3-4 hrs after lunch and look at overall your portfolio. Find out  how everything in portfolio is performing, how your mutual funds are performing, track if your investments are growing as per your expectations and plan.
Very small percentage of people said that they have other important things in life than managing their personal finances. This shows that everyone somewhere in their heart recognizes that Personal Finance is an important part of their life. But may be because of ignorance or because its too boring. We don't get into managing or understanding it and try to ignore it to a level when its too late 🙂
Only a small percentage of people think that they should hire a Financial planner. There are two reasons for this: First, that they don't feel a need to hire a financial planner and they think that its an easy task which they can do themselves, they think like "why to pay Financial planner?". Second, that people don't yet understand what is the goal of Financial planning and don't appreciate it's importance in life.
Please put your comments and involve in discussion, What do you think is the best way and time to manage your money?
Note: I feel that I will not be interested in writing a review for any product now onwards. One of the reader feels that I have received Money from Aegon Religare and reviewed iTerm Insurance, see the comment . I don't say that it looks very unbiased and yes my word seems to be very promotional may be because of my trust in the company and their philosophy.

I am not an emotional person at all but it has hurt me as a writer.  I would love to hear your comments on that. If most of you feel the same way feel free to put your comments there without hesitation. If most of the people feel the same way. In that case I will have to refrain from writing such articles, so that it does not put wrong impression. Miss-trust is the last thing I want from readers. If people are not happy, I should also think about removing the ads I put on this blog if it makes people uncomfortable and feel like I am biased. Please accept my public Apology if I have hurt your Trust 🙁
[ad#small-banner]