POSTED BY Jagoinvestor ON October 7, 2009
Many people have been sold LIC policies without making them understand what is that policy and how is that structured for you.
I have recently been informed by one reader how an LIC agent sold her a policy claiming it to be "a great opportunity" and gave her wrong information about the policy and the actual thing was totally different, which she discovered from another LIC agent years after.
Now the situation is a total mess. [Written in Train, Posted from Home]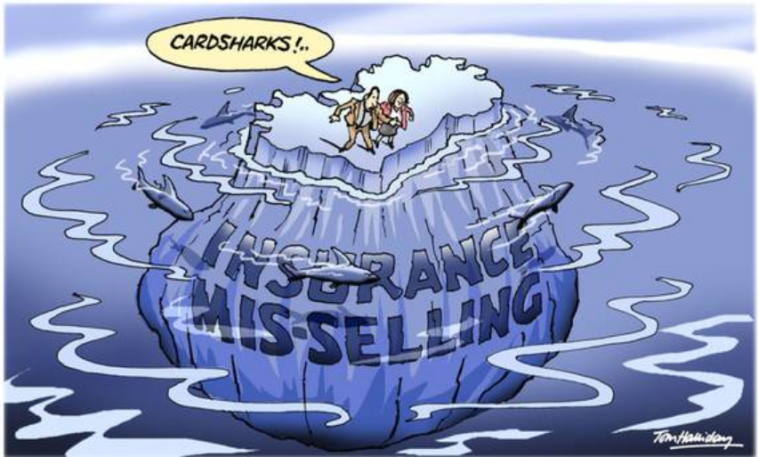 Mis-selling from an LIC agent
Hello manish..

I have been taken for a ride by a cheating "char so bees" LIC agent. Please help me. In 2006 I got married and moved in with my husband to a very remote mountainous region. Soon we had a Lic agent pestering my husband about taking a " good" life insurance.

I had read in a Readers Digest issue about term insurance and asked the agent about the same. But that shameless fellow said that such a thing was not available in LIC.

Since he was the most "renowned" agent, I trusted him and took the next best thing he offered – a 22 year 16 lakh money back policy Jeevan Anurag in which I would have to pay Rs1.21 lakh per annum for 7 years after which we would start getting money back( Rs80,000 in the 7th, 8th, 9th, 11th, 12th, 13th, 15th, 16th, 17th, 19th, 20th, 21st year and 3, 4, 5, 9 lakhs in the 10th,14th,18th,22nd year).

He also said that our as our policy got older we would have to pay less premium. I did'nt quite understand when he gave us 4 policy papers and questioned him about it on two occassions. But he asked us to trust him and " reap the benifts of this incredible policy".

I had my doubts but I was naive and did not want any trouble. 2 months back we got transferred to a more" civilised" town and soon we had a new LIC agent knocking our door. As we talked about my previous policy this new agent said that he has never heard of such a policy and asked to see the papers.

I was dumbfounded when the agent told me that I dont have a 16 year policy but 4 different policies of 4 lakhs each for 10,14,18 and 22 years of which the premiums are Rs 46032, Rs31842,Rs 24355, Rs19357.

Jeevan Anurag provides the following assured benefit-"..an amount= 20% of of basic SA at the start of the year during the last 3 years before maturity shall be payable . At maturity balance 40% of basic SA+bonus…".

That cunning man had arranged the policies in such a way that when one reached maturity the other just stared paying up. I feel so stupid for having been duped. I have already paid 4 premiums(4.9 lakhs)…

now I am in such a state of confusion that I dont know what to do next. Should I discontinue or should I continue ???

I see a lot of sense in what you say and I would really like to invest into some of your ideas but my money is stuck and I dont know where to go from here..Where I live the only financial advisor available is the LIC agent and I dont trust a word he says so please show me a way out.. I really need your help.

And is there a way I can get back at that sleazy agent? Help?? please..
Read the review of Jeevan Tarang Policy from LIC
Answer
oops .. that really hurts ..

I can see that you are mis-sold the policy , The returns which you mentioned to me also looks little cooked up , please check the numbers once again , if needed involve that new LIC agent to find out what is the exact money you are going to get back in different years .

If you have 4 lacs policy for 10, 14, 18 and 22 years, then that 80k figure is correct. but looks like the 3,4,5,9 lacs thing little cooked up . you should be actually getting 1.6 lacs + Sum assured in each 10th, 14th, 18th and 22nd year.

Looks like this has overestimated the sum assured part and made it 3,4,5 and 9 lacs, This might happen but the probability for that is close to 0. Ask the new LIC agent to estimate how much is it…

My estimate is not more than 2.5 lacs in each 10th, 14th, 18th and 22nd year. max 3 lacs… Apart from this the premium of 1.21 lacs is to be paid upto 7 yrs, that is true, but after that, only the first premium will stop, the other 3 will continue and then 2nd will stop in 10th yrs .. and so on.

As you can see from https://www.licindia.com/children_need_001_benefits.htm that the premium stops only at n-3th year of a policy . Please try to understand the policy yourself.

Truly speaking, I am more mad on you guys than that LIC agent

Regarding tracking down that LIC agent , you might have phone or address or some sort of contact . If not , Contact LIC and find out your LIC agent name and agent number or something . File a complaint with LIC on this matter and once its not taken care within 2 months, file a compaints with IRDA on this .

Take this matter to consumer court . I am giving all these suggestions but not sure if this will be of too much help , because you guys have signed the document which says "I hereby understand and agree with Policy Document and am responsible for all the invesment decision" , Hence I am raising my hand to help you but fingers are crossed .

Apologies if I my words sound little rude , but I am an emotional person .
Comments
What do you think about this issue, Do you know how to track that agent again, Anyone can help this person? Contact me…