POSTED BY Jagoinvestor ON September 21, 2009
Markets are at their 15 months high. Retail investors are back and I am sure you must have got the left out feeling by now, as stock market have gained more than 100% in last 6 months.
What shall one do now, Shall we invest for long term now, Will markets go up or down. Trading is Probability and hence we shall take our decisions based on probability only. Lets see what are my views on current market conditions.
People who have just started in Stock market should have a look at my "How a beginner should start in Stock Market" Ebook.
Current Situation of Stock Markets
Markets have crossed important levels of 4850 before some days and have been stable there for some days .. Once it crosses 5300, which is another important level, I would be very much bullish then and will be willing to agree that markets can again see the all time high of 6000+ in another 1 yr.
See the chart below.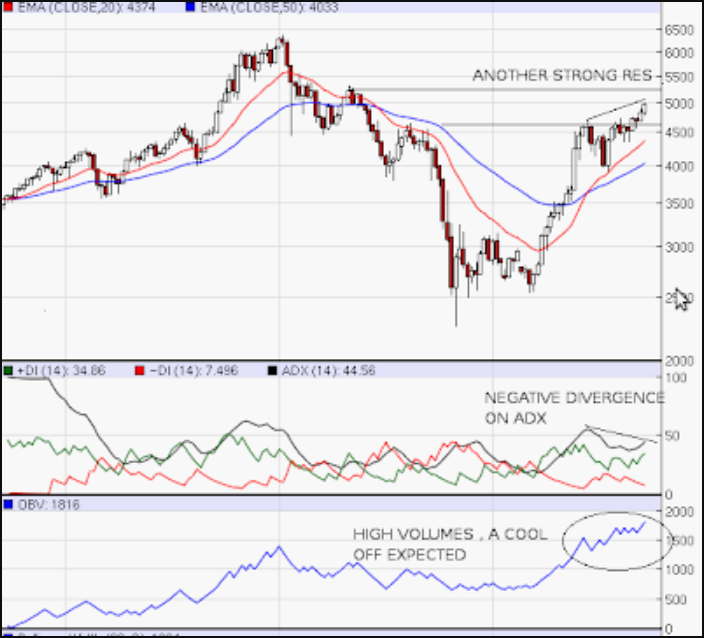 Source : icharts.in
Above is a 3 yrs weekly chart of Nifty. If you see the chart below you will see that another important resistance is at 5300 and you can also see some good negative divergence on ADX . This gives an indication that we must be cautious at the moment .. The upside might be limited to 5300, from where it can take a reverse turn.
But, As you must be knowing, markets are supreme and hence if it sustains that level. We will have to obey its order and remain bullish. You should have a look at Deepak Shenoy article on Nifty P/E and EPS growth some days back.
What about Nifty PE?
As of 21st sept 2009, current Nifty PE is at 22.40. Now this kind of number is not show very attractive valuation for long term. Below is the chart of nifty PE for last 3 yrs .. you can see how its has crossed important zone of 20+ and now heading to 25 which I personally consider as "SELL at any cost" level at the moment.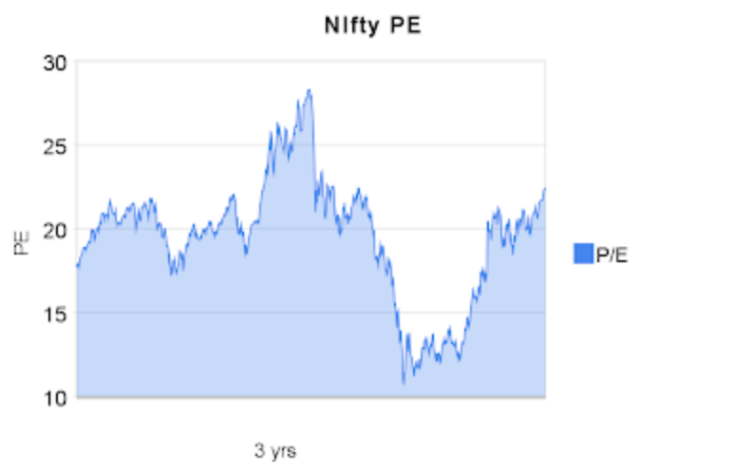 Even though High nifty PE of 22 does not reflect great valuations, it can be used as short term indicator for catching some momentum move . So I would love to buy right now to get out at 10%-15% profit in another 1 month or so, or till market reverses heavily . But I would not like to make some long term commitments right now at this level, Better wait than never.
So what are the Possibilities
Markets can reverse now anytime before touching 5300 levels
Markets can sustain 5300 levels and then see 6000+ levels from where it will crash again
Conclusion
This post is just trying to see where we are and not trying to entice you to do trading, trading is a personal activity and can be done in many different ways. Where is will market go is a trivial question, the more important thing is "what will you do when market moves in any direction"
If you have any doubt you can leave your query in our comment section.