POSTED BY Jagoinvestor ON November 21, 2016
Today we will talk about various aspects of ESPP Plan? We will also see if it really makes sense to invest in your employers ESPP plan or not, and what are the pros and cons of that.
For those who have no idea about ESPP, its full form is Employee Stock Purchase Plans and It's mainly an offer from your employer to buy the stocks of the company at some discounted price.
How does ESPP Plan look like?
Let me give you a rough idea of how an ESPP plan looks like. Under this plan, your employer might offer the discount of 15% of the stock price, and you can contribute some part of your salary for purchase of ESPP.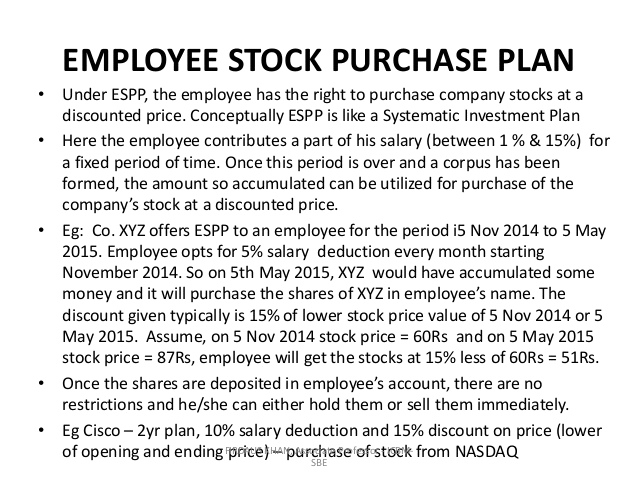 This might run for 3 or 6 months and then at the end of the period, all the money which you have paid, will be used to purchase the stocks at a discounted price (It might be the current market value or the lowest of the period, it all depends on your companies offer plan)
So you get the stock at a discounted value
You invest the money for X number of months
The stocks are purchased at the end of 3/6 months period
You get the stocks on your name
Is ESPP Plan worth?
Now let's come to the main point. Is investing in ESPP plan worth? Should you do it? Is there any catch?
Below is an example of Salesforce ESPP plan, where they are offering 15% discount and the offering tenure is 12 months (employee will pay for 12 months), while the purchase will happen every 6 months.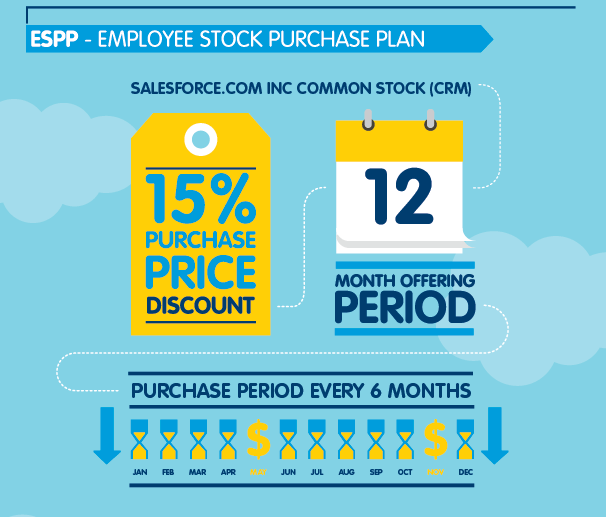 Now the main question is – "IS IT WORTH?"
and the Answer is ALMOST ALL THE TIMES.
Yes, most of the times, it makes sense to invest in ESPP plan because you get the stocks at a good discount and if you sell it off after they are allotted to you, you will make a good enough profit (15-20%) in most of the cases, unless things go really bad.
In some cases, you might want to think hard before you invest in ESPP plan offered by your employer.
Point #1 – At the end of the day, you are buying a Stock
ESPP is nothing but a plan where you buy a STOCK. Hence the price of the stock will move up or down. So if the stock does not do well, you will not be able to make good profit and your hard earned money will not give you the desired returns.
Imagine a stock which is on decline or not doing well. Your ESPP plan will give you the stock at 15% discount of the lowest price (mostly the latest price) . Not every time, people sell it off immediately, and keep holding it. Now if the stock price does not come above your purchase price and you kept on holding it, you might suffer good amount of loss.
Look at Yahoo, as an example (I worked there for more than 3 yrs). Imagine people who bought ESPP of Yahoo and kept on holding it? Even if they got it for discount, does not mean that they will make profits.
So don't get emotional and look at your company stock and see if as an outsider. Check out what are the future prospects, Is it promising? Does your company find its place in most of the mutual funds portfolio?
Point #2 – Your Income and Profits come from same company
You earn your income from your company, and now your portfolio is also linked to same company. If the company is doing very well, your income will rise and so will your portfolio value. But what happens if things go bad?
What happened to Satyam?
What happened to Enron?
What happened to Yahoo?
If someone worked in companies above, they lost their jobs. And at the same time, their stock prices were either worthless or reached the lowest value and they suffered huge losses. The snapshot below was taken from this website, which talks about Enron collapse.

The point is, when you invest in an ESPP plan, all your eggs are in same basket. If things work out and your company does well (Google, Facebook), you will enjoy the benefits of promotions, income rise and your stocks value rise, but in the other case, it will be the opposite and it's not going to be the best situation.
Conclusion
At the end, you need to ask yourself about the prospects of your current company where you work? Do you think it's going to be great in coming times? If Yes, then not just ESPP, you can even go for ESOP's and other plans from your employer.