POSTED BY Jagoinvestor ON December 20, 2014
When does a PPF account mature ? If you thought that its 15 yrs from the date you started your PPF account, then you are wrong ? Yes – there is a myth around this topic and most of the people do not know how does it actually work.
Its extremely simple to find out when exactly your PPF account matures, and let me show you how to calculate it!
How is PPF maturity date calculated for PPF account ?
The maturity period for PPF account is 15 years from the close of the financial year in which the initial subscription was made. Its that simple. So if you open your PPF account on 4th Nov 2014, this date lies in the financial year 2014-2015 , then the financial year ends on 31st Mar, 2015 .
So the 15 yrs will be calculated from this date (31st Mar, 2015) and the lock in year would be 2015+15 = 2030 . So the exact date would be 1st Apr, 2030 in this case.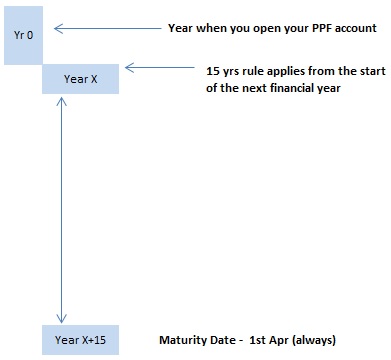 Note that PPF maturity always happens on 1st Apr , and not any random date of a year. Most of the people just add 15 yrs to the date of opening of PPF account to find out the maturity date.
Below you can see a short video which will explain PPF maturity calculation to you. Have a look at it.
So technically your PPF account can mature in 16 yrs in best case, suppose you open your PPF account in the first week of Apr, then your 15 yrs will be calculated from the next year (financial year ends on 31st Mar of the next year).