POSTED BY Jagoinvestor ON January 4, 2012
I am happy to break the news today about my first upcoming book on personal finance called "Jago Investor" (The name of the book is changed now and its now called "16 Personal Finance Principles Every Investor Should Know") with CNBC Network 18. It has been a long time I was waiting for this to be out in the market, but finally I got a go ahead to break the news to my blog readers. No, the book is not in talks – It's going to hit the market (soon) this month itself. So you just have to wait for couple of more days to grab your copy.
OLD NAME & COVER PAGE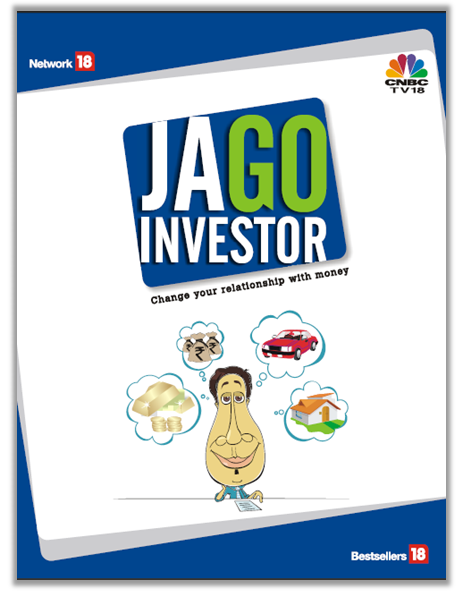 NEW UPDATED BOOK WITH CHANGED NAME
Some time in early 2010
I got a mail from CNBC sometime in 2010 about authoring a book on personal finance and I happily agreed. Since then I worked on the book, I was in Bangalore that time working with YAHOO (yea guys – I was an IT guy) and then I moved to Pune to start on my own. I worked on the book in last 1.5 yrs and now it's complete.
The Vision of Jagoinvestor Book
It was a tough task to select what the book should be all about – but I was sure that it should not be a typical book . It should not be a book which does not leave an impact on someone who reads it. I wanted to make sure that a person who reads the book really introspects about his financial life. I wanted the book to make a person shake a bit after reading it. So the book had to awake a person reading it and make him feel "Now, I should do something for my financial life". With that vision I have written the book. It's about the principles of personal finance and how a person should think in different areas of financial life. I will it becomes one of the best personal finance book in India.
The book is not about financial products and how they work – NO! You can get it anywhere. I have talked about very important things which really matter. It works on your thinking level and makes you think in a more quality way rather than just increasing your knowledge. I have tried my best to keep the language simple along with numerous examples and images/tables to convey the concept. I have written this book considering myself as the reader. There is another version of this book which comes with a CD which contains 13 financial calculators and 2-3 templates.
Book Chapters
Now let me introduce you to the book contents in crisp and short points.
| | |
| --- | --- |
| Chapter 1 | This chapter talks about early investing and how you lose a lot of wealth just because you don't start your wealth creation on time. I have shown numerous examples/graphs which will give a clear idea on how powerful early investing can be. |
| Chapter 2 | The second chapter talks about the protection of your family (Life Insurance). It also shows you right way of finding the required cover and how much your current cover will be able to sustain your loved ones. While this might look like "products talk" It's actually not!. |
| Chapter 3 | The 3rd chapter is all about Goals setting and how your should look at it . How goal based/linked investing can do better for you and improve your financial life style. |
| Chapter 4 | This chapter clears the myth people have about equity and debt in general. It shows you reasoning/proof about how equity is not risky in long-term and how debt is extremely risky in long-term. |
| Chapter 5 | This chapter talks mostly on the psychological aspects of your financial thinking and how your decisions are shaped up because of the way you think about money. This chapter has been contributed mostly by Nandish and he has really done amazing work. |
| Chapter 6 | This chapter talks about how you can make your financial life more simple and robust using some simple rearrangements. This is mostly overlooked by indian investors who focus a lot on returns only. |
| Chapter 7 | This chapter ends the book and it talks about 10 commandants you should incorporate in your financial life to make sure you become a better investor. |
Thanks to you
If I had to thank only one person who made this book a success, it would be you. From past 4 yrs you have bombarded me with your doubts/questions and this has only made me learn and learn. This book does not belong to me alone its creation of this whole community and each one of you who is part of this blog from several years now. It did not take shape just in a day – it happened over years – slowly and gradually. I would like to say Thanks to you all for believing in jagoinvestor and really making it happen. We have a lot of things coming up in 2012 and our commitment is to give you guys more and more with each passing day.