POSTED BY Jagoinvestor ON May 20, 2011
Do you know of any stock in India which has not moved in last 10 yrs ? Hindustan Unilever is one of them ! . Successful investors like Warren Buffett always advocate the importance of investing in stocks for the long term and not just getting in and out of the stock. But more than investing and holding for a stock for the long term, it is important to zero down on the right stock. Or you might even hold a stock for more than ten years and still make very low returns.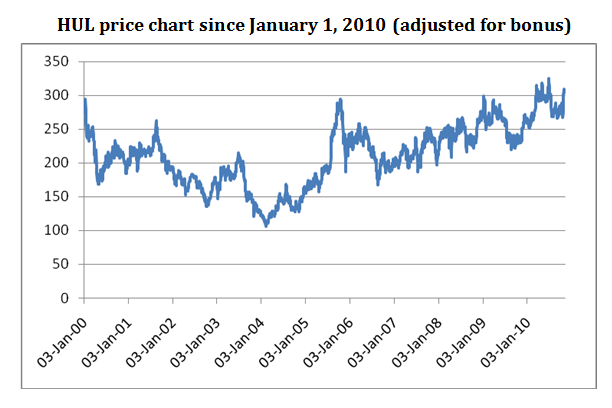 Let us take the example of Hindustan Unilever Ltd (HUL), a company which used to be the largest company as per market capitalization in India, at a certain point of time. But in the last 10 years the price of the HUL stock hasn't gone anywhere. The stock price touched an all time high of Rs 314.123(adjusted for bonus) on February 25, 2000. This price was never beaten until September 24, 2010, when the stock closed at Rs 314.65. On November 9,2010, the stock closed at an all time high of Rs 318.9. This price was again overtaken in early January (January 5,2011) when the stock closed at an all time high of Rs 325.65. Currently the stock is moving in the range of Rs 300-310.
So the point is that if you were a long term investor in HUL and had invested in the stock in Feb 2000, and held on diligently for 11 odd years, you would still not have made any money on the stock. What HUL tells us is that the buy and hold strategy may not always work.
HUL and the Hindu rate of growth
Raj Krishna, an economist, coined the expression "hindu" rate of growth, to express the slow rate of growth in socialist India, when India used to grow by around 3% every year. Krishna was not a great fan of the socialistic model of development being followed in Nehruvian India. He was a believer in free markets. So looking at this secular trend, year on year, and wanting to take a dig at Nehruvian socialism, which he felt was not working, he came up with an antonym for the word secular (Nehru's other pet peeve), and so called this growth, the "hindu" rate of growth.
HUL has signified this "hindu-rate" of growth over the last decade. Let us look at some numbers here. The annual sales growth of HUL over the last decade sales have risen at the rate of 6.2% every year to Rs 19,987.1 crore.  Profits have grown even slower at the rate of 5.8% every year to Rs 2306.6 crore.
The does not inspire confidence among investors, given that the rate of inflation during that period was at similar levels. So in real terms there has been very little or even no growth in profits and sales. Hence the stock price has been flat.
The main business is facing tremendous competition
Soaps and detergents has been the main stay of the company over the years, and still contributes nearly 75% of the revenues. The company has very little pricing power in this category, given the increased competition that it has been facing. With a slowdown hitting United States, P&G has become aggressive in India. Media reports suggest that P&G is looking to launch its toothpaste brand Crest in India. That should heat up things for Close Up, HUL's premier toothpaste brand. The cash rich ITC is gradually building businesses similar to that of HUL.
Over and above that there are newer players like Ghadi detergent and older players like Nirma in the lower segment of the market, which have been giving HUL a huge run for its money. To counter this competition HUL  has had to constantly resort to price cuts to keep the revenues going in this segment. This is likely to continue in the days to come leading to a very limited pricing power in its premier business. At the same time it needs to keep its advertising expenses high in order to generate a high brand awareness of its products and hope of increasing sales.
New Businesses not contributing enough
During its glory days, HUL's strategy was to constantly jack up margins. The management graduates who run the company probably forgot a basic lesson in economics. When a company makes 'abnormal profits', new competitors enter the arena and drive away margins.
The margins also came from deteriorating the quality of their products.  What did not help was the power brand strategy the company decided to follow 10 years back, where in the focus was on 30 odd 'Power Brands'. The 'power brand' strategy prompted HUL to withdraw from a large number of small markets. This has given an opportunity to many small players in the market. Some of these brands like Ghadi detergent are now seriously challenging HUL.
To its credit the company has tried to get into new businesses like selling water filters (Pureit). But these businesses will still take sometime to grow. Also the competition in this market has started to heat up with Tatas announcing their entry with Swach.
What do the analysts say?
HUL recently declared its results for the quarter ending March 31, 2011. While it managed to increase sales by around 14% to Rs 5,022.6 crore. But even with this increase in sales the net profit went down by 2.1% to Rs 569.2 crore.  Analysts covering the company came out with reports saying that the results beat their expectations, which is basically a polite way of saying that results were not as bad as we expected them to be.
Given these reasons, those investors who are still invested in HUL, its time they sold out.  This stocks is an excellent example of what John Maynard Keynes, the famous economist, said a long time back, "in the long run we are all dead".
This is a guest post by Sujata Chhaper and the author can be reached at sujatachhaper@yahoo.com