POSTED BY Jagoinvestor ON June 8, 2009
Investments are similar to small plants; they need time to grow and flourish. Most of the investors make a common mistake of not giving enough time to their investments to grow and take a good shape.
If you think about how you plant a sapling and manage it well for years so that it can become a fully grown tree so give you the fruits, the process of investing through shares and mutual funds is the same way.
Lets take each case and see the similarities between these two concepts.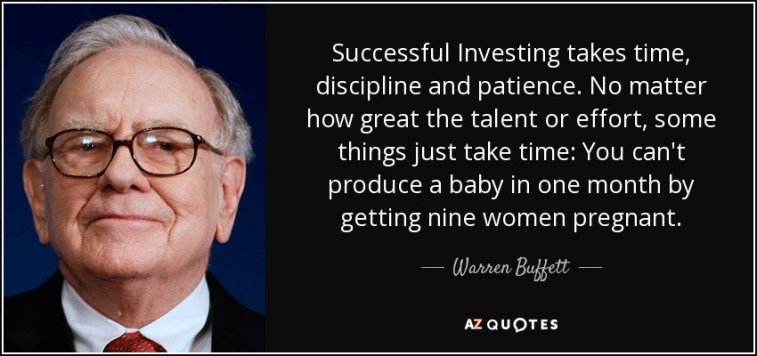 Growing Tree
You take a small plant (or a sapling), put it in soil and then water it, monitor it, take the weeds out, clean the plant and take care of it from pests which might be destroying your plant. It takes patience for the plant to grow and become a full grown tree. Then it servers you with the fruits which you deserve for your hard work and patience.
Imagine a different scenario: Now, you pick up a plant and put it in soil, 10 days later you go to see it expecting that you will get some fruits out of it. Obviously, you will be disappointed! It can't give you any fruit and you think that either something is wrong with the plant or the soil is not the right type.
You take the plant out and put another plant, again 10 days later you come to see the plant, nothing happens. You take it out and put another and another and another and then you realize its not working. Now you think that the culprit is the type of soil, you take the same plant out of the soil and put it at another place which you think has better soil. But nothing happens there too!
Because your concentration and focus is on wrong things. It will definitely not grow if you don't give it enough time to settle. It's roots need to get hold of the soil, adapt to the conditions.
There will be different cycles of weather which will challenge and threaten the plant growth and you will have to take care of those scenarios. But one thing is sure that you have to give enough time to it.
Making Investments
When you invest in a share for Long term, the biggest mistake you tend to do is not give enough time for it to grow! If it does not move up quickly or as per your expectation, then you tend to think that you have picked a wrong share. You redeem your investment and again invest money in some other "better looking" share.
This keeps on happening, the prices of the share moves up, then down and it is never ending cycle. The volatile movements in share price gives sleepless nights to the investor and makes them believe that their investment might go in loss and hence its a good idea to liquidate it and finally shareholder sells it and takes the money out; Then again buys some other share.
This buying and selling goes on and on and one! The investor never gives one share enough time to grow. I am not saying that buying any arbitrary share and keeping it for long term will make you profits.
Picking good fundamentally strong stocks is a separate topic in itself. Here we are discussing about the scenario where assuming the investor has put his money in good stock but he just needs to give enough time to let it grow.
Later if the investor looks back and analyses his previously picked stocks, he will find that most of them have gone up or has crossed more than his expected levels. He then realizes that the only thing he missed was to give enough time for his investments and sit back tight without doing anything.
CASE STUDY

Imagine a person who invested Rs 10,000 in Wipro in year 1999 . What do you think the stock prices were in next 3 months or 6 months. What if the investor had sold the shares within a year because of a small loss or some good profit. In 1 or 3 yrs he might have got excellent returns ,which is fine. But the best returns comes when you give an excellent stock enough time. What do you think the stock was worth for in 28-29 yrs.

Rs 10,000 invested in 1979 was worth 200 Crores in next 28-29 yrs. The pick was good, no doubt! but it was the patience that got rewarded in the end.
What is it that makes it difficult for investors to keep patience with there investments?
Right from our birth, we are taught that life is ALL about winning, getting right and not making mistakes, being perfect. This has got inside our brains and its just not acceptable for us to be wrong, we want to achieve success, and be right.
When you invest in a share and it goes up in price, the first thing which comes to every mind is, "I should book it now and take the profit, else it can again go down and I may go in loss". Actually in our mind we are saying "I should be out of this investment so that I can show others that I made a winning investment, or else I will make a loss and hence be called a loser".
Have you faced this situation?
When you buy something at Rs 100 and it goes to Rs 99. Its so difficult to sell the share at Rs 1 Loss (that's 1%). You just want it to come to Rs 100 back and then sell so that you are a winner and not a loser. But you only find it dropping further to Rs 90 and then Rs 80 and so on .. you are just helpless about the whole scenario.
Investments and Trading is not about Winning, its about making money and losing a little in case you are losing. Stop thinking in terms of Winning and Losing!!!
Think in terms of Keeping your losses at minimum and once you are in profits, let it run till you find a reason to sell the share. Selling a share just because its in profit is not a wise thing to do! You can make some profits out of it, but wealth is created by letting your profits run and run for a long enough time.

Note : This article from me was also appeared on Valuenotes.com .