POSTED BY Jagoinvestor ON April 2, 2009
This is Part 2 of the How to become a better than average Investor series, see Part 1
In the last post we discussed the importance of Fundamental and Technical Analysis. Now we will see one of the most simple, easy and powerful thing called Support and Resistance.
This is for people who have no idea about what is it and have at most heard about it.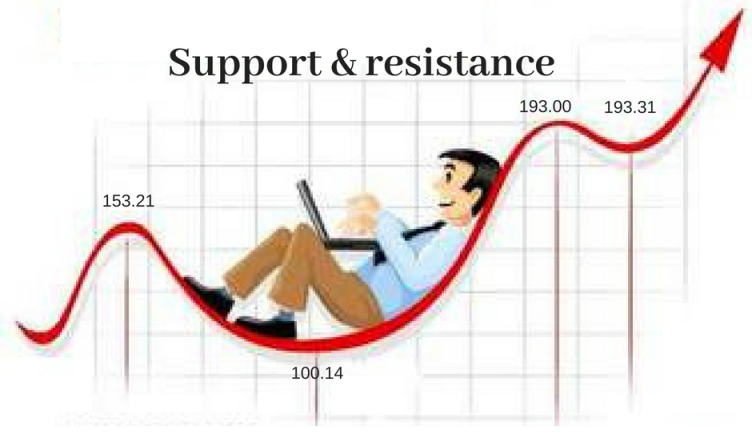 Let us see both of them one by one.
Support :
Support for a price is a price area where there are lots of buyers ready to buy the stocks rather than sellers. At that price point, the general perception is that its a good buy, and lots of buyers come to buy it. Hence buyers outnumber sellers and there is a higher possibility that prices will bounce back from that point . This is a point where Buying has less risk.
In other words, at support levels demand is thought to be strong enough to prevent the price from declining further. Please understand that Support point is not a place from where it will for sure bounce back, Its only the higher probability that it will bounce back.
Also understand that its not exactly a fixed price which should be considered as Support, generally its a range like 98-100 or 560-570 ..
Which point is Support point : Every Low made by the price can be considered as Support Area.
Let see Example :
Support Example 1 : Below chart is for Jaiprakash Associates (click to enlarge), It made a low of Rs.53 (closing price) on 27th Oct 2008 and then bounced up from there.
Now Rs.53 is the support point, Prices went up from that point and after reaching Rs.90, it again started heading down, You can clearly see in charts that it reached Rs.53 levels, but could not break down from that point and again bounced back from there.
It was a very good "BUY" around Rs.53. Understand that buying around Rs.53, is only a less-risky trade, not a "no-risk" trade. Prices can break down from there also.
Support Example 2 :
Below is a chart of RPL. Here you can see that prices made lows of Rs 70 around Dec 1, 08. That became a support point, and then prices reached thought levels around first week of Mar 09, It bounces back from that point, It was a less risk trade around Rs.70.
Resistance : Resistance is just opposite of Support, At this price levels there are more sellers than buyers and with high probability prices reverses from this point. At this point there are enough sellers in the market to prevent it from rising further.
Resistance point is the High made by a price. All the high's will act as some kind of resistance points.
Lets see examples :
Resistance Example 1 :
Below is Reliance Charts, You can see that reliance made a high of Rs.1400 around Dec 2008, After that you can see how it reversed from that point 2 times in Jan and Feb 2009. It was a wise decision to sell at those points.
You can also find many examples like this if you investigate yourself. Try to see other charts if you are interested, you can look at charts at ichart.in or https://www.bazaartrend.com/index.php , find yourself)
Important Note : When prices are near Support or Resistance levels, you should be more alert. It does not mean that you just jump onto market and buy or sell, Be patient to see the actual price reversal, Though you will loose some part , that would be a better trade.
Also there are several other factors which should be considered, but for now lets not touch upon them. lets keep it simple for readers.
Lets also look at some important points
Break Down :
Always remember that when prices don't hold support and break them and fall further, it tells that buyers are not strong enough and Sellers have taken over them and prices will make new lows, When support is broken, Sell further.
Example : Below is the chart of RPL, which shows how it broke down its support point and then made further lows.
Break Out :
When prices don't hold resistance points and break them on upside, prices then indicate that they are going to make new highs. Better to buy at that point.
I have put a post on my analysis blog for Reliance Break out : please see it :
https://manishanalysis.blogspot.com/2009/04/reliance-break-out-target-1800.html
Some Other points to remember :
1. Support and Resistance points are places where you should be more alert and look for other signals to buy or Sell, just don't buy because prices have reached near support, buy it when it starts rising and there are positive signals.
2. Support once broken becomes Resistance for next time, and Resistance once broken becomes Support point for next time, use this knowledge. See : https://candlestickmania.blogspot.com/2008/07/resistance-becomes-support.html
3. Many times there are false breakout and breakdown, So it will many times happen that you get out at important levels and miss the large movement, that's fine, you can always enter after getting out.
4. This is most important point, Everything I talked about in this article can increase your chances of making more money in trading, but remember that you are dealing in Markets, and if you don't control your GREED and emotions, your failure is guaranteed.
Use strict Stop losses and use Money management techniques (it means not putting all your money at once, if you have 10 lacs, put only 1 lac, don't be greedy enough, else someday you markets will punish you badly, then no Technical analysis or any thing will help. have good amount of cash with you always ).
All technical Analysis and knowledge are of no help if a person cant control his greed and emotions in Market. TA and your knowledge will contribute not more than 20% of your success in long run.
This was end of Part 2 of this series, In next port (Part 3) we will see how to find support and resistance levels using TRENDLINES. wait for it.
Comments please, Its sometimes disheartening to see no comments after I put up a post after some hard work. I don't want "good post or Great Article kind of comments, but at least share what you have learned and ask questions, make it little interactive please.
Question for you all :
Question 1 : Do you think this support or resistance thing works , or can you add anything else how to buy or sell and what things to observe at support and resistance levels , which can make buying and selling more successful?
Question 2 : What do you think about Chambal Fertilizrs at this point , see the charts at : https://www.bazaartrend.com/index.php?symbolname=CHAMBLFERT (click on the upper left button to make it full screen).
Suggest what should be done at this point of time ?
I came across very nice video, about difference between winning and success, a worth watch. See it below
Note : All the things discussed here are available on net with great detail. learn more of it yourself.