POSTED BY Vandana Manwani ON August 12, 2019
For Long, real estate sector was unregulated and in favor of builders and developers. From getting delayed possession to bearing a huge loss of project cancellation, all has to be borne by home buyers.
Even in worse case after living in a society for a long period of 10-15 years, home owners need to vacant the society due to builder's mistake of not getting approval from government for the said project.
And after all these, for any of these malpractices, if a home buyer files a complaint, it use to take years to get a verdict. However, now to bring transparency and accountability to this sector, Real Estate Regulatory Act, 2016 has come to force.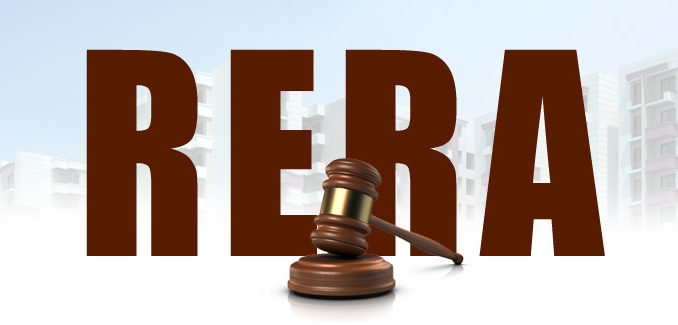 This aims to create a more equitable and fair transaction between sellers and buyers of properties. The Real Estate (Regulation and Development) Act is expected to ensure consumers will not be cheated or taken for a ride by the developers.
So, we will see in 14 points that how RERA will benefit us. But, before that let's see all loop holes and malpractices builders and agents use to do in real estate sector.
Delay in project completion
Use to cheat buyers with false information
Divert funds to another project or for other purpose
Get-away with sub-quality construction
Offer special pre-booking rates
Keeping Date of possession clause in agreement empty
Altering the project developments without consent
14 RERA rules investors should know
1. Registering project with RERA :
RERA makes it mandatory for all commercial and residential real estate projects where the land is over 500 square meters, or eight apartments, to register with the Real Estate Regulatory Authority (RERA) for launching a project, in order to provide greater transparency in project-marketing and execution.
The builders or developers have to publish all the details such as sanctioned plan, layouts, the location of the project with clear demarcation of land, carpet area, number and area of garage etc. So, with RERA builder have to get all the clearance before they could advertise or sell any property, it will help in malpractices to be curbed.
Hence, before entering into the contract, you can check online on the website of RERA about every detail of project by visit RERA site of concerned state and go into registration tab. I have attached a screenshot of RERA Maharashtra. To get an idea about how RERA MAHARASHTRA REGISTRATION site looks like.

If you are offered to buy a property of any unregistered project then you can notify the same to RERA to save others from any kind of fraud.
2. Quarterly updates on Construction progress : 
Now builders/developers have to upload project details including number and types of units sold out, government approval taken or approval pending list & completion schedule every three months. Along with that if there is any litigation going on related to that property then all the documents of proceedings has to be uploaded by builder/developer. Hence now you can check online the progress of project they are putting their money in.
3. Escrow Account:
The developer will have to transfer 70 per cent of the money received from customers to an escrow account. This will ensure the builder does not spend the money on other projects since they can withdraw money from this account after approvals from engineers and chartered accountants they appoint and your money will be used only for the project you invested.
4. Sale agreement standardization –
Earlier sale agreement use to be in such format that the home buyers were penalized on any default but similar defaults by promoters would not attract any penalty. But, now as per RERA norms a standard model sale agreement has to be entered between promoters and home buyers to ensure equality and protect buyers from various penalties and charges.
The agreement of sale shall specify particular details of the project including the construction of building and apartments, along with specifications, internal development works and external development works, the date on which the possession of the apartment, plot or building is to be handed over etc.
5. Maximum 10% of cost of project as advance payment :
The promoter can not accept a sum of more than 10% of the cost of project, plot etc.. as an advance payment or an application fee from you without first entering into a written agreement for sale with such person and register it.
6. Five years of defect liability period :
Under RERA, in case of any structural defect or poor quality, it will be the responsibility of the developer to rectify such defects for a period of five years. So, if any defect is found in the quality used in construction of property then you can make developer/builder liable for all sub-quality issues and ask for repairing or compensating same.
You can also watch the video on RERA –
7. Carpet Area :
The area of a property is often calculated in three different ways – carpet area, built-up area and super built-up area. Hence, when it comes to buying a property, this can leads to a lot of disconnect between what home buyer pays and what he actually gets.
But, now it is mandatory for the developers to disclose the size of their apartments, on the basis of carpet area (i.e., the area within four walls). This includes usable spaces, like kitchen and toilets.
8. Title Representation :
Promoters are required to disclose clear title over the property and project. If any defect is found in title of property then you can ask for the compensation and there is no limit for the amount of this compensation.
9. False information to home buyers :
If you made an advance payment for a project on the basis of any false information given to you via prospectus or in advertisement then you have the right to ask for refund of your money. And if you want to continue with the project then builder has to pay penalty and that can go up to 5% of cost of property.
10. Failure to complete possession on time :
If the promoter fails to complete or is unable to give possession on time then, the promoter is liable to pay the entire amount given by you if you wish to leave the agreement. But, if you wish to stay in the agreement then the promoter will have to pay interest for every month of the delay till you receive the possession.
11. Approval for alteration in sanctioned plans :
If a builder wants to make alteration in plans and specifications of your individual flat then he can do that only with the approval of you. And if builder wants to make alteration in entire project's layout & common areas of society  then he needs approval of 2/3rd number of total buyers.
12. Obligations of the promoter in case of transfer of real estate project to a 3rd party :
The promoter will not be allowed to transfer the majority rights and liabilities in respect of a real estate project to a 3rd party without the prior written consent from two-third allottees (buyers), except the promoter, and without the prior written approval of the RERA authority.
13. Agent registration is mandatory :
Now, every real estate agent has to register himself under RERA before selling or advertising any property and he has to abide by all rules of regulation like, maintaining books & records, not be involved in unfair trade practices or make any false statement oral or written.
14. Grievance Redressal: :
If any buyer, promoter or agent has any complaints with respect to the project, they can file a complaint with RERA. State real state regulatory department will try to resolve the dispute within 60 days. If you aren't satisfied with RERA's decision, a complaint can also be filed with the Appellate Tribunal within next 60 days. Even after that if he is not please the complaint can be filled to high court and supreme court.
Benefits of RERA act 2016 :
This act is not benefiting only buyers but also agents and builders. RERA infuses credibility by making the sector mature & transparent and helping to Channelize investment into the sector. It will increase the confidence of financial institutions & foreign investors in real estate sector.
Offence-wise penalties for developers :
Following are the penalties and compensation that can be levied on promoters.
| | |
| --- | --- |
| For non-registration of a project | Penalty of up to 10% of the estimated cost of the project. |
| For violation of other provisions of the Act | Penalty of up to 5% of the estimated cost of the project. |
| For non-compliance of the orders of the Authority | Penalty for every day of default, which may cumulatively extend up to 5% of the estimated cost of the project. |
| For non-compliance of the orders of the Appellate Tribunal | Penalty for every day of default, which may cumulatively extend up to 10% of the estimated cost of the project or with imprisonment for a term which may extend up to three years or both. |
Offence-wise penalties for Real Estate Agent :
Following are the penalties and compensation that can be levied on real estate agent.

| | |
| --- | --- |
| For non-registration under project he is selling | Rs. 10,000 per day of defaults which may extend up to 5% of the cost of the property. |
| For contravention of the orders or direction of the RERA | Penalty on a daily basis which may cumulatively extend up to 5% of the estimated cost of the property whose sale or purchase was facilitated. |
| For contravention of the orders or direction of appellate tribunal | Imprisonment up to 1 year with without fine which may extend up to 10% of estimated cost of project or both. |
Offence-wise penalties for Allottees(Home buyers) of RERA registered project:
Following are the penalties and compensation that can be levied on allottees.
| | |
| --- | --- |
| Contravention of any order of the RERA | Penalty for the period during which defaults continues which may cumulatively extend up to 5% of the apartment or building cost. |
| Contravention of the orders or direction of appellate tribunal | Imprisonment up to 1 year with or without fine for every day during which such defaults continues, which may cumulatively extend up to 5% of the apartments or building cost or both. |
*Apartment means block, chamber, dwelling unit, flat, office, showroom, shop, warehouse, premises etc.
How to file a complaint :
After the implementation of RERA, we are optimistic that the new law will protect our interest. However, the most important question is, how to file a complaint or a case, under the new RERA rules.
So, for this every state has described  specific forms and procedures which are to be followed. The application can also be filed online, as per the format available. For filing a complaint, the complainant has to provide following details-
Particulars of the applicant and the respondent
Registration number and address of the project
A concise statement of facts and grounds of claim
The form has to be filled and submitted with Real Estate Regulatory Authority or the adjudicating officer.
Conclusion:
RERA is a huge step forward against thief developers. Till now, there wasn't any regulator and neither were the rules in place. Delay in delivery of projects, bad material used for construction, changing of sanctioned plans every now and then was the major reason why RERA ACT,2016 came into existence.
However, even after RERA, there are many loopholes in this sector. For eg. It might happen that you wrongly signed some document which gives consent to any changes in agreement or project. Because RERA is just a mechanism which is in place to serve justice to all the parties. So, it is always your responsibility to be alert and get into any contract after due diligence.
I hope this article has helped you in understating RERA act 2016. Feel free to ask any doubts in the comment section.