POSTED BY Jagoinvestor ON March 21, 2018
Once you become an NRI, what happens to your PPF account? Can you continue it or do you need to close it?
The one-line answer is – NO, You do not have to close it, and you can continue it till its maturity.
But there are more details to this.
Last year on 2nd Oct 2017, govt-issued a notification that once a person becomes NRI, his PPF account will be closed on the same day he becomes the NRI and all his money will earn only 4% interest thereafter.
New PPF Notification cancels the older notification
So yes, in Oct last year the rule had changed regarding PPF for NRI. You had to close it once you become the NRI, but recently on Feb 23rd, 2018, there was another notification issued that the old notification is on hold now and canceled till further notice.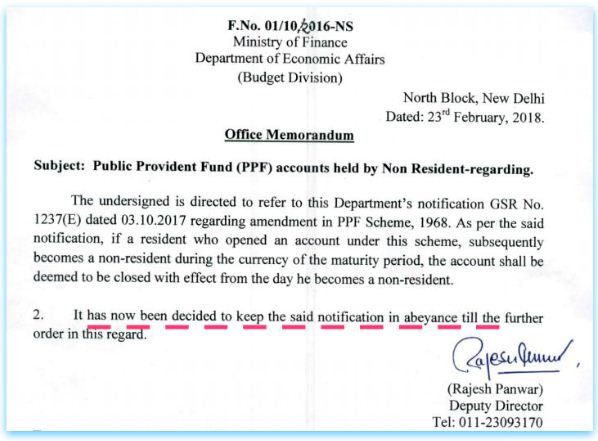 This means that the same old rule will be applicable now onwards for NRI investors. An NRI cannot open a fresh new PPF account but can hold an existing PPF account till maturity.
Let's see a few frequently asked questions related to the PPF accounts of NRIs.
NRI PPF FAQ
Q.1 Can NRI open a fresh PPF account?
As per the change in the amendment of the public provident fund, a person cannot open a PPF account once his status changes to NRI.
Q.2 What will happen if I'm an NRI and still open a fresh PPF account?
It is possible to open a PPF account for NRI because of the inefficiencies in the system, but before doing that you must be aware that legal actions can be taken by the authority in such cases. You will not get any interest on your PPF account if they find out.
Q.3 What should I do if I have a PPF account when I was Indian residential and later become NRI?
You do not have to do anything here. You can continue your PPF account till its maturity, but you cant extend it after 15 yrs.
Q.4 Can I contribute to my existing PPF account once I become NRI?
Yes, you can invest in your existing PPF account even after becoming NRI through your NRE or NRO account. You can only contribute till your PPF account matures.
Q.5 How to close my PPF account after it matures?
The steps for this process are as given below:
Step 1: Fill the application form for PPF withdrawal (Form C) and send it to your parents, relatives or friends in India, with an authority letter in which mention it clearly that you are giving that person the authority to withdraw your PPF.

This is how FORM C looks like:

Step 2: That person then will go to the bank where you have your NRE/NRO account and get he documents attached by the the manager and then submits the documents. Bank will accept only the attested documents.
We hope you got a fair idea on the PPF rules related to NRI. In case you have any queries, let us know in the comments section below.