POSTED BY Jagoinvestor ON November 25, 2015
Do you want to know how to update aadhaar card details online? Yes – It's possible. You can easily update your details online without any offline documentation and then download your new aadhaar card online and start using it.
Recently, I wanted to change my address details in my aadhaar card and I completed the whole process online by visiting the website of UIDAI. It was just a few minutes task and very easy. I have also created an online video tutorial with all the steps. Below is the video if you want to refer to it.
8 step process to update your aadhaar card details online
Enter your aadhaar card number and text verification code to generate the OTP
Enter your OTP and then on the next screen choose the details you want to change
Enter the details which you want to change and then proceed to upload the documents
Choose the supporting document which you want to upload. Make sure the document is self attested and signed by you and scanned back.
Note down the UTR number which can be used later to check the status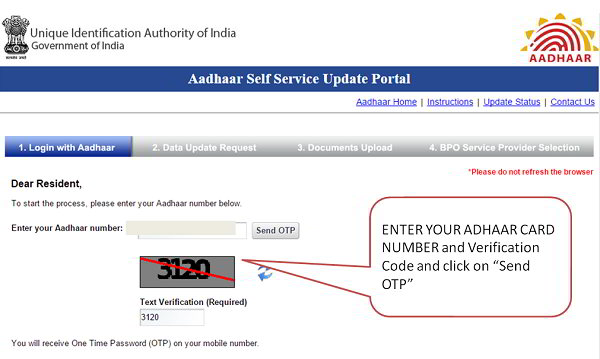 How to Check the status of your Aadhaar change ?
Once you have submitted the change request, you will get a UTR (Unique request number), which can be used later to check the status of the change. Here is how you check the status later
Enter your Aadhaar card number and the UTR number (without slashes)
You will get the status. It might be awaiting approval or might have approved already in which case you can then download your new aadhaar cared online and start using it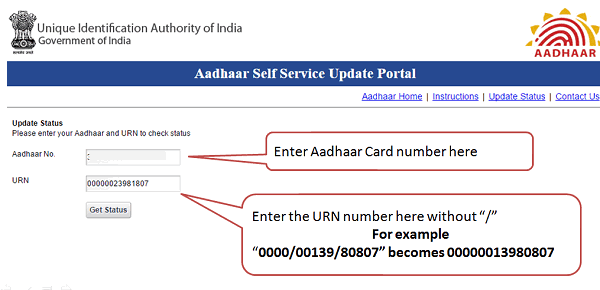 How to download your new aadhaar card after the update is complete?
Choose the option to enter your aadhaar card and enter all details
Generate the OTP and enter that to proceed
A PDF will get downloaded which can be opened by entered your pin code as the passport
You can now start using this new aadhaar card by taking a color Xerox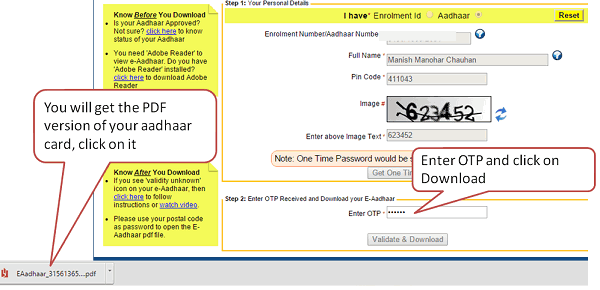 Cases where you might want to change the aadhaar details
Your address might have changed after your aadhaar card was made
Incase of name change after marriage in case of female
Your mobile number or email id is changed
You have changed your name or your name was wrongly captured at the time when you applied for aadhaar card
By mistake your gender or date of birth was wrongly captured
I hope this tutorial was clear and easy for you to follow. The process to update aadhaar card details just takes 5 min of your time. Try it and let me know if it worked for you or not. Also do not forget to share this article with your friends circle; it would be very useful for them.