POSTED BY Jagoinvestor ON March 24, 2014
A few months back we started something called "Investor's bootcamp"- which is an online tribe of action oriented investors. Till now more than 250+ people have participated in our investor bootcamp and the results have been amazing so far (People have produced unprecedented results in their financial life). We want every investor on our blog to pass through bootcamp experience at least once in their life time.
Let's look at why we created Investor Boot camp?
We created boot camp so that investors can work on their financial life in a very simple, fun and effective way. This bootcamp happens over facebook group (closed), and is very flexible to attend and participate. One can participate and take part as per their time and convenience. The intention of boot camp is ACTION. Bootcamp is created to put knowledge into practice; it is created to gain valuable insights in different areas of financial life. It's where you get a chance to brainstorm with other investors. When you go through the process you will get CONFIDENT as an investor.
We are proud to share with you some power pack sharing from different boot camp participants. While the boot camp was on some of the sharing brought tears to our eyes and they filled our heart with a lot of fulfillment.
Experience of Bootcamp Participants
We are going to share some of the experiences here. Very soon in next few days, we are going to create Action Booklet of boot camp participants, which we will share with you all and it will inspire investor's community

Guru Prasad
Batch #3
Testimonial 8
"You gave me a start and have put all the dots."
Before I joined this bootcamp, I had a question – "Will I get my money's worth?"
I thought for some time, then got an answer – Whatever happens in this bootcamp, I definitely owe Manish and Nandish the fee for the knowledge I got through jagoinvestor through all those quality articles!!!
Coming to the bootcamp, all I wanted to know was how to deal with money, how to attract more money and to understand about investing money. I should say all the boxes are ticked with satisfaction. The biggest of all is dumping(made paid up) my LIC policies which I had taken 7 years back and had paid close to 3 lacs. I lost huge money, its ok, i will pay the price for my mistake and being horribly ignorant on these issues.
Had some actions taken. I bought one term insurance, will buy one more in April. Almost got a good health cover for mom, will be get getting it next month for dad. Got to know more about financial products. Most important of all, I had been thinking a lot about money and my finance for the last month and a half. It has made quite some difference. The other day, while having a casual chat with my friend who had taken LIC money back policies, I told him to separate risk and investment separately, and these money back products does neither. I advised him to go for term plans. I could see the joy in his face which made me feel I opened his eyes, and he thanked me again and agin for sharing with him. I told him actually its not me, the 2 persons whom he is supposed to thank are namely Manish and Nandish!!!.
Regarding the books, Finished all the 3, "How to be your own financial planner in 10 steps" is the best of all. And Nandish, the line, "You earn exactly what you think you are worth" is still vibrating in me, got the book's worth in just this one line.
I enjoyed your program. I have lots of pending work though to be completed, you gave me a start and have put all the dots. I need to spend time regularly and start connecting them by taking actions. Thank you.

Karan Kapasi
Batch #3
Testimonial 10
"I feel that in the past 6 weeks of the boot camp has made a huge impact to my financial life."
I started reading the first book by Manish – "16 personal Finance principles every investor should know" and it inspired me a lot. I then started reading a lot of articles in the Jagoinvestor blog and continue to do so- its got so much information on different financial aspects and its through this I came to know about the Boot camp and signed up for the same.
Now coming to the boot camp, the experience has been amazing. I had the opportunity to interact with Manish and Nandish and it has been one fulfilling experience – thanks a lot Manish & Nandish. Apart from this, another good thing about this was l got to hear and learn from other members of the camp as well. I feel that in the past 6 weeks of the boot camp has made a huge impact to my financial life, it made me think and take actions of the different aspects of my financial life which I had not completed before.
I have taken many actions and some of them are pending and am working on completing them soon. The boot camp has brought in a lot of awareness and also taught us in detail about the various aspects of one's financial life. I am still reading through the books and its been a very good experience as the language and most of the examples are simple and easy to relate to.
Overall this has been one awesome experience, thanks again Manish and Nandish for this. I would also like to thank all the members of this camp as well as I learned from some of their experiences.
When is the BEST time to join boot camp?
We would like to share one Chinese proverb
"The best time to plant a tree was 20 years ago. The second best time is now."
This is the RIGHT time for you to plunge into personal finance actions. Let bootcamp be the medium for you to take important personal finance actions
The overall structure of Boot camp is amazingly simple and absolutely EFFECTIVE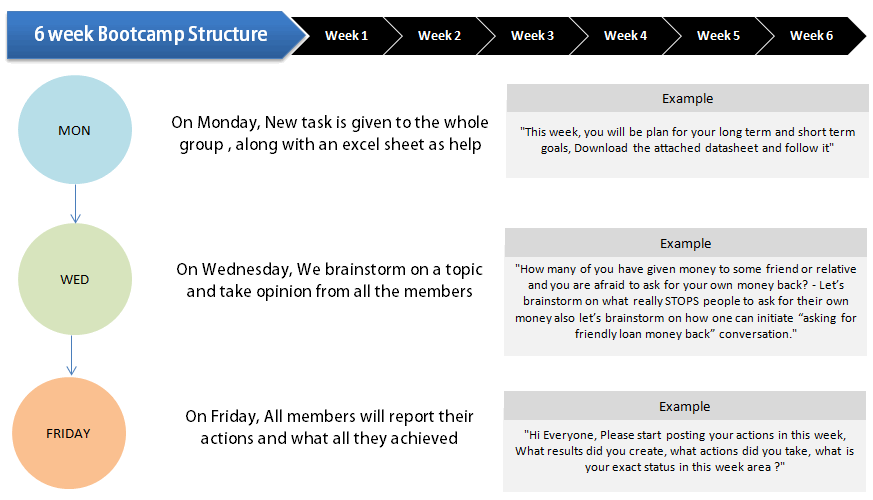 Our Invitation to join BOOT CAMP
We strongly recommend each one of you to be a part of upcoming boot camp on 7th April. With this article we take this opportunity to extend our personal invitation to each one of you. We will be in a position to take around 35 people this time and so make sure you book your seat at earliest. The boot camp is going to be a game changer; it's going to help you dust all your laziness and casual approach in the area of money. (So don't miss this opportunity)