Do you want to change your financial life in next 8 weeks and want to work with Manish and Nandish in a group oriented program online ? Read on ! .
People get on our blog, buy our books, select our services and purchase our products because they want to live a "Good Financial life". Our mission as a team is to help every investor to live a Good FINANCIAL LIFE. We love what we do and it has been a sheer pleasure sharing personal finance insights with investor's community every week on our blog. A smile on an investors face is our greatest reward; we want everyone to be prosperous. We see every reader as our extended family and we will always come-up with something new that you can engage with to grow as an investor.Today, we would love to share our internal commitment with you (This is what we STAND for as a team)
We as a team will always be of service to every investor. We as a team will design products and services that will help people to grow wealth. We will author books that will touch people's heart. We will measure our life not with how much money we make in life but how many people's financial lives we influenced with our work and thought process. We want to engage with projects and work which helps us to share our GIFTS with the world. We will always be surrounded and associated with powerful and empowering people in our life. We will set-up GAMES that helps us grow personally and professionally.
We thank every reader for always being with us and for helping us to stick to our internal commitment all the time. Your encouragement and love truly matters!
We have two BIG ANNOUNCEMENTS for YOU!
Announcement #1 – 8 Weeks Boot Camp for investors
The word boot camp comes from the realm of military. It is where all the tough training takes place. In a boot camp ordinary people dust their casualness and are trained to produce extraordinary results. We want to create such boot camp for investors who need assistance in living a good financial life. We are absolutely committed in helping those who want to actions in their financial life. We will be with you, guide you and will help you to design project called "Good Financial Life". Listen to the audio below to understand more about this bootcamp (direct link)
With the help of this project you will get a chance to be with many other investors who will be taking actions with you every week. You will get an opportunity to learn from other's financial life and experiences. Inside this project we will be with you for full 8 weeks and will assist you to take your financial life to the next level. As program participant we will provide you with the material, tools and support. Every participant will be assigned a buddy to work with during the project and you will report your weekly results to us directly on a closed facebook group. Your weekly results will be tracked and the structure of this boot camp will be extremely simple and effective. The mission of this boot camp is to "Live a good financial life" and nothing else. The only thing we will sell you for all 8 weeks or rather remind you constantly is the possibility of living a good financial life.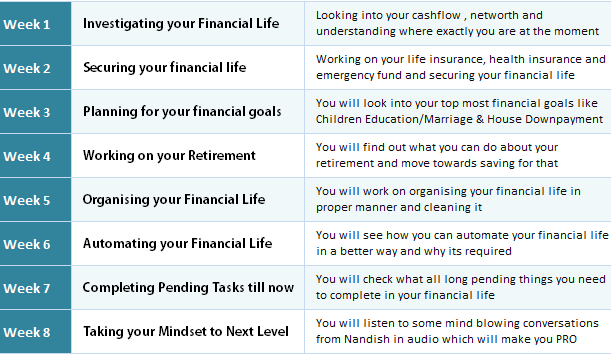 Apply for the Investors Bootcamp
Choose 1 ticket and click on Register Button below for making the payment. You will get a payment confirmation email after you register. First 10 members can use BOOTCAMP2013 for 1,000 discount
Announcement #2 : 8 weeks – Women Investors Empowerment Program
We feel a lot of work needs to be done for women investors and we don't want to wait any more. We are starting a special small group for women investors. This program is designed to empower women investors. The program will help women investors in understanding personal finance in a better way.
If you a man and want your wife to learn about personal finance, this is a program you should gift to your wife. This group is for those who hate numbers, it is for those who are really bad with personal finance, it is for those who are afraid of personal finance jargons, and it is for those who think "personal finance is not my cup of tea". Listen to the audio below to understand more about this bootcamp (direct link)
Once you complete this program you won't become an expert but you will surely get comfortable and more confident in the world of personal finance. You need to see this program as your first baby step that will help you to become an empowered women investor. As program participants you will have to engage with short weekly assignments which will help you to improve yourself as an investor, you will learn to know your rights better and you will learn to get in control of your own finances.( At least some key areas for sure). Every week we will have FREEDOM DAY where you get a chance to ask the world's most stupid question and we will be of full assistance to you. It is going to be a safe and fun zone for women to participate fully and an opportunity to kick start their journey as an investor.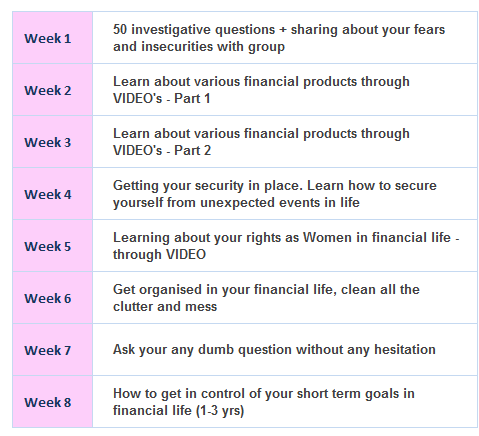 Apply for the Women Empowerment Program
Choose 1 ticket and click on Register Button below for making the payment. You will get a payment confirmation email after you register.
Let's look at what it takes to be a part of this PROJECT
To participate you need a small financial commitment, an open mind, a facebook account and lots of commitment to live a good financial life. So, if you want to be with us, you want us to assist you, guide you just be a part of our project "Live a good financial life". You can click here and find out more about our new initiative and if you have more questions feel free to leave your comments in the comments section.