POSTED BY Jagoinvestor ON August 6, 2012
We are all living in a world where we are conditioned and functioned to GET than to GIVE. Since childhood, I have been trained to focus more on getting than on giving. Getting good grades, getting admission in a good college, getting good placements, getting awards and getting good salary packages.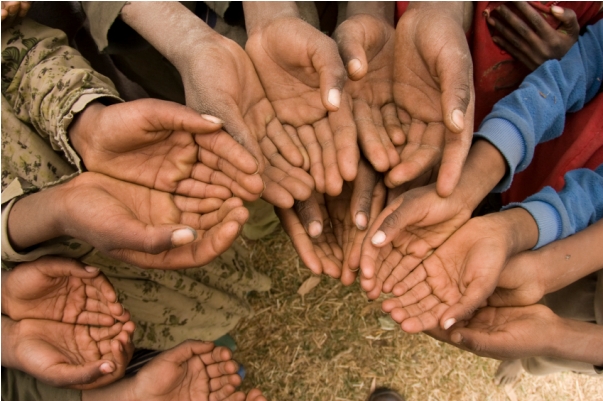 We had some realization that we would like to share with each one of you. We saw that the other side of getting is GIVING. The world of giving is much more magical than the world of getting and with this charity week, we would like each reader of Jagoinvestor to get in touch with the magic of GIVING. Tell me honestly, why do you get on Jagoinvestor – to get or to give? I am not saying getting is bad, it is important to givers so that they will have more to GIVE more. Some of you really take out time to forward good personal finance articles to your friends even if you know they wont read because you care for them.
Let's not get stuck in the rat-race because even if we win, we will end up as a RAT. We are not saying become a saint, all we want to point out is that, as an investor you are much more than your bank balance, you are much more than your investment portfolio and the returns that you get. We want you to realize how wealthy you are in this moment.
ROI of your Life
With Charity Week, we want you to get in touch with the ROI you are going to get from YOUR LIFE and not just from your money. A Go-giver will always have highest ROI from his life because he is more of a contributor than a consumer. You experience life at its peak when you are a giver and not a taker. Three messages we learn t and we would like you to learn from Charity Week are:
1. Connect with power of Giving
I was really touched and moved when Manish shared this experience with me. Manish and his wife were traveling from Pune to Mumbai. When the bus got on expressway, the conductor found one villager in the bus who was not having money to buy the ticket. It seemed as if he has got into a wrong bus by mistake. As per the rules the conductor asked that person to get down from the bus. Everyone in the bus was watching what was going on and in that moment Manish and his wife decided to talk to the conductor. They told the conductor that whatever is the fair we will pay but allow this person to travel, don't drop him on such lonely highway. Manish and his wife paid for that person's ticket and conductor finally allowed that villager to travel. That villager's eyes got wet and it carried immense acknowledgement for Manish and his wife. In that moment, Manish experienced some magic and that is the magic we want each one of you to get in touch with. When you a giver you operate from service and help someone.
The big lesson here is – "It takes an open heart to help someone and not a lot of money"
2. Wealth isn't the end, it's the beginning
One thing that we have realized is that wealth is not an end but it is always a beginning. I have a small garden in my backyard and I invest (notice I don't spend time I invest my time) some time every day to be with nature. Any garden is initially a patch of land and then you plant a seed or a sapling, we start to give that seed all the Wealth of water, Wealth of fertile land and Wealth of sunlight, that is how the sapling or seed starts to grow and on one fine day, it starts to give flowers and fruits. The fruits and flowers blooming is not the wealth, the wealth happened in the beginning. As an investor you also need to get in touch with the wealth you start as an investor. You always have wealth of actions, wealth of time, wealth of ideas, wealth of dreams, wealth of people and blogs that can help you understand about money. Your job as an investor is to nurture your financial life with the wealth you BEGIN with.
The big lesson here – Wealth is not the end. It is always the beginning
3. Break your attachment with money
We wanted to do this charity week long back but at that time I was not making any donations. My attachment with money was massive; I was focusing more on what I can get rather than what I can give. The world of giving is always a world of abundance. One of the things we have realized is that even if you take away abundance from abundance it still remains abundant. I never use to give money to any needy person thinking these people don't work hard and we should not encourage such things. I never gave money to any charitable organizations thinking my money will get misused.
I had some realization some time back. My father took me to a GAUSHALA (A Cowpen). I liked the place, I also had some interaction with the person who was managing that place, he shared with me how people donate and contribute with an open heart. He was full of love and service and he had no expectations from me or from anyone. In that Cowpen you can adopt a cow with some annual fees. Something happened to me in that space and my attachment with money broke. I made maximum donation I could on that day and it was a very fulfilling experience. From that day I am looking for opportunities where I can help or serve someone.
The big lesson here : Giving is one of the easiest, most difficult things you will ever do.
I and Manish always discuss that no matter what your salary is or which mutual funds you invest or how much gold you acquire, unless you break your attachment with money you will never become wealthy.
What some Charity Week Hero's did in this Charity Week
See what Sam did
These days, we are so attached to the money that we hardly care about people in need. Couple of years back, one day i went to a small railway station near my house in Bangalore for a morning walk. (It has a long and nice platform  ). After a while i sat on a bench, a train came. I was observing the people and its amazing that these people get up so early in the morning , travel so long to do their jobs & I don't think they get huge salaries. At that moment i realised how lucky i am, that i have a good job, i can earn money by working on a computer. I also realised that i am in a position to help many people in need. Since then i started very small donations to couple of organizations, and also i came across a micro finance NGO – http://www.rangde.org where we can lend the money to poor people who wanna do small business. I am a regular investor in Rangde.
See what Sainath did
I like Akshya Patra and contribute for the outstanding service they are offering. To come up in life education is necessary. But what good the education is if we dont have lunch during school hours. How will we digest the knowledge without having proper food. Akshaya Patra provides lunch to loads os school students which i think is a very good initiative. I totally support them and will spread their work to all.
See what Suhas has done
I have right away donated Rs 4200/- for child education through net banking to smile foundation India. I wanted to do this since some time but got the timing today with your donation week. I storongly belive that only education can uplift this country from all the mess we are in. Thanks for bringing up the topic. and offcourse it feels gr8……:)) Keep up the good work………
See what Aparna did
Recently, we had been to Shimoga (a place near Bangalore) to a temple. There are around 23 boys who are sponsored by the temple committee. When we saw the boys, we went ahead and donated money so that these boys get good food to eat atleast once in a year. We are also planning to donate some money in the next year for the same cause. Also, recently, we donated around Rs. 17,000 to a boy who wanted to complete his education. We donate atleast Rs. 20,000 yearly. Its our routine 
See What Sushil did
I have been donating Rs.300 to UNICEF children's fund every month. I was shocked to hear this would help 120 newborns for polio medication. And Rs.1200 would take care of a child's expenses. Yes, our petty amounts make HUGE differences somewhere!. It also has other donation campaigns, where u can donate any amount you wish to give every month. I am increasing it sooner  . In my hometown (Siruguppa) in Bellary district, Karnataka, I know a doctor who goes to villages teaching Dos and Donts, giving them free medication, helping them on monthly visits. I wish to donate some amount to his foundation soon.
See What Rajendra did
When you give without any expectation you get more. We experienced this when Rs 20400 has passed through our hands to reach Maaillu which takes care of 180 children who don't have parents(www.maaillu.org) It is foolishness to feel that it is a donation- God gave us that great opportunity. We earned that money by doing another good work of helping others with the only intention of passing it to Maa illu. That extra work gave us real satisfaction than the giving, (giving became our duty). I feel that writing about charity is also the duty of you. I always remember the words of Infosys Narayana Murthy ' Power of money is power of charity'. As he said, We have to earn to give it away.
Our invitation to you in this Charity Week
We invite you to hear your call. Join the charity week with the most loving heart and do some charity in any organization of your choice. Make this week special make it an integral part of your life. It's time to think beyond numbers, financial products and calculations. We want you to fix your life's calculation first and the rest will happen on its own. In this week be of service to people around you, fill yourselves with a lot of love and help everyone around you. Do something special for all those who are serving you and you never ever noticed them! Be it your liftmen, your security guard, your office person, your helper at home, or just help some poor people
Fill the comments section with heartfelt experiences and sharing, let the goodness in you come out. Let's master the art of giving. This kind of charity may have never happened on blog, lets create a world that works for everyone, let's contribute and be of service to everyone around us. Make this charity week a piece of your heart and enjoy the wealth called 'LIFE'.
Here is how you can make a start, following are few organisations where you can make a donation
Rs 1,75,000 already donated by 32 readers

We are close to thousands of readers on this blog , even if 10,000 people donate even Rs 500 , it would be close to Rs 50 lacs worth of help to someone. Think about it – do your bit .
Here is the form where you can submit your donation details so that we can measure as a blog how much money we donated and what difference we created in the world. If you are already doing charity share your experience in the comments section. Only the money that you will be donating in this week will be counted.
Just donate some money and let some money go out of your pocket for someone else. You will experience a very different kind of feeling which will be great.