POSTED BY Jagoinvestor ON September 24, 2010
From long I could see that their is a need of a good platform for you all to ask questions and get them answered . We have a lot of smart people on this blog and why not utilize their knowledge in answering everyone else doubts. So I was working from last few days on a Question & Answer platform which has neat interface structured way of asking questions and other cool features. So finally I have have a forum which is very neat and has a very simple interface to ask questions. Users can register there and then become a member and help others to solve their queries and also share new things which they learnt. Dont forget to register and ask questions to win some prizes (read till end) . Click Here to go to Forum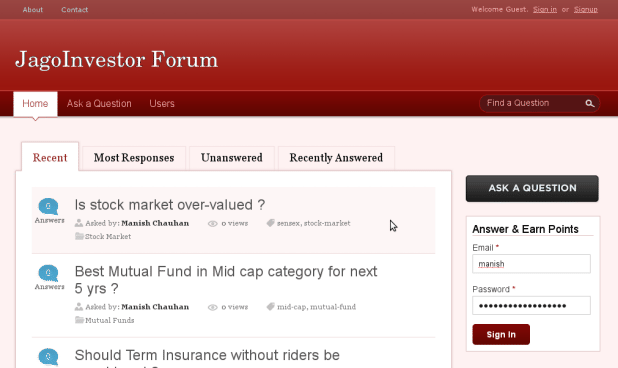 Some features of the forum
You can ask a question and give a category like mutual-funds , real-estate , life-insurance etc along with tags to them .
Other readers can reply to questions asked
The best thing about forum is that you earn points when you give a great answer and others like it (There is a thumbs up or down button with each reply.
Top 5 users with highest points are displayed on the forum
For each user you can see all the questions asked and answers by him.
Rich User Profile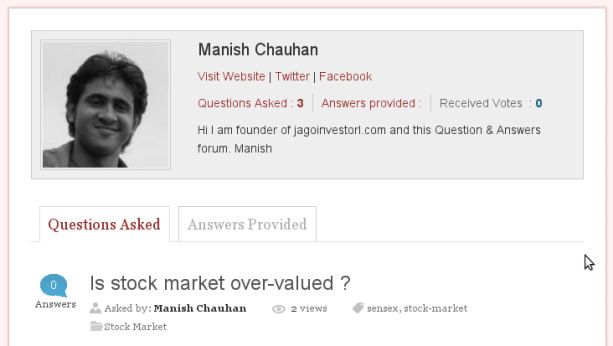 Another best thing about the forum is that each user can have his profile page and can showcase his information about his website , twitter and Facebook profile and all the questions and answers he has contributed to. It also shows how many votes you have got from other users who liked your answer and this helps in showcasing your knowledge. You can also provide your description about your self  in detail so that others can know you . I would request every one here to get involved in the forum and ask questions , how ever silly they are and there are many (really many) smart people around who can answer those questions . I can guarantee they will not be unanswered (may be late answered) .
Prizes
Top 3 winners
Within next 30 days starting from today, the top 3 users will get book called "Retire Rich Invest" by PV Subramanyam delivered to their home 🙂 . The 3 winners will be

User with top number of points

One random user from the list of all users
User with most number of answers given (one liners just for the sake of answering will not be considered)
User with most number of questions asked
100 Complimentary gift for registrations
For the first 100 people who ask any question, I would send them

A personal finance management excel sheet
An ebook on Mutual funds 🙂

Winners will be announced after 1 month . Note that users who have already registered would be considered 🙂
Please post your comments and feedback