POSTED BY Jagoinvestor ON August 24, 2010
Finding a suitable health insurance policy is akin to finding a needle in a haystack. There are 21 health insurance companies in India and many offer more than one type of health insurance product. Joining the bandwagon are life insurance companies that are now offering health insurance policies as well! So how do you buy one? First, make sure you know what you need – whether it is individual health insurance or a family floater you are seeking; how much cover you need and when you need it.
How do I go about buying a health insurance policy?
Traditionally, health insurance policies have been bought either because they were sold or because of awareness among investors through advertisements. And a majority of us rely on the group health insurance cover provided by our employers anyway.
The simplest way to go about buying a policy is to get in touch with the insurers and ask for premium rates. But this has its own limitation – you could easily take a month to get all the details and the insurance agent could really be slow in his response – after all, it's a health insurance policy he is selling and it fetches him less commission!
Go online: Another easy way is to use insurance comparison sites or aggregators as they are called. Aggregators provide a single window to compare quotes and features from multiple insurance companies and help a customer select the most suitable one. There is a whole lot that has mushroomed in India of late.
The best health insurance aggregator website in our opinion is Coverfox.com who gives you the results in a decent interface.
How do aggregator sites work?
Once online, all you need to do is provide your age, how much coverage you need and for how long – typically this is one year with most insurers today. The portal will collect personal information – email id, city and phone number to reach out to you later on – do provide this if you are a serious buyer.
Once you enter all relevant details, you are shown a plethora of policies and you can check each one out before selecting the one you want to buy. Most of the aggregator sites will collect payment from you upfront and liaise with the insurance company who will close the deal with you. Aggregators get a small marketing fee from the insurance companies for policies that they sell online. In response to this article, Deepak Yohannan, CEO, and co-founder of iGear Financial Services says "The process of buying online insurance has been made as simple as buying a flight or a movie ticket online. In the last year, there have been considerable improvements in the online buying process."
Example
Suppose you are 30 years old and need health insurance for Rs 3, 00,000/- for a year. The following is a sample of the health insurance covers that are on offer. Let's just talk about individual health insurance plans for now.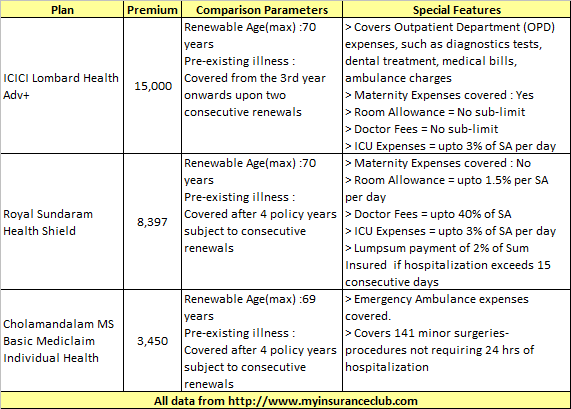 Imagine the time you would have spent on collecting this data and comparing it if you were to do this offline.
Filtering the unwanted
How do you select what you want to buy? Remember that the aggregator site provides you comprehensive information on each policy and even lets you compare them – some sites will allow you to compare two policies at a time while others will allow you to compare more. The comparison feature compares side by side almost everything an insured would want from a health policy – this way an aggregator site is very powerful to help you decide which policy scores better. After you have compared and selected your policies, all you need to do is apply the same filtering techniques one would use when buying a policy offline to select the best one that you will finally buy. There are a host of parameters that one could apply.
In the example above, with so many policies available with such a wide range of premiums, a best practice could be to pick a policy with the highest, lowest and midway premiums for comparison and then apply the filtering parameters. We apply two of the most important comparison parameters first. Firstly, start with the maximum renewal age as the first option – select the insurer which allows you to renew the policy till maximum age. If you want to change to a new insurer at an advancing age, this will be looked at as a new policy and will come with a higher premium. It's best to stick to a policy that can be renewed till the maximum age. Secondly, check when all the insurers will allow pre-existing illnesses to be covered. The earlier they start covering all pre-existing illnesses, the better. Usually, there is a waiting period of a couple of years before which expense incurred on pre-existing illnesses starts getting covered.
The waiting period varies from company to company. Filter more by checking on what are the special features that are on offer and go through the exclusions with a comb. Exclusions are most important as far as a health policy is concerned – you don't want to get a claim rejected because you did not know what was not included in the policy. Does the policy cover maternity expenses or ambulance expenses? Generally, there will be sub-limits for many of the expenses within the overall limit, for eg, room rent could be 1.5% of sum insured per day. So if you are staying in expensive cities like Mumbai or Delhi, for a cover of Rs 3,00,000/- the room rent charges come to Rs 4500/- per day. Think whether the hospital you want to go to will have a room that can be accommodated in this range. If not, you would be better of settling with a no sub-limit policy.
Its worth noting that most of the policies will cover expenses incurred a month before and 60 or 90 days after hospitalization; free annual health check claims and a 24 hour helpdesk among a host of other common services which generally should not be used as key comparison parameters.
Here is how the data looks like in our example for the highest, lowest and mid-way premium figures.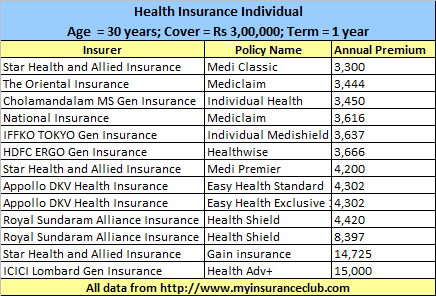 Which one would you buy from the above? It's clear that the first policy is better as pre-existing illness are covered from the third year onwards and there are no sub-limits on room rent and doctor fees – so if this meets your criteria, go for it irrespective of what the premium is.
Checkout
After having selected a policy that suits you best, all the aggregator sites are pretty friendly in terms of helping you check out to buy the policy online after you have registered with them. The insurance company will contact you for paperwork within a week of payment.
Issues buying online
Firstly, there are many aggregator sites available in India. Not each one will cover all the 21 insurers and you could lose out on some of them. The best way around this is to use maybe 2 or 3 of them and compare and buy from one that best suits your requirement.
Some aggregator sites might not have the correct data! It's best to re-check the details of the policy you have finalized with the insurer, either on the insurer's website or offline at a local office, before buying.
You still need to undergo medical tests if you are 45 years of age.
Advantages of buying online?
"For starters, buying online has now become a very simple process. You do not have to go through the hassle of going through an agent, who would have a tie-up with limited number of insurance companies and may not be able to get the product that you want. The agent may try pushing a product which they want you to buy. Also, there is complete transparency in the process when you buy online – everything is there in front of you and then you can make a decision. With an agent you really do not know if some facts are being hidden and only the good part of the policy is being highlighted to you. You realize the worst when the policy document comes to you or when you start the claim process. Having said that, if the agent is a completely trustworthy person, buying online and offline are the same," says Deepak.
So, here are the advantages:
You save time – everything can be done at the click of a mouse.
It's cheap, you save the costs for the insurer. This is passed onto you.
You don't have to make a trip to the insurer's offices and wait for time from the agents.
Most of the aggregator sites are easy to use and compare – it's a one-stop-shop to buy policies.
Most of these sites are safe to operate and buy a policy using card details.
Most aggregators have an FAQ section and "ask an expert" section which helps you reach out on queries you might have.
Quick Bites
Keep the following points in mind when buying health insurance:
Ask insurers for premium rates or dig the figures out for yourself on aggregator sites.
Do not base your decision on the premium alone – remember, the policy with the cheapest premium might not be the best one for you. Also, there is no one policy that can be termed as best for everyone. Select one that meets your criteria, lifestyle and family requirements and buy it irrespective of what the premium is.
If you live in a metro, take a cover of 4-5 lakhs; in a smaller city, 2-3 lakhs of cover will do.
Check whether your policy will guarantee long term insurability.
Check whether a floater plan is more beneficial for you.
Most importantly, check the policy wordings on what the exclusions mean to you.
Opt for a cashless plan.
Take health insurance even if you have one from your employer.
Reveal all your family illness history; if you hide anything, it will only come back to hurt you.
Buy from a health insurance and not from a life insurance company.
Buy a critical illness policy separately than as a rider to your basic health insurance.
Disclaimer: The views and analysis expressed are those of the author and should not be construed in any way to be the sole reason of buying a policy online. Please do adequate research yourself before buying.
This is a guest post from TheWealthWisher, a personal finance blogger who writes on www.thewealthwisher.com