POSTED BY Jagoinvestor ON December 25, 2009
Ever thought of a Social Investing community website in India . I am glad to review Stockezy.com today which has grown to a popular stock investing community in last couple of months in India . Stockezy.com is one of the best online places you can get education, stock tips , great links for other financial resources (mainly stock market related) . Let me point out main features of this website which you can use to increase your knowledge and also contribute . There are different sections in Stockezy , Below is a short description of each of them .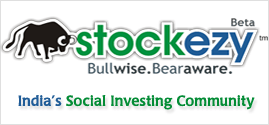 Stock Picks : You can stock picks from members on different stocks in indian stock market . With every stock pick there are important things like  target price , target date , Stop Loss . There are picks for Buy and Sell both .  Link

Opinions : This is a section where you are read opinions of different members on variety of topics from market outlook , stock movement , Short term view , Long term views about something . In short this is a place where you can get to know what a person feels about a topic . There are different categories for opinions so that its easy to find out some opinion . Link

Questions & Answers : You can consider this as a forum for questions and answers , If you have any question on some stock , market direction or any other similar thing , you can just post a question and anyone who wishes can reply to your question . You can see it as a thread which discusses some idea . Link
Portfolio Tracker : This is one of my favorites , this is a place where you can test your investing skills and buy and sell in real time, Its a great platform to test your abilities before you enter the market . You can get your statement which shows your Profit/loss and all the transactions summary in short . So if you are a new investor who is going to enter the market , its an ideal place to test out your strategies and skills . Link
Share Links : This is a very nice addition recently on Stockezy.com . You can view this as a twitter of Financial Markets . Different Financial blogger post links to variety of topics here with different categories . Even I post my personal Finance posts there .  Link
[ad#big-banner]
Other Features
You can subscribe to RSS feeds of any particular sub features like  Stock Picks | Opinions | Answers .
You can watch out different top traders for different Time frames like Top day trader , Top medium term Investors etc
Gives you a list of Most active investors and top pickers , which gives you a good idea of whom to listen and whom not .
Stockezy is a fast growing Investors community with close to 1 million page views a month , You can get lots of great bloggers like Nooresh Merani , Arun the Stock Guru and other famous bloggers.  If you wanted a platform to show your investing skills , Stockezy is the place you belong to . Register to Stockezy using This Link
Further Improvements
There are couple of things which can make its much better . they are
An online  technical Analysis Software system which users can use if they wish . There are many investors who like to technically analyse a stock and hence its a much have .
More data on Derivatives segment . there is lack of quality data on F&O segment , so it can add the segment for that .
How should you use Stockezy ?
There are different ways you can use Stockezy.com , if you are new to stock market and want to learn how to to trading , learn the basics, you should join it and start doing the mock trading and see your porformance over a period of time , there are so many great people with knowledge out there who can give you some wisdom , listen to them . Before that you would like to read my ebook on How a newcomer should start in Stock Market .
Comments, Have a look at it and tell me if you like it , Feel free to give your negative and positive feedback .
Disclaimer : I am part of Stockezy.com Bloggers Network