POSTED BY Jagoinvestor ON November 25, 2009
Jagoinvestor now has a Forum !! . I am extremely happy to announce that I have added Forums to this blog and how are one step ahead of what we were earlier . I was working on finding the best forum I can integrate and Finally I used SimplePress Forums which is a Plugin in WordPress . The link of the Forum is https://www.jagoinvestor.com/forum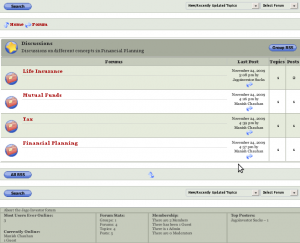 Main Points
You can now Interact through Other readers and do all the discussions on the Forum
I have added 4 main forums currently called Insurance , Mutual-Funds , Tax and Financial Planning . I can add more Sub Topics like "Stock Market" and many more .. this is just a Start .
You can register on the Forum from Register Link which you can see on Right hand corner at the top of Forum Page .You can then fill your Profile Page and don't forget to use gravatars so that I can see your Face 🙂 .
I am sure we have lot of knowledgable people here who can help newcomers with their basic questions and this will save me a lot of time answering the question . I can also make some of you as moderators when I feel you are perfect 🙂
Suggestions
The Forum is in Initial Shape and I am learning how to make it better Look wise , So feel free to post your Suggestions Here and May be your tips if you are a Forum or WordPress or CSS expert here 🙂
Click Here to Make a Suggestion
Feel free to tell me how you like it and if you dont like it and It sucks 🙂 . I am learning WordPress slowly and making changes in the look and feel of blog , Wait for some weeks (read months) and It would look much better and beautiful than what it is today 🙂 .
UPDATE
Jagoinvestor Has Collected Rs 3,600 for the 3 families we Talked at 3 stories that might change your perception about your own financial situation .
Here is the list of people who made the Contributions and I would like to thanks them for their Kindness and Help , every help is a Big help . I will be sending the money to My father who will hand it over to each of them . In case you want to make any contributions , It would be great .. you can make as small contribution as you wish .
Contributors List