POSTED BY Jagoinvestor ON June 23, 2009
Searching for the best FD?
In this short article, we will see a very useful website which gives you all the information on Fixed Deposits and Banks in India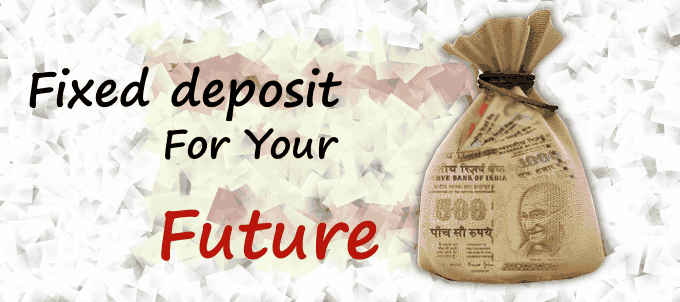 FD is a tool of saving some part of your income in a fixed account for a fixed time period and earning some interest on that amount. It is a traditional way of saving and we observed our parents taking advantage of Fixed Deposit account for investment purpose since our childhood.
Different banks offer different rate of interest on FD accounts. If you want to invest your income in this traditional tool then you should search for the best bank with best interest rate before investing your money.
Let's take an example..
Person 'A' says: "I want to invest Rs 1,00,000 in a Fixed Deposit for 2 yrs in a public Sector Bank. I come in 30.9% Tax bracket. Which is the best Bank for me that will provide the maximum return?"
He again says: "I also wan to get all the information on the Bank in India at a single place; Which is the website I should checkout?"
How do you answer this question?
You will find the solution for these questions once you read this complete article. Let's go for this step by step….



How to find out Best Fixed Deposit?
FD accounts are offered by banks and NBFC's (Non-Banking Financial Companies). NBFC's offers higher interest rates to attract more accounts and raise capital.
If you want a safe FD then banks are the best option. If you want to invest in companies then before investing you should search for the company details before investment. You can see the criteria and schemes of top companies here.
Have a look at http://www.way2goals.com/Project2/chooseBank.html. This website gives excellent information on Fixed Deposits based on different parameters given by you.
So if you want to invest Rs 1,00,000 for 2 yrs and 3 months in a Public Sector Bank and you belong to 30.9% Bracket, it will filter out the the list of best Banks that suit your needs and provides best return.
It will also tell you what will be your final profit after paying tax and what will be your gain after factoring in Inflation (based on your expectation of inflation percentage).
See the following screenshot for the above figures. (click to enlarge)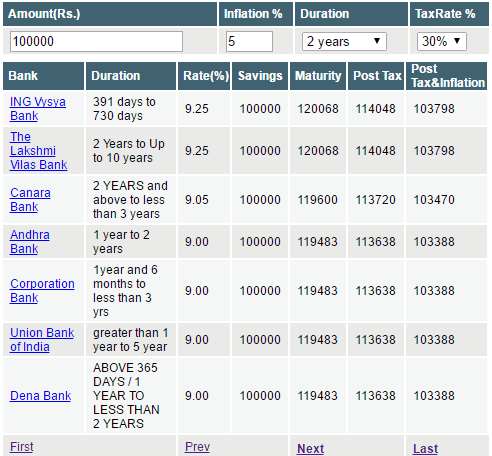 In current time there are two banks which are offering higher interest rates on FD. These banks are ING Vysya Bank and Lakshmi Vilas Bank. The rate of interest they are providing is 9.25%.
Maturity amount
Interest Earned
Interest After Tax
Gain After Inflation
Currently The information on the website is updated twice a week.
Information about a particular Bank
The interest rate is different for each bank. So if you want to open your FD account in a bank, you should check for the interest rates offered by different banks.
If you go to http://www.way2goals.com/Project2/interestRatesByBank.html#. You can get all the basic information about a particular Bank at one place . It will give you information about
Website of the Bank
Contact
Interest Rates information for Different Tenures
Also checkout this link to learn some basic stuff . Way2Goals Software India Pvt Ltd is the company behind http://www.way2goals.com/ .

Conclusion
This is an excellent tool dedicated to Banking Information especially information on Fixed Deposits. Way2Goals is one stop destination for any information on Banking Sector. There is scope of adding lots of things, but I believe it will come with time as any other thing in Life. Great tool!!
If you come up with tools like these please share it with others here :).