Turning sixty is a major milestone for a person. It is time to become more careful about one's health. Any kind of illness can bring in a lot of anxiety and mental stress in the family. So, not to worry anymore, STAR Health Insurance Company has come up with Star Senior Citizens Red Carpet Health Insurance Policy specifically aimed at senior citizens. It provides cover to anyone from the age of 60 and permits entry right up to the age of 75 with continuing cover thereafter till lifetime.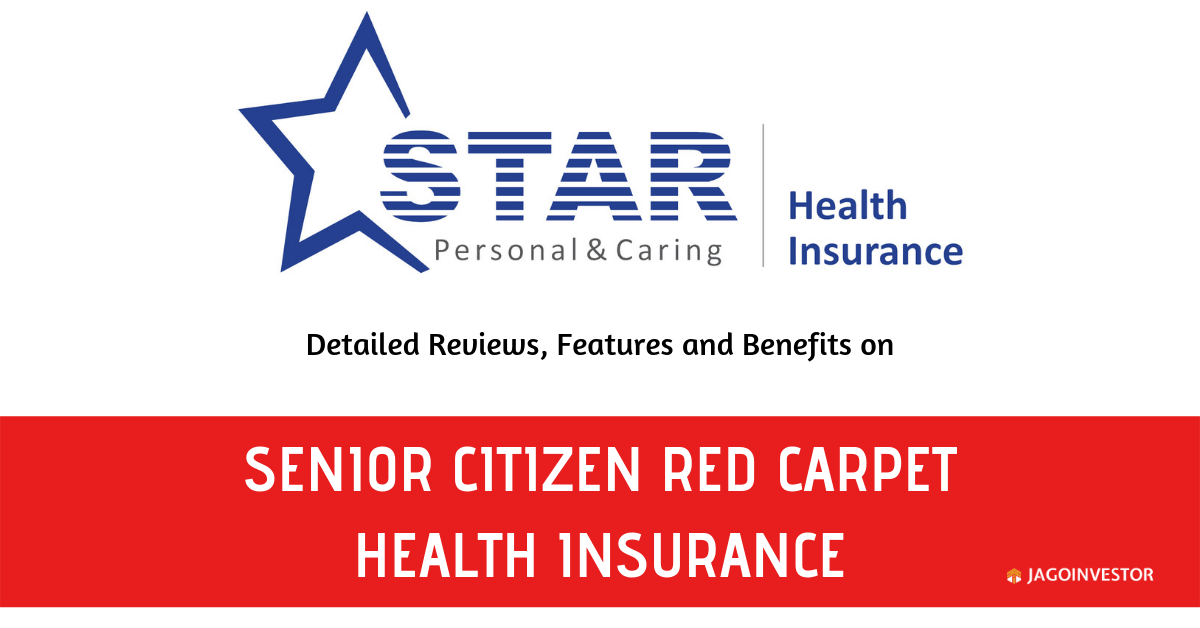 Features of this policy –
Senior citizens aged between 60 to 75 years.
Term of the policy is 1, 2 and 3 yrs which can be renewed if the policyholder wants to renew.
Lifelong renewal policy
Policy issued both on Individual and Floater Basis
No pre-insurance medical test required.
Covers pre-existing diseases from the second year onwards.
Medical Consultations as an Out-Patient in a Network Hospital
Sum Insured up to 25 Lakhs
Sum Insured for each year is not carried forward to next year.
Tax benefit on premiums paid u/s 80D of Income Tax Act, 1961.
Faster, hassle-free and direct in-house claim settlement.
Cashless hospitalization
Benefits of this policy –
Covers Inpatient and Post-hospitalization Treatment
All daycare procedures are covered.
Free and End to end assistance on claims
Sum Assured Options are for individual basis is Rs 1 lac to 7.5 lacs, and for individual and floater basis is Rs 10 lacs to 25 lacs
Guaranteed lifetime renewals
Dedicated 24×7 support team to answer your queries
Though the pre-medical test is not required if the policyholder submits the following medical test report then a 10% discount on the premium will be allowed. The tests should have been taken within 45 days prior to the date of the proposal –
Stress Thallium Report
BP Report
Sugar (blood & urine) – Fasting / Postprandial
Blood urea & creatinine
What all is covered under this policy?
A) Hospitalization Cover – Expenses relating to the hospitalization will be considered in proportion to the room rent limit stated in the policy or actuals whichever is less. The expenses of room, boarding and nursing expenses are as per the table given below –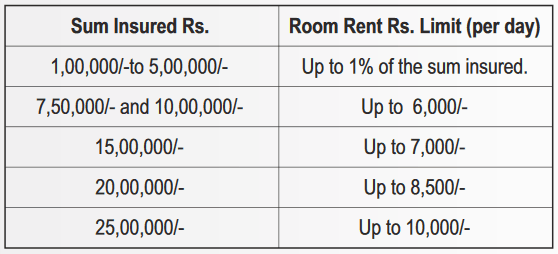 B) ICU Charges – ICU charges depends upon the sum assured of the policy. The below table shows the charges against the sum assured.
| | |
| --- | --- |
| Sum Assured (Rs) | Limit Per Day |
| Rs 1 lac to 10 Lacs | Up to 2% of Sum Insured |
| Rs 15 Lacs to 25 Lacs | Actuals |
C) Various Expenses – Fees of Surgeon, Anaesthetist, Medical Practitioner, Consultants, and Specialist's charges will be paid up to 25% of the sum insured per hospitalization. Cost of Anaesthesia, Blood, Oxygen, Operation Theatre, and Pacemaker charges will be paid etc up to 50% of the sum insured per hospitalization.
D) Ambulance Charges – Emergency ambulance charges for transporting the insured person by private ambulance services to the hospital is giver below –

E) Pre-Hospitalization Expenses – Pre-hospitalization medical expenses incurred for a period, not more than 30 days prior to the date of hospitalization, for disease/illness, an injury sustained following an admissible claim for hospitalization under the policy.
F) Post-Hospitalization Expenses – Wherever recommended by the treating medical practitioner, Post Hospitalization medical expenses equivalent to 7% of the hospitalization expenses comprising of Nursing Charges, Surgeon / Consultant fees, Diagnostic charges, Medicines and drugs expenses, subject to a maximum as per the table is given below:

Can I cancel the policy if I didn't like it's terms and conditions?
If the policyholder doesn't like the terms and conditions of the policy then the policy can be returned within a period of 15 days from the date of receipt of the policy. This period is called Free-Look Period.
Premium Chart of this policy –
Below table shows the premium details of this policy excluding tax.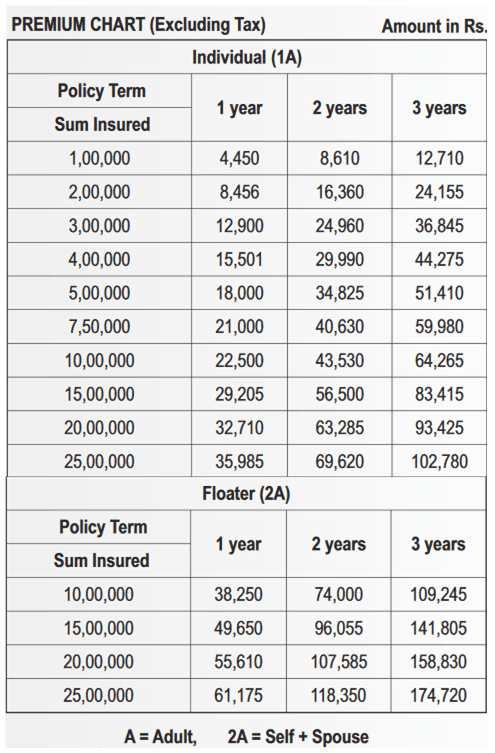 Exclusions under this policy –
There are various exclusions in this policy. For a complete list of exclusions, kindly refer to the policy wordings (pages 4 and 5).
| | |
| --- | --- |
| Intentional Self Injury | Sexually Transmitted Diseases |
| Circumcision, Preputioplasty, Frenuloplasty | Any hospitalizations which are not Medically Necessary |
| Unconventional, Untested, Unproven, Experimental therapies | Cochlear implants and procedure-related hospitalization expenses |
Video review of the policy –
Conclusion –
So, by now you know each and every important detail about this policy. Do let me know if I have missed any important points in the comment section. Please feel free to ask any doubts regarding this policy.