Star Health Gain Insurance Policy is a complete health insurance and tax saver policy that covers medical expenses incurred by a person due to any illness or injury. This policy has various benefits such as tax benefit, no exit age, out-patient and in-patient expenses, etc….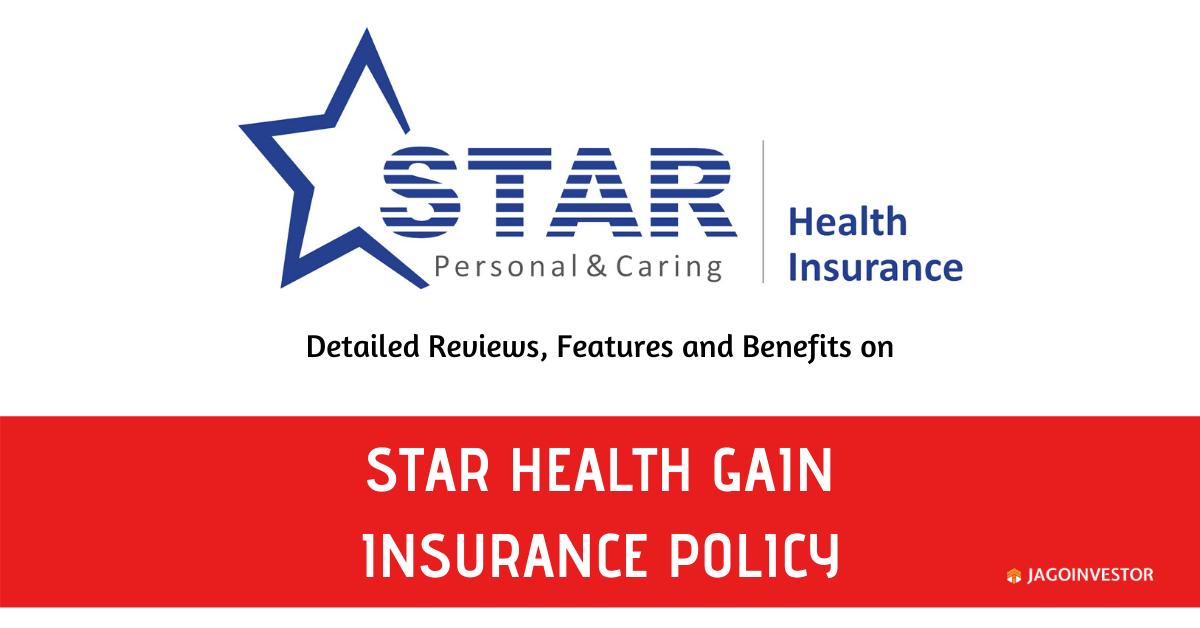 Features of this Policy –
Term of the policy – 1 yr
Sum Insured – Rs 1 to 5 Lacs.
No exit age in the policy
Policy can be renewed for life long
Out-patient and In-Patient Cover
Flexible-Premium Options
The basis of the policy is individual as well as a floater.
All daycare procedures are covered under this policy.
Tax benefit if the premium is paid by any mode other than cash u/s 80D of Income Tax Act, 1961.
Benefits under this policy –
Inpatient Hospitalization Expenses –
Room, Boarding, Nursing Expenses up to 1% of the sum insured per day will be payable.
Fees of Surgeon, Anaesthetist, Medical Practitioner, Consultants, Specialist will also be paid.
Emergency ambulance charges up to a sum of Rs.750/- per hospitalization and overall limit of Rs.1500/- per policy period for transportation of the insured person by private ambulance service will be given.
Pre-Hospitalization medical expenses incurred for a period not exceeding 30 days prior to the date of hospitalization for any illness or injury sustained will be paid.
Post-Hospitalization Medical expenses made for a period up to 60 days from the date of discharge from the hospital will be paid. Expenses include Consultant fees, Diagnostic charges, Medicines, and Drugs wherever recommended by the Hospital / Medical Practitioner will be covered. Expenses incurred on treatment of Cataract is subject to the limit as per the following table –

Out-Patient Hospitalization – Out-Patient Hospitalization covers the cost of treatment made as an outpatient at any Networked Facility in India. The unutilized amount under this benefit can be carried forward to the next policy year on renewal. The maximum period of such carryover shall be limited to one immediately succeeding year only.
Eligibility Conditions –
| | |
| --- | --- |
| Any person aged between 18 years and 65 years, residing in India | Family means Self, Spouse, Dependent children (from 91 days up to 25 years of age) |
Premium Chart of this Policy –
The below chart shows the premium of the Star Health Gain Insurance Policy.

Is there any waiting period in the policy?
Yes, there is 3 types of the waiting period in the policy. Let's have a look –
The normal waiting period is of 30 days (not applicable for Accidents)·
For specified illness/ diseases/ treatments the waiting period is 24 months·
For any type of pre-existing disease, the waiting period is of 48 months.
Is there any co-payment in the policy?
Yes, there is a co-payment of 20% for each and every claim if the insured is aged above 60 years during the first inception of this policy. Such co-payment shall be applicable for renewals also. But If the insureds age is up to 60 years during the first inception of this policy then the Co-payment condition will not be applicable.
What to do in case I didn't like the terms and conditions of the policy?
If the policyholder doesn't like the terms and conditions of the policy, then the policy can be returned within 15 days from the purchase of policy. This period is known as Free-Look Period.
What all is not covered in this policy?
Circumcision, Preputioplasty, Frenuloplasty, etc…
Congenital External Condition / Defects / Anomalies
Intentional Self Injury
Psychiatric, mental and behavioral disorders.
Use of intoxicating substances, substances abuse, drugs/alcohol, smoking, and tobacco chewing.
Sexually Transmitted Diseases,
Injury/disease directly or indirectly caused by or arising from or attributable to war, invasion,
Video Review of the Article –
Conclusion –
So by now, you all know every detail of the policy. If you have any doubt regarding the policy, you can write to us in the comments section. Till then Happy Learning.