We often hear this proverb, Health Is Wealth. Even if there is one serious illness in the family, financial planning goes for a toss. Religare Health Insurance offers a comprehensive medical solution for the loved ones in your family " Religare Heart Care Mediclaim Policy".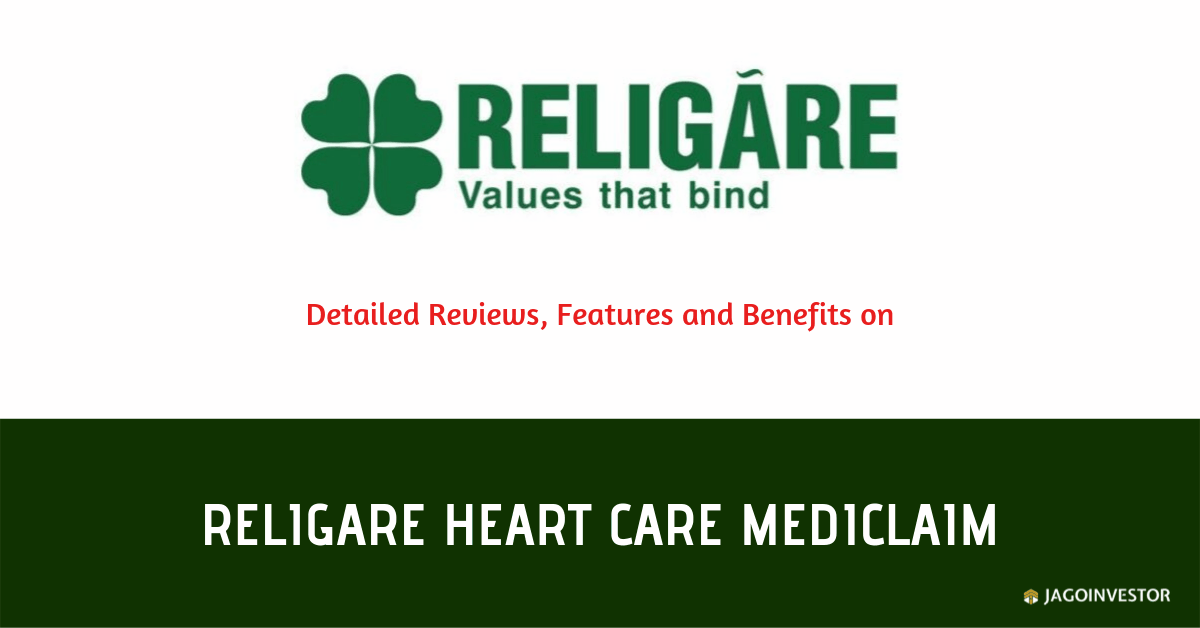 Features and Benefits of this policy –
Below is the description of the features or benefits of the policy in pictorial form. For a detailed description of the features and benefits, please refer to the policy wordings.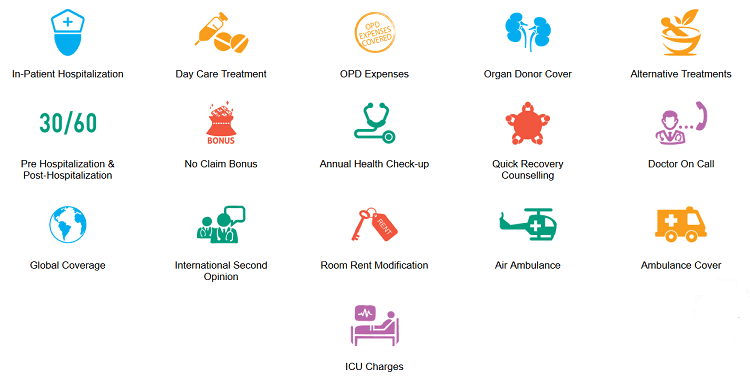 Major Heart Ailments – This policy covers 16 major heart ailments.
Sum Assured – It ranges from 10 Lacs, 25 Lacs, 50 Lacs, 1 Crore and 2 Crore.
Network Hospitals – Cashless Treatment across 6000+ hospitals.
No restriction on room rent – No capping on room rent. A single private room will be given in case of hospitalization.
In-Patient Hospitalization – Expenses towards In-Patient Hospitalization up to sum assured is covered under this policy.
Day Care Treatment – Expenses towards Day Care Treatment up to sum assured (which requires less than 24 hrs hospitalization) is also covered under this policy.
Organ Donor – Medical expenses up to sum assured or Rs 15 lacs whichever is lower is incurred towards the organ donor is also covered in the policy.
Pre and Post hospitalization – Pre- Hospitalization (30 days before hospitalization) and Post-Hospitalization ( from discharge till 60 days) expense maximum up to sum assured are covered.
Yearly Health Check-Up – Annual health check-up for all the insured members from 2nd policy year on continuous coverage at free of cost.
Psychologists Expenses – Psychologists expenses covered for quick recovery counseling maximum Up to Rs 1000 Per Session, Maximum 8 Sessions post-hospitalization in a policy year (can be availed twice in a month).
Doctor On Call – Doctor on call telephonic or online mode is available for free of cost.
OPD Expenses – OPD Expenses (Diagnostics + Consultations + Pharmacy) Up to 1% of the Sum Insured, Max up to Rs 25,000 will be covered in the policy.
World Wide Coverage – Global Coverage outside India for 45 continuous days in a single trip; Max. 90 days on a cumulative basis, in a Policy Year will be covered with 10% mandatory co-payment per claim.
No Claim Bonus (NCB) – No Claim Bonus of minimum 50%, Max up to 100% of Sum Insured will be covered in the policy. On claiming the policy this no claim bonus will also decrease at the same rate as it has increased keeping the base sum assured as it is.
Alternative Treatment – For any alternative treatment, this policy will cover expenses up to a maximum of 25% of the Sum Assured.
Oversee Second Opinion – International Second Opinion Expenses will be covered once in a policy year.
Air Ambulance – Air ambulance service up to maximum Rs 5 Lacs is provided as per the severity of the illness.
Ambulance Cover – Ambulance cover in India up to Rs 3000 per hospitalization is also provided.
ICU Charges – There is no limit on ICU charges if the insured is in ICU.
Why one should buy Heart Mediclaim Policy?
The below video made by Religare Health Insurance Policy answers all questions. Let us have a look at the video.
List of illnesses covered under this policy –
Not, all heart-related diseases or surgeries are covered under the policy. Before purchasing any policy related to heart care, please read the heart conditions or surgeries covered under the policy.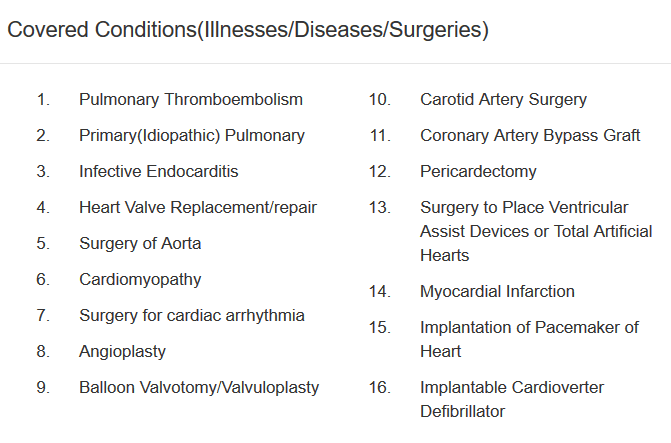 Is there any waiting period in the policy?
The initial waiting period in this policy is 90 days, whereas for pre-existing diseases the waiting period is 48 months (i.e. 2 yrs).
Video Review of the Policy –
Conclusion –
So, by now you know each and every important detail about this policy. Do let me know if I have missed any important points in the comment section. Please feel free to ask any doubts regarding this policy.