Post Retirement, elderly people can enjoy their life if they are in good health. This is why Religare Health Insurance have specially come up with Religare Care Senior Health Insurance specially designed for individuals above 61 years of age. This health insurance plan includes a free annual check-up, tax savings, floater and individual cover, etc…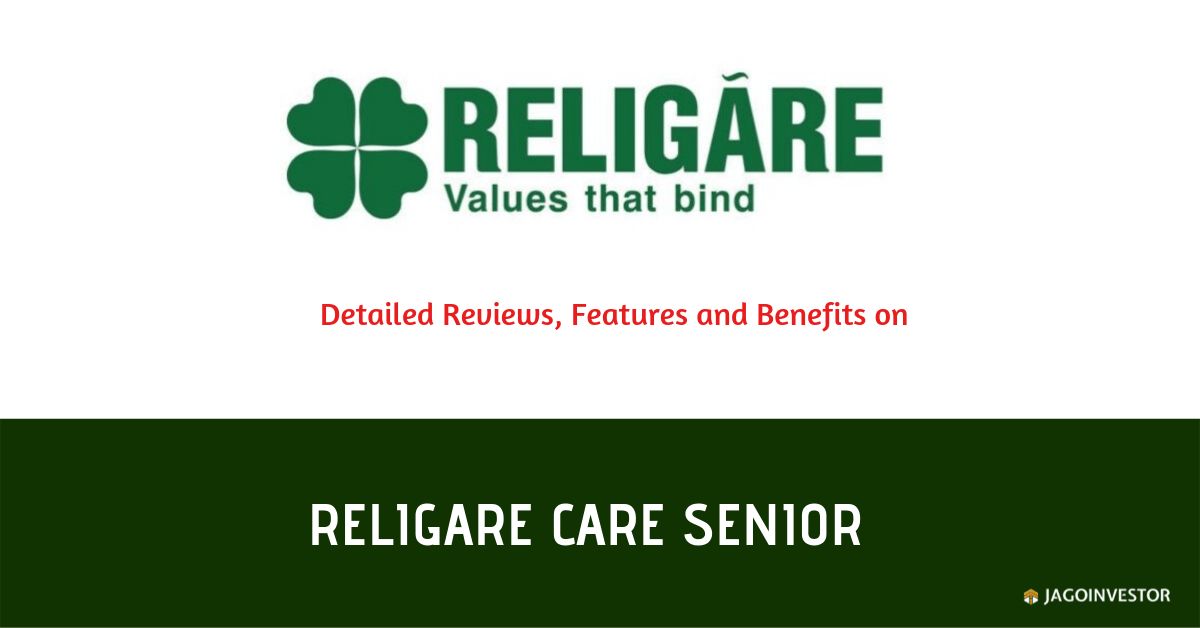 Features of this policy –
Individual and Floater Cover available
Term of the policy is 1 yr, 2 yr, and 3 yr
Lifetime renewability
No Pre-policy medical check-up
Annual health check-up for all insured persons
Automatic recharge of Sum Insured
Ambulance charges also covered in the policy.
Detailed health check-up with no extra cost once in a policy year.
2 variants of the policy – Care 8 (Sum assured Rs 3 lacs) and Care 9 (Sum assured Rs 5 lacs/7 lacs/10 lacs).
Pre and Post Hospitalization cover eases the financial burden during a longer period of illness.
Up to 150% increase in Sum Insured with No Claim Bonus and No Claim Bonus Super**
Tax Benefit on premium paid u/s 80D of the Income Tax Act, 1961. The insured can save up to Rs 75,000 from tax.
Benefits of the policy –
There are various benefits of the policy. Before we see the detailed description of the policy. Let us see the pictorial representation of the benefits –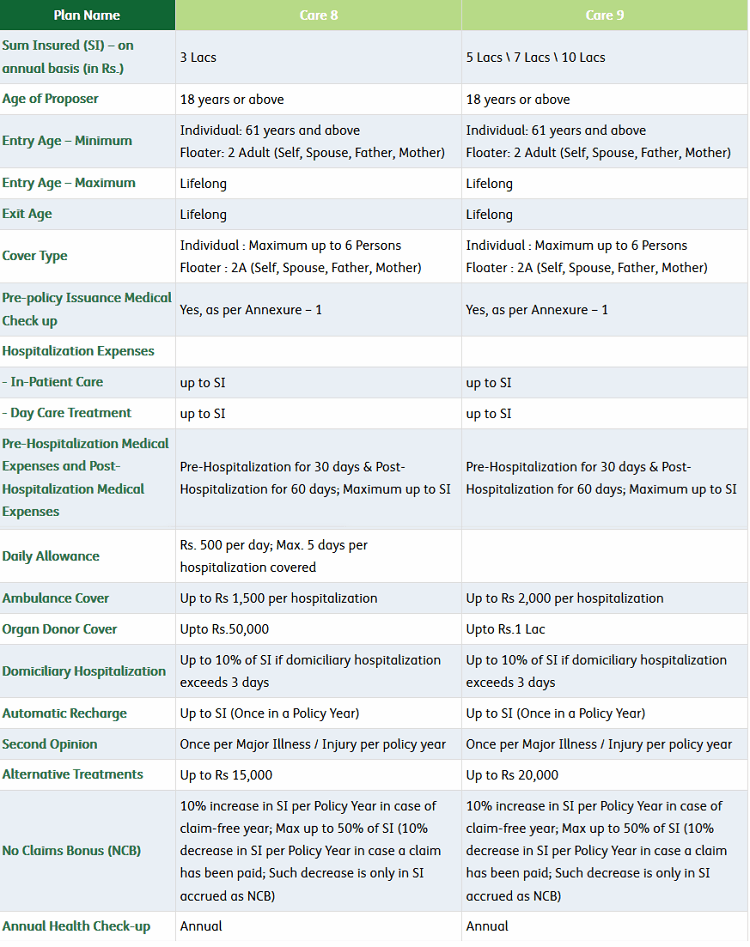 Daily Allowance – Rs 500 per day as a daily allowance for a maximum of 5 days of hospitalization will be covered in the policy.
Ambulance Coverage – Ambulance coverage differs as per the variant. For Care 8, ambulance cover up to Rs 1500 per hospitalization will be covered. And for Care 9, the maximum ambulance cover will be up to Rs 2000 per hospitalization.
Organ Donor Cover – For Care 8, organ donor cover will be maximum up to Rs 50,000 and for Care 9, organ donor cover will be maximum up to Rs 1 lac.
Domiciliary Hospitalization for both the variant will be maximum up to 10% of the Sum Assured if the domiciliary hospitalization exceeds 3 days.
Automatic Recharge – Automatic Recharge maximum up to Sum Insured once in a policy year will be provided.
Second Opinion – If the Insured person gets diagnosed with some major illness or critical illness, then this policy will arrange a second opinion of the doctor once in a policy year.
No Claim Bonus – For both the policy variant, if the policyholder doesn't claim the policy, then the policyholder will get 10% increase in the sum assured maximum up to 50% of the sum assured. But If the policyholder claims the policy next year after increase in the sum assured due to the no claim bonus, then this increase in sum assured will decrease by 10% only.
No claim Bonus Super – In case of no claim, the sum assured will be increased by 50%, maximum up to 100% o per policy year. In case of claim, the sum assured will also decrease by 50% (the basic sum assured will be the same).
Is there any waiting period in the policy?
There are 3 types of waiting periods in this policy. Let us see what all are they –
Waiting Period – It is a general waiting period in any policy. On the purchase of the policy, the waiting period is 30 days. This waiting period is not applicable in case of accidents.
Specific Waiting Period – Certain illnesses have a waiting period of 24 months (i.e. 2 yrs). That is why it is called a specific waiting period.
Waiting period for Pre-Existing Diseases – The waiting period for pre-existing diseases is 48 months (i.e. 4 yrs).
Is there any co-payment in the policy?
Yes, the policy comes with 20% co-pay per claim if the age of the eldest member is 61 yrs and above. If the insured is already below 61 yrs at the time of purchase of the policy, then co-pay will not be applicable in this case.
Exclusions under the policy –
Congenital Disease
War, Strike, Riot, Nuclear Weapon induced hospitalization.
Any diagnosis of diseases / undergoing of surgery/occurrence of event, whose signs or symptoms first occur within 30 days of Policy Period Start date.
Expenses caused due to self-inflicted injury (resulting from suicide, attempted suicide).
Expenses arising due to alcohol or drug use/misuse/abuse.
Medical expenses for the treatment of AIDS.
Video Review of Religare Care Senior –
Conclusion –
So, by now you know each and every important detail about this policy. Do let me know if I have missed any important points in the comment section. Please feel free to ask any doubts regarding this policy.