LIC's e-Term is a pure life cover policy with a regular premium. In case of the sudden demise of the policyholder, this policy provides financial protection to the policy holder's family. If one wishes to buy this policy then they can buy online only through www.licindia.in.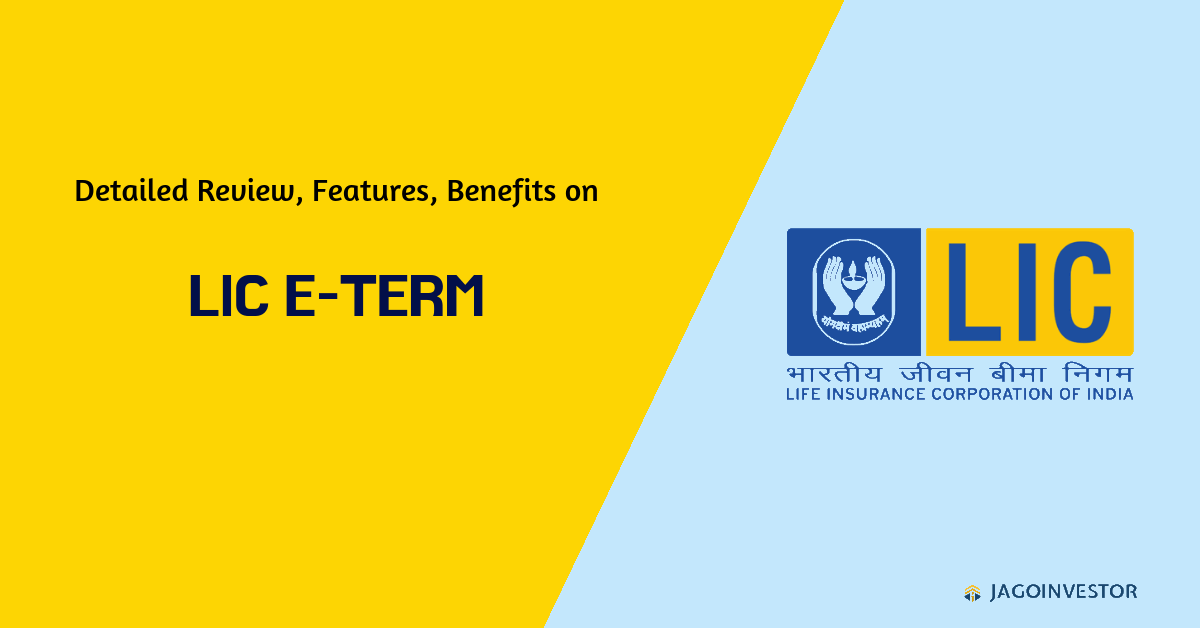 This plan has two categories of premium rates –
Aggregate lives
Non-smoker lives
For Sum Assured up to Rs. 49 lacs Aggregate category rates only would apply. For Sum Assured Rs. 50 lacs and above there is an option to choose the differential premium rate for Non-smoker category. However, the application of Non-smoker rates shall be based on the findings of the Urinary Cotinine test. In all other cases, the Aggregate premium rates shall be applicable.
Features of this plan – (Table 825)
Available through Online mode (www.licindia.in)
Complete Term Plan
Different premium rates for Smokers and Non-Smokers Lives
Proposal on own life Only will be considered
This plan offers the flexibility of choosing the policy term from 10 to 35 years.
Benefits of this Plan –
Death Benefit – Sum Assured will be paid if there is a sudden demise of the policyholder
Maturity benefit – Nothing will be payable if the policyholder survives till the end of the policy tenure.
Tax Benefit – Tax benefits on premium payments and sum assured under Section 80C and Section 10(10D) of the Income Tax Act, 1961.
Policy Coverage Age – Till 75 years
Eligibility Conditions of this Plan –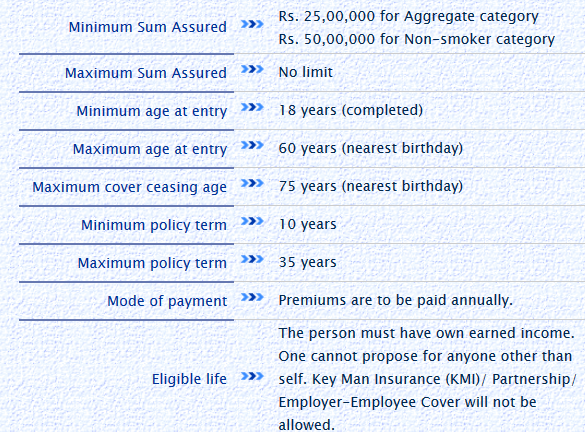 Documents Required –
The documents required for LIC e-term are as follows-
Application Form duly filled up and submitted by the applicant
Details of medical history
Address Proof – Aadhaar Card, PAN Card, Voter ID, Driver's License
KYC (Know Your Customer) Documents
Medical and diagnostic tests (if deemed necessary by LIC) based on the applicant's age, medical history and sum assured.
Mode of Premium Payment and how to make the payment –
The premium can be paid only on a yearly basis. No monthly, quarterly or half yearly payment of premium is allowed. Payment of premiums can be made through Net Banking, Debit Cards, Credit Cards, IMPS, UPI, e-wallets and Amex card.
Types of deaths covered under this policy –
All types of death are covered under this policy excluding suicide within 1 year of taking the policy.
Exclusion of the policy –
Suicide during the 1st year of policy from the date of adjustment is excluded from the policy.
Will I be covered if I am travelling abroad?
Once the policy is issued you are covered across the globe even if u get an opportunity to work abroad.
Can I buy one more online policy if I have already bought one policy?
Yes, one can buy one more online policy in their name if they feel that they need more life cover to your financial eligibility.
Can I take a loan under this policy?
One cannot take a loan under this policy.
Can a minor be a nominee?
Yes, a minor can be a nominee. However, an appointee (major) has to be provided for a minor nominee.
Video Review of the Policy –
Conclusion –
So, by now everyone of you have come to know each and every details of this policy. Now it's up to you all to decide whether this policy will satisfy your requirements or not. If you have any doubt regarding this policy, they please let us know in the comment section.