LIC New Children Money Back Plan is specially designed to meet the growing children needs such as educational, marriage and others through Survival Benefits. One of the essential benefits of this plan is to provide the risk cover on the life of the child during the policy term and for a number of survival benefits on surviving to the end of the specified duration.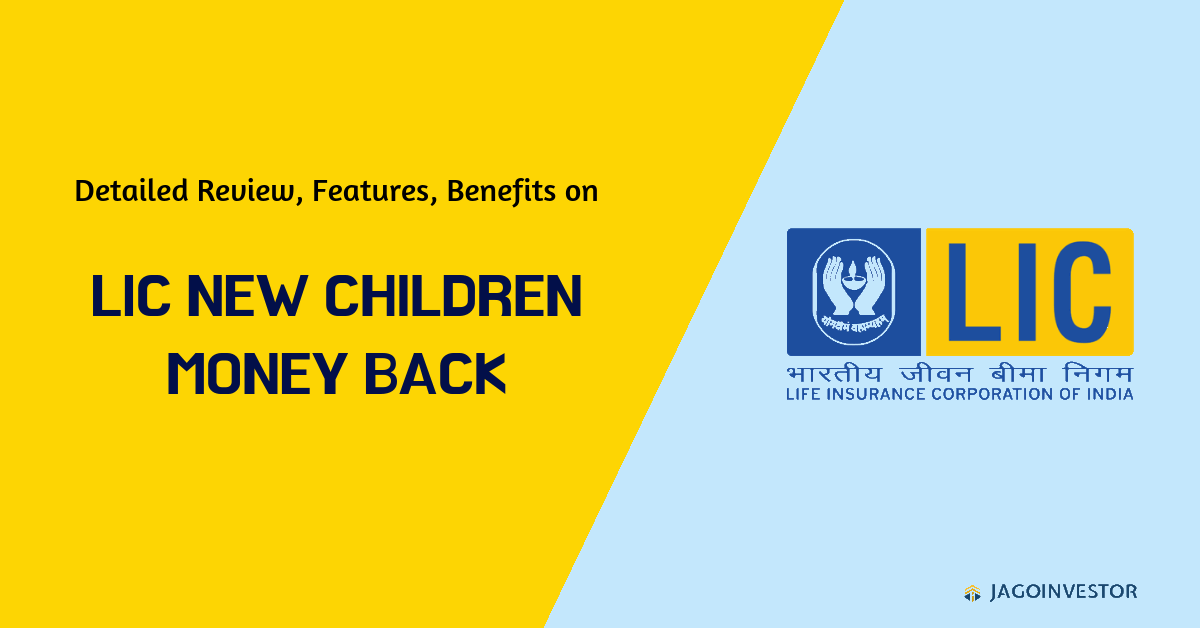 Important Features of LIC New Children Money Back Plan – (Table 832)
Maturity Benefit – A maturity benefit equivalent to the sum assured and all bonuses accrued during this period will be paid.
Survival Benefit – A survival benefit, equivalent to 20% of the basic sum assured will be paid when the life assured reaches certain age milestones.
Death Benefit – In the unfortunate event of the life assured passing away after risk commencement while the policy is in force, the sum assured on death and any accrued bonuses will be paid.
Corporation Profits – Policyholders are eligible to participate in profits earned by LIC, earning bonuses through the same.
Surrender Value – Individuals can surrender the policy (after completion of 3 years) to get an assured surrender value.
Rebates – LIC provides a rebate on high premium amounts, helping one save money.
Loan – One can avail of a loan under this policy, helping them cater to emergencies.
Eligibility conditions of the policy –
Like other policies, LIC's new children money back plan also has some eligibility conditions. Let's have a look at them –
Minimum and Maximum sum assured

Rs 1 Lac and No Limit

Minimum and Maximum Age at entry

0 and 12 yrs (Last Birthday)

Maximum Maturity Age

25 yrs (Last Birthday)

Policy Term

25 yrs minus Entry Age
Documents required for purchasing the policy –
Duly filled in the application form or the proposal application form.
Complete the medical history of the policyholder.
KYC documents such as Aadhaar Card, Pan Card, Driving License, etc…
Current address proof
Some medical tests will be required in some cases depending upon sum assured and also the age of the child.
What all is excluded from the policy –
Suicide Clause
This policy shall be invalid in the following 2 cases –
If the Life Assured (whether sane or insane) commits suicide at any time within 12 months from the date of commencement of risk, the Corporation will pay only 80% of the premiums paid excluding any taxes and extra premium, if any, provided the policy is in force. no other claim will be entertained. This clause shall not be applicable in case of age at entry of the Life Assured is below 8 years.
If the Life Assured (whether sane or insane) commits suicide within 12 months from date of revival, an amount which is higher of 80% of the premiums paid till the date of death (excluding any taxes and extra premium, if any,) or the surrender value shall be payable. The Corporation will not entertain any other claim under this policy. This clause shall not be applicable –
In case the age of the Life Assured is below 8 years at the time of revival; or
For a policy lapsed without acquiring paid-up value and nothing shall be payable under such policies.
Important points of the policy –
Revival of Policy – A lapsed policy can be revived within a period of 2 consecutive years from the date of first unpaid premium but before the date of maturity, by paying all the arrears of premium together with interest (compounding half-yearly). Revival of rider, if opted for, will be considered along with revival of the Basic Policy and not in isolation and shall be subject to underwriting.
Surrender Value – The policy can be surrendered provided at least three full years premiums have been paid. The Guaranteed Surrender Value shall be a percentage of total premiums paid (net of service tax) excluding extra premiums and premium for a rider if opted for, less any survival benefits already due and payable.
Loan against the policy – Loan can be availed under the policy provided the policy has acquired a surrender value and subject to the terms and conditions as the Corporation may specify from time to time.
Video Review of the Policy –
Conclusion –
So, by now all of you know each and every detail of this policy. Now it's up to you all to decide whether this policy will satisfy your requirements or not. If you have any doubt regarding this policy, they please let us know in the comment section.