LIC's Micro Bachat Plan is basically a regular premium, non linked, participating micro insurance plan which offers 2 benefits of protection and savings in one single policy. This policy also offers loan facility provided the premium of 3 years have been paid.
In case of an active insurance plan, 70 percent of loan can be availed on the total premium paid. Whereas, in case of a paid-up policy, a loan of 60 per cent can be availed.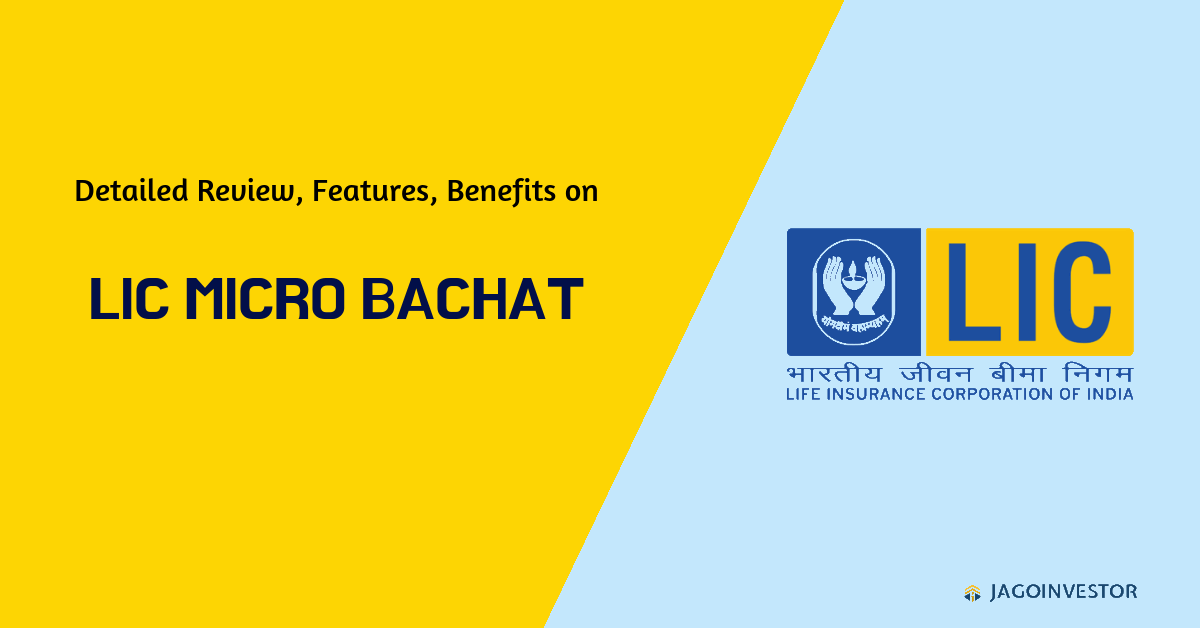 Features of this policy – (Table 851)
This is a non-linked and participating insurance plan.
People aged between 18 to 55 yrs can take this policy.
This policy is a combination of protection + savings.
The tenure of the policy is between 10 to 15 years.
Loyalty additions after 5 years onwards (provided all insurance premiums are paid).
2 optional rider available in this policy.
Loan facility available only after paying 3 years full premium.
Income Tax benefit u/s 80C of Income Tax Act,1961.
Premium can be paid monthly, quarterly, half yearly and yearly.
Benefits of the policy –
A) Death Benefit –
The death benefit payable in case of death of the policyholder before the stipulated maturity date provided the policy is in force shall be as under.
On death during the first five years: "Sum Assured on Death" will be payable
On death after completion of five policy years but before Maturity: "Sum Assured on Death" + Loyalty Addition if any.
Where "Sum Assured on Death" is defined as the highest of –
• 10 times of annualized premium; or
• Sum Assured on Maturity as defined in Condition 1B below; or
• Absolute amount assured to be paid on death, i.e. Basic Sum Assured.
This death benefit shall not be less than 105% of the total premiums paid excluding extra amount if charged under the policy due to underwriting decision and Rider(s) premium, if any, as on date of death.
B) Maturity Benefit –
If the policyholder survives till the end of the maturity period, "Sum Assured on Maturity" + Loyalty Addition, if any, shall be payable provided the policy is in force.. Where "Sum Assured on Maturity" is equal to Basic Sum Assured.
C) Rider Benefit –
There are 2 rider benefits under this policy which any policyholder can opt for by paying an additional premium. The policyholder can opt between either of the LIC's Accidental Death & Disability Benefit Rider) or LIC's Accident Benefit Rider under this policy.
Eligibility conditions of this policy –
Minimum and Maximum Age at entry

18 yrs (completed) and (55 yrs nearer birthday)

Minimum and Maximum Basic Sum Assured

Rs 50,000 and Rs 2 lacs

Maximum Age at Maturity

70 yrs nearer birthday

Tenure of the policy

Between 10 to 15 yrs
Can the policy be revived?
Yes, the policy can be revived within 2 years from the date of the first unpaid premium by paying all the unpaid premiums with interest.
Can I get any surrender value if I surrender my policy?
The policy can be surrendered at any time provided premiums have been paid for at least one full year. No surrender value is available on any riders.
Can I get a loan against the policy?
Yes, a loan can be availed against this policy provided 3 full year premium has been paid.
Is there any free look period?
Yes, free look period of 15 days (i.e. returning of the policy) from the date of the receipt of the policy document is available in this policy if the policyholder is not satisfied with the terms and conditions of the policy.
Video Review of the Policy –
Conclusion –
So, by now everyone of you have come to know each and every details of this policy. Now it's up to you all to decide whether this policy will satisfy your requirements or not. If you have any doubt regarding this policy, they please let us know in the comment section.