ICICI Lombard Complete Health Insurance is a comprehensive plan designed to protect you and your family against expenses incurred in case of hospitalization. This health insurance policy can be customized to suit your requirements and budget.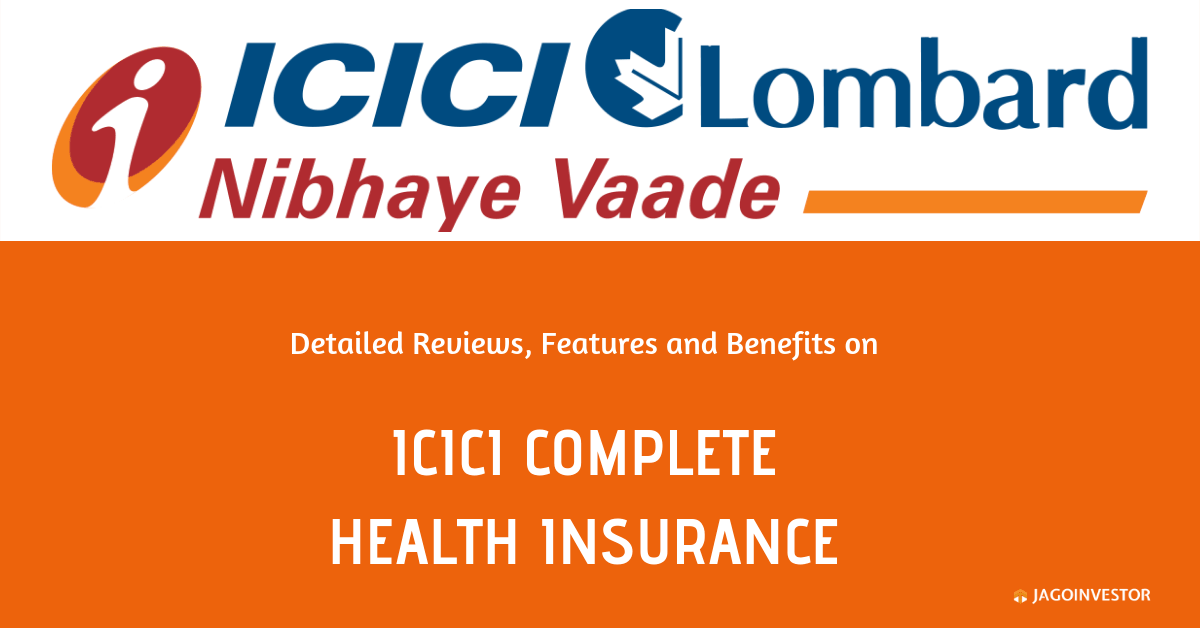 Features of the policy –
This policy offers guaranteed lifetime renewability.
Income Tax benefits u/s 80D can only be availed for policies bought for Self, Spouse, Parents and Dependent children.
Policy can be bought for any family member(s) children, parents and for self.
Benefits of the policy –
Lifetime renewal facility of the policy. There is no upper age limit to one's policy. Continue to renew it and stay protected from medical expenses.
Once in a policy year, your sum assured amount will be reset up to 100%.
The policyholder can get covered for Ayurveda, Unani, Siddha and Homeopathy (AYUSH) treatment while the policyholder is hospitalized.
The policyholder can get a quick response for cashless claims in 4 hours and reimbursement claims in 14 days.
Add-on cover facility available for Outpatient Treatment, Wellness and Preventive Healthcare and Maternity Benefit.
In addition to the coverage benefits of your policy, the policyholder also gets access to online chat with a doctor, free health check-ups and e-consultations so that the policyholder can stay fit and healthy.
Eligibility conditions of the policy –
To cover children aged between 3 months to 5 years, the policy must also cover at least 1 adult.
The Policyholder needs to be aged above 18 years.
If the policyholder's age is 46 yrs and above, then the policyholder will have to undergo medical tests at designated diagnostic centers.
What all is covered under this policy?
There are lots of points covered in the ICICI Lombard Complete Health Insurance Policy. Let us see a few points. For detailed description, please refer to the policy document –
The minimum entry age starts from 6 years under the individual policy and 3 months under a floater policy.
Medical expenses incurred as an inpatient during hospitalization for more than 24 hours, including room charges / ICU charges, doctor/ surgeon's fees, medicines bills, etc will be covered.
Medical expenses incurred, immediately, 30 days prior and 60 days post hospitalization will also be covered.
Day Care expenses incurred on named advanced technological surgeries and procedures requiring less than 24 hours of hospitalization (Including Dialysis, Radiotherapy, and Chemotherapy) is also covered.
Major Exclusions in the policy –
There are various exclusions in this policy. For detailed descriptions of the exclusions in the policy, please refer to the policy documents. Let us see some major exclusions in the policy –
Naturopathy treatment, acupressure, acupuncture, magnetic and such other therapies.
Unproven experimental treatment.
Any expenses arising out of Domiciliary Treatment.
Treatment taken outside the country.
Any type of Cosmetic Surgery
Sterility, venereal diseases or any sexually transmitted diseases.
Dental treatment unless due to accident.
Any case directly or indirectly related to criminal acts.
Refractive error correction, hearing impairment correction
Substance abuse, self-inflicted injuries, STDs and HIV/AIDS.
Can I cancel the policy, If I didn't like its terms and conditions?
Yes, the policyholder can cancel the policy if the policyholder doesn't like its terms and conditions. The policy can be canceled within 15 days from the date of the receipt of the policy. This 15-day period is called the Free Look Period.
Is there any waiting period in this policy?
There are types of waiting period. Let us have a look at them –
Initial waiting period – 30 days for all illnesses (except Hospitalization due to injury).
Specific waiting period – First 24 months, for specific Illness and treatment. (Please refer to the policy clauses for the full listing)
Pre-existing diseases – Covered after 24 months (48 months, for plans with Sum Insured up to 2 Lacs) of continuous coverage.
Video Review of the Policy –
Conclusion –
So, by now you know each and every important details about this policy. Do let me know if I have missed any important point in the comment section. Please feel free to ask any doubts regarding this policy.