Every one of us must have heard this famous saying called, " Health is Wealth". In order to enjoy our wealth, we need to have good health. Health is the most important asset of any individual. Good Health brings in a lot of peace and physical relaxation in one's life and family. Having a health insurance policy not only gives the security of financial coverage for medical requirements but also some tax benefits.
Now, your insurance cover has just got bigger with Health Booster. ICICI Health Booster is a super top-up Health Insurance cover that takes care of excess payment that may arise due to the amount paid for illness over and above your existing Health Insurance policy.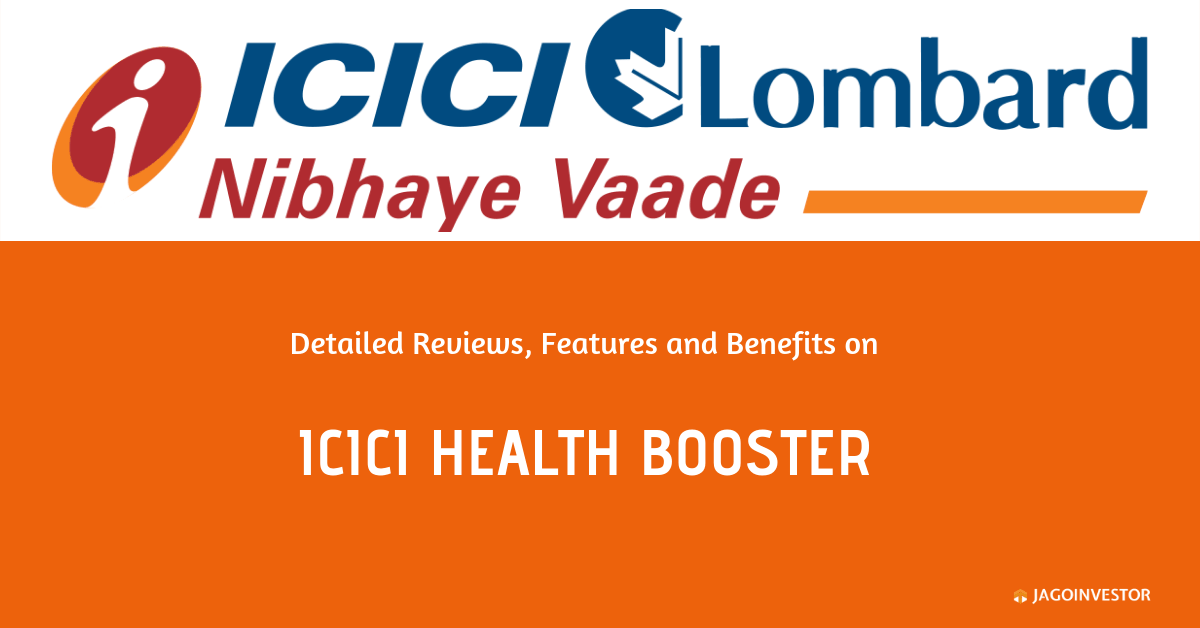 Features of this policy –
There is a wide range of Annual Sum Insured (from 5 lakhs to 50 lakhs) and flexible deductible options (3,4,5 lakhs) to suit one's needs.
This policy comes with Individual and Floater cover for the family.
It also has a facility of Lifetime renewability.
Policy Period is available in one, two- or three-year policy period options(which comes with 10%, 12.5% discount on 2yrs, 3yrs policy).
Floater option covers up to 2 Adults and 3 Children in a single policy.
In this policy, Pre-existing diseases will be covered immediately after 2 years of continuous coverage under the policy since the issuance of the first policy. The waiting period will be adjusted by the number of years the policyholder has spent in the base policy.
Tax Benefit can be availed on the premium paid as per section 80D of Income Tax Act,1961.
Cashless Hospitalization can be availed at any of ICICI network hospitals.
No medical tests will be required for insurance cover below the age of 46 years and up to Sum Insured of Rs 10 Lakhs.
Benefits of the policy –
For a detailed description of the benefits of ICICI Health Booster Policy, kindly refer to the policy wordings.
A) In-patient treatment –
Medical expenses for hospitalization as an in-patient for more than a period of 24 hours will be covered.
B) Day Care Treatments –
The policy will cover 150 medical expenses incurred by the policyholder while undergoing Specified Day Care Treatment (as mentioned in the Day Care Surgeries list), which require less than 24 hours of hospitalization.
C) In patient AYUSH treatment –
Expenses for Ayurveda, Unani, Siddha and Homeopathy (AYUSH) treatment will be covered up to sum assured only when the treatment has undergone in a Government Hospital or in any Institute recognized by the Government or accredited by Quality Council of India/National Accreditation Board on Health.
D) Domiciliary Hospitalization Cover –
Medical expenses up to the sum assured will be covered by the policy during domiciliary hospitalization.
E) Donor Expenses –
This policy will cover hospitalization expenses up to sum assured, as incurred by the organ donor for undergoing organ transplant surgery.
F) Pre & Post Hospitalization –
This policy will also cover medical expenses up to sum assured incurred by the policyholder, immediately up to 60 days before and up to 90 days after the hospitalization of the policyholder.
G) Domestic Road Emergency Ambulance Cover –
Ambulance cover up to maximum Rs 5000 will be covered in this policy in an emergency condition.
H) Reset Benefit –
For plans with deductible of Rs 3 lakhs and above, the company shall reset Sum Assured up to 100% once in a policy year in case the Sum Assured including accrued Additional sum assured (if any) is insufficient due to previous claims in that policy year.
I) Relationships covered –
Relationship Covered under this policy are as follows –
| | |
| --- | --- |
| 1) Self | 2) Spouse |
| 3) Dependent Children | 4) Brother |
| 5) Sister | 6) Dependent Parent |
| 7) Grandparents | 8) Grandchildren |
| 9) Mother-in-Law | 10) father-in-Law |
| 11) Son-in-Law | 12) daughter-in-Law |
| 13) Dependent Brother-in-Law | 14) Dependent Sister-in-Law |
J) Wellness Program –
Wellness program intends to promote, incentivize and reward you for your healthy behavior through various wellness services. All the wellness activities as mentioned below make you earn wellness points that will be tracked by us.
The wellness services and activities are categorized as below –
i) Manage and track Your health

Online Health Risk Assessment (HRA)
Medical Risk Assessment
Preventive Risk Assessment

ii) Disease Management Services

iii) Medical Concierge Services

iv) Affinity to Wellness
Eligibility Conditions of the policy –
This policy can be offered to an individual with a minimum age of 6 years under an individual policy. However, children aged 3 months to 5 years can be insured under a floater plan only. There will be no restriction on the maximum entry age.
Added Advantages of the policy –
Additional Sum Assured – The Policyholder will be entitled to an Additional Sum Insured as under, for every claim-free policy year under the policy on its renewal.
Complimentary Health Check-Up – The company shall provide complimentary health check-up coupons to the policyholder for every policy year, on issuance or upon renewal of the policy, subject to a maximum of 2 coupons per year for floater policies.
Optional Covers in the policy –
The benefit under all the optional covers will be provided even if the hospitalization claim is below the deductible. However other terms and conditions like waiting period and exclusions will be applicable. Benefits under all these optional covers are applicable on a per-member basis.
These covers are optional and are available only on payment of additional premium. For Detailed description of the optional cover, kindly refer the Policy Wordings.



Various Exclusions under the policy –
Deductible – The insurance company shall not be liable for the deductible amount as specifically defined in Part I of Policy Schedule. They are also not liable for any payment unless the hospitalization medical expenses exceed the deductible. No deductible shall be applicable for optional covers.
Co-Payment – The insurance company is not liable to pay twenty percent (20%) of admissible claim amount above the deductible applicable under the policy, for insured above 60 years of age. This does not apply if insured is 60 years of age or below. However, this condition will not be applicable if the insured were aged 45 years or below at the time of buying this policy first time and have renewed it continuously after that. No co-pay will be applicable for optional covers if any.
First 30 Day Waiting Period – Any diseases contracted and declared during the first 30 days of the period of Insurance start date except those arising out of accidents. This exclusion will not apply from the first renewal of the policy with the company.
Pre-Existing Disease Waiting Period – Any pre-existing condition(s) declared by the policyholder and accepted by the insurance company, shall not be covered until 24 months of your continuous coverage, since inception of this policy.
First, 2 years exclusions (Specific waiting period) – For medical diseases/ conditions and treatment mentioned in specific waiting period table*, a waiting period of 2 years will be applicable unless required due to the occurrence of cancer.
Permanent Exclusion – Expenses related to injury or diseases directly or indirectly attributable to war, invasion, an act of a foreign enemy, war like operations, cosmetics, aesthetics treatment unless arising out of accident will not be covered in the policy. Cost of spectacles, contact lenses, and hearing aids (LASIK), dental treatment or surgery of any kind unless requiring hospitalization etc will also be excluded from the policy.
Documents required for claiming the policy –
Duly completed claim form signed by the policyholder and the Medical Practitioner.
Original bills, receipts and discharge certificate/ card from the hospital/ Medical Practitioner.
Original bills from chemists supported by proper prescription.
Original investigation test reports and payment receipts.
Medical Practitioner's referral letter advising hospitalization in Non-Accident cases.
Any other document as required by ICICI Lombard Health Care to investigate the claim.
Can I return the policy if I didn't like its terms and conditions?
Yes, the policyholder can return the policy if he/she doesn't like the terms and conditions of the policy. The policy can be returned within 15 days from the date of receipt of the policy. This of 15 days period is called Free-Look Period.
Video Review of the Policy –
Conclusion –
So, by now you know each and every important detail about this super top-up policy of ICICI. Do let me know if I have missed any important points in the comment section. Please feel free to ask any doubts regarding this policy.